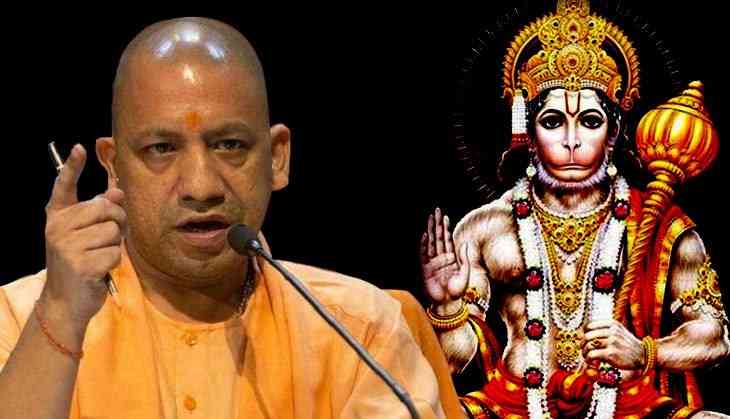 Yogi Adityanath and Lord Hanuman
Uttar Pradesh CM Yogi Adityanath, who always remains in the news for his statements and is a brand ambassador for the BJP might now face a jail term due to his "Dalit" remark on Lord Hanuman.
Yogi, who had earlier said that Lord Hanuman is a "Dalit" is now facing flak from the right-wing groups of the country, wherein one of them from Rajasthan have sent him a legal notice on his controversial remark.
Yogi, while rallying in Rajasthan's Alwar had made th epublic make a "Bajrang vow" to vote for the BJP and had also said, "Bajrang Bali (Hanuman) is such a god that he is a forest-dweller, lives in the mountains. Dalits, deprived, he takes everyone along, from east to west, north to south, and unites them all."
The group named, "Rajasthan Sarv Brahmin Mahasabha" has sent a legal notice to the UP CM Yogi Adityanath, alleging that he is playing with the caste of Lord Hanuman as the elections are approaching. Rajasthan assembly election is scheduled for December 7 and the result will be declared on December 11.
As per PTI, Suresh Mehta, who is the chief of the right-wing group has said that Yogi Adityanath' remark on the caste of Lord Hanuman has hurt the religious sentiments of people and in the notice, he also mentioned saying, "Those who are deprived they get strength to fight the odds. It is a sheer attempt to take political mileage in election."
As the election is around the corner, the caste of Lord Hanuman might be the answer for the suicide committed by the farmers and the high unemployment rates in Rajasthan.
Also read: Maratha Reservation Bill: Maharashtra govt unanimously approves 16 % Maratha Reservation;