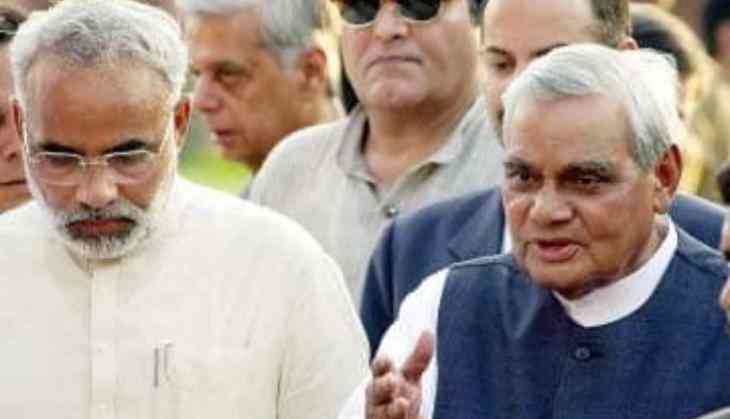 Prime Minister Narendra Modi emotionally broke down over the death of former Prime Minister Atal Bihari Vajpayee. The former PM took his last breath on 16th August at 5:05 pm at AIIMS.
PM Modi expressed his emotions through a video released. In the video, PM said that Atal Bihari Vajpayee was like a 'father figure' to him. He said that his death has created a void which can not be filled by anyone.
PM Narendra Modi also said that 'We have lost our inspiration. We have lost an anmol ratna of our country." In his televised speech, Modi also said that the demise of Atalji can't be described in words.
Modi denoted him as a wonderful orator as well as a prolific writer. In Modi's brief TV speech, he also said that because of Atalji's leadership skills and struggles, Vajpayee had strengthened the Jan Sangh as well as Bhartiya Janata Party.

Modi also said that 'Atal Ji taught me valuable aspects of Sangathan (organization) and shaasan (governance).
See the video:
#WATCH: PM Narendra Modi speaks on the demise of former Prime Minister #AtalBihariVajpayee, says,"India has lost its 'anmol ratna'." pic.twitter.com/yPOMB9spOU

— ANI (@ANI) August 16, 2018
Not only video, but PM Modi also wrote several tweets for Atal Bihari Vajpayee.
Check few of them:
It was Atal Ji's exemplary leadership that set the foundations for a strong, prosperous and inclusive India in the 21st century. His futuristic policies across various sectors touched the lives of each and every citizen of India.

— Narendra Modi (@narendramodi) August 16, 2018
It was due to the perseverance and struggles of Atal Ji that the BJP was built brick by brick. He travelled across the length and breadth of India to spread the BJP's message, which led to the BJP becoming a strong force in our national polity and in several states.

— Narendra Modi (@narendramodi) August 16, 2018
India grieves the demise of our beloved Atal Ji.

His passing away marks the end of an era. He lived for the nation and served it assiduously for decades. My thoughts are with his family, BJP Karyakartas and millions of admirers in this hour of sadness. Om Shanti.

— Narendra Modi (@narendramodi) August 16, 2018
लेकिन वो हमें कहकर गए हैं-
"मौत की उमर क्या है? दो पल भी नहीं,
ज़िन्दगी सिलसिला, आज कल की नहीं
मैं जी भर जिया, मैं मन से मरूं,
लौटकर आऊँगा, कूच से क्यों डरूं?"

— Narendra Modi (@narendramodi) August 16, 2018
मैं नि:शब्द हूं, शून्य में हूं, लेकिन भावनाओं का ज्वार उमड़ रहा है।

हम सभी के श्रद्धेय अटल जी हमारे बीच नहीं रहे। अपने जीवन का प्रत्येक पल उन्होंने राष्ट्र को समर्पित कर दिया था। उनका जाना, एक युग का अंत है।

— Narendra Modi (@narendramodi) August 16, 2018
Due to the demise of Atal Bihari Vajpayee demise, 7 days mourning has been announced in the country. Several schools, colleges and government offices will remain closed today.
However, the body of Atal Bihari Vajpayee is at his home Krishna Menon Marg and at 9 am his body will be taken to the BJP headquarters. While 1 pm his procession will be started from the headquarter and the cremation will be done at 4 pm.
Watch Video:
Also read: Atal Bihari Vajpayee Funeral: These roads to be blocked today in Delhi; check out the names