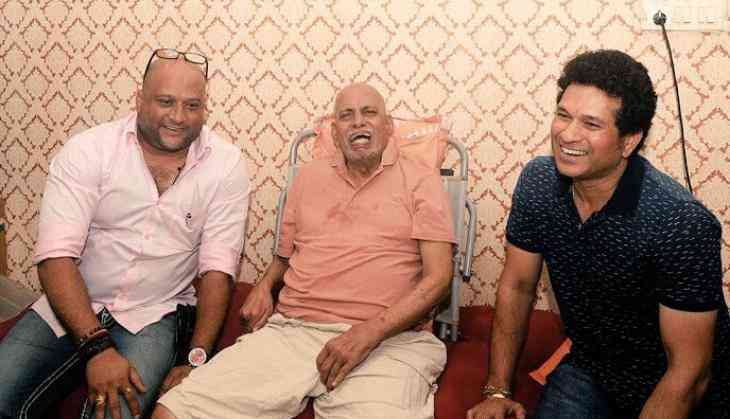 Sachin Tendulkar with Ramakant Achrekar
India's batting legend Sachin Tendulkar's coach Ramakant Achrekar, who passed away on 2nd January, did not receive a state funeral and now, the Maharashtra government is under fire.
Achrekar, who was a recipient of Dronacharya award in 1990 and was also conferred with the prestigious Padma Shree award in 2010, had coached upon various legends for the Indian team and he was the 'man who romanticized the Mumbai's maidans.'
As per rules, a state honour during funeral is not mandatory for a Padma Shri recipient but a state minister, Prakash Mehta, who was present at the crematorium said, "As a representative of the Maharashtra government, I am sorry (for whatever happened). This is a sad thing from our part and I will check what was the problem. I got an intimation from the Mantralaya (Secretariat) half an hour ago and rushed here. I will find out what went wrong and why there was a lack of communication," as reported by the SportsStar.
Today, #GuruPurnima, is the day we remember those who have taught us to be better versions of ourselves. Achrekar Sir, I couldn't have done all this without you. 🙏 Don't forget to thank your gurus and take their blessings. #AtulRanade and I just did. pic.twitter.com/FOS64baoB3

— Sachin Tendulkar (@sachin_rt) July 27, 2018
Sports Minister Tawde was contacted to comment upon the issue, and his spokesperson said that "If an important personality dies in Maharashtra, then the protocol wing decides if they should get a state funeral. We are not consulted in the matter."
Senior Shiv Sena leader Sanjay Raut reacted upon the issue and demanded that Sachin Tendulkar should not attend the government functions here after.
He tweeted saying "Why wasn't Padmashree and Dronacharya awardee Ramakant Acharekar given state funeral and respect by the Maharashtra government? The Government has shown complete disregard towards Ramakant Acharekar. Sachin Tendulkar should boycott government programs henceforth."
Also read: HS Phoolka, one of the petitioner in 1984 anti-Sikh riots, quits AAP; Kejriwal insisted otherwise