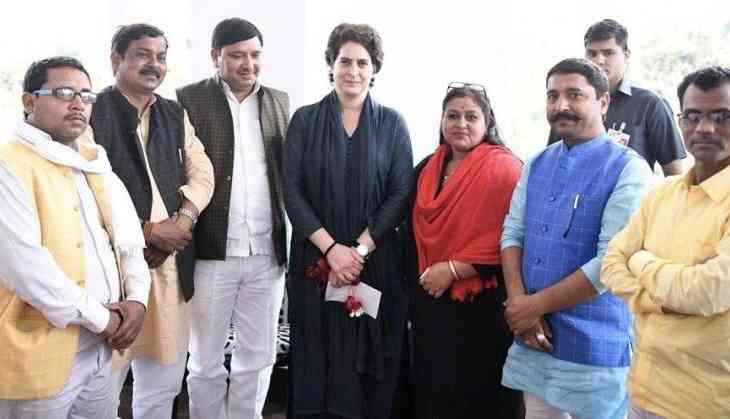 In the run up to the Lok Sabha polls, Congress' General Secretary in-charge of UP East, Priyanka Gandhi has taken a dig at the ruling BJP as she has claimed that the latter's leaders are busy in marketing of t-shirt.
Post raising the issues of sugarcane farmers dues pending in the state, which has crossed Rs 10,000 crore and discussing the shortcomings of BJP government in the employment sector, shiksha mitra, adhoc teachers among others, Priyanka Gandhi has taken upon the government, and the suit was followed by Samajwadi Party chief Akhilesh Yadav on Twitter.
उत्तर प्रदेश के शिक्षामित्रों की मेहनत का रोज़ अपमान होता है, सैकड़ों पीड़ितों नें आत्महत्या कर डाली। जो सड़कों पर उतरे सरकार ने उनपर लाठियाँ चलाई, रासुका दर्ज किया। भाजपा के नेता टीशर्टों की मार्केट्टिंग में व्यस्त हैं, काश वे अपना ध्यान दर्दमंदों की ओर भी डालते। #Sanchibaat pic.twitter.com/eBeyNSt3va

— Priyanka Gandhi Vadra (@priyankagandhi) March 25, 2019
Priyanka Gandhi, in a series of tweets elaborated about her campaigning and the Congress delegation she met in Lucknow, Priyanka has claimed that the ruling BJP is busy in 'T-shirt' marketing and is not focusing on the issues.
In a tweet in Hindi, Priyanka wrote about 'Shiksha Mitra' and said, "The hard work of shiksha mitra in Uttar Pradesh has been insulted. Many affected have committed suicide. Those who protested on road, were lathicharged, NSA was imposed on them."
She further added that "BJP leaders are busy in T-shirt marketing. Wish they would focus on the needy as well."
Focusing upon the contract teachers and their wages, Priyanka Gandhi has alleged that BJP is bouncing upon the null promises it has made in the past and have not been able to fulfill them. Priyanka recently concluded her 3 district poll campaign in via Prayagraj and Mirzapur through the boat in a Ganga Yatra.
The Gandhi scion added saying, "I met anudeshak in Lucknow, who were promised hike of honorarium from Rs 8470 to Rs 17,000 by Chief Minister but the honorarium remains the same. While there is noise about campaign of lies, the voice of anudeshaks has been lost."
Also read: JNU Vice-Chancellor alleges hundreds of students forcibly entered his house; says, 'they confined my