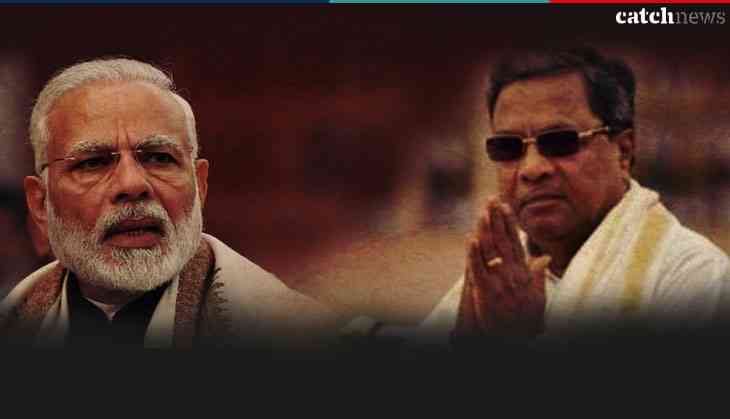 Aiming to hoist the flag of their party after having a smashing victory in the Karnataka Assembly election all the parties are promoting their candidates and rallying in the state. The blame game during the rally between the trio party---BJP, Congress, and JD(S). A news of Karnataka CM Siddaramaiah has slapped a legal notice to PM Modi over his 'Sidda-Rupaiya' jibe during the election rallies in the state. The Congress leader has also sent a defamation notice to BJP chief Amit Shah and BJP Karnataka CM candidate BS Yeddyurappa, along with PM Modi.
Also read: Karnataka Election 2018: Fan inked PM Narendra Modi's face on his back; here's what PM Modi did
Chief Minister of Karnataka and senior Congress leader Siddaramaiah has been in Modi's line of fire, with the prime minister calling his government "side a sarkar" (that Congress government takes a ba ribe). "Money is bad," he noted, recalling what saint poet Shishunala Sharifa once said. But for Karnataka's Congress government, it is "Baap bada a bhaiya, sab se bada rupaiya(when it comes to money, not even your relations are important)."
"Your Chief Minister has changed the saying itself... Baap bhi bada, bhaiya bhi bada aur us se bhi upar rupiya; seeda seeda rupaiya (Relations are important and money is even more important)," Modi said during the rally Earlier, addressing a BJP rally in Mysuru, PM Modi said after he levelled the "10% commission" charge against the Karnataka CM Siddaramaiah dispensation recently, he received many calls, "I can understand the anger of the people of Karnataka," he said, and asked the gathering whether the state wanted a "commission or a mission government." Karnataka, Modi insisted, wanted a "mission government" and not a "commission government."
Similar allegations have been leveled by BJP chief Amit Shah and Karnataka's BJP face Yeddyurappa too. Reacting to these allegations, Congress leader Siddaramaiah has sent a legal notice saying BJP leaders would be sued for civil and criminal defamation if they fail to apologize.
Karnataka Election schedule: Voting will be held in Karnataka on May 12. Counting will take place on May 15.
Also read: Rafi Bhat, Kashmir University professor turned 'militant,' killed in Shopian encounter; clashes trigger march protest in the Valley