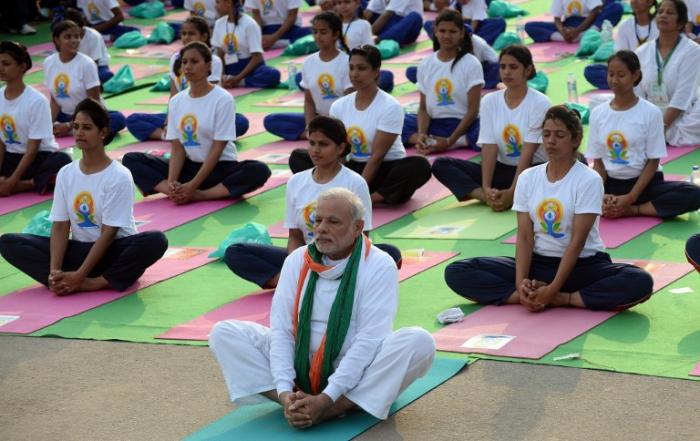 Journalist Pushp Sharma, who courted controversy for filing an RTI on discrimination against Muslims in the Yoga teachers' selection process for International Yoga Day last year, has been picked up for questioning. Police have confirmed that Sharma is being questioned, reported the ANI.
Journalist Pushp Sharma who filed RTI query has been picked up for questioning. Police say that Sharma is being questioned

- ANI (@ANI_news) March 15, 2016
No arrest yet, but a FIR against the The Milli Gazette journalist Pushp Sharma may be registered, say police sources. @the_hindu @abaruah64

- Shiv Sunny (@shivsunny) March 15, 2016
Ayush min has filed an FIR against Pushp Sharma for RTI story on Muslim yoga teachers.Internal probe compared replies,min alleges forgery

- Vasudha Venugopal (@VasudhaV_ET) March 15, 2016
AYUSH ((Department of Ayurveda, Yoga and Naturopathy, Unani, Siddha and Homoeopathy) Ministry had filed a formal complaint with the Delhi Police alleging that Sharma had used fake RTI documents for his article titled, "We don't recruit Muslims": Modi govt's Ayush Ministry, published in The Milli Gazette on 11 March.
The Milli Gazette issue a statement on its Facebook page:
A police force claiming to be from Kotla Mubarakpur police station in New Delhi picked up journalist Pushp Sharma from his home in Lajpat Nagar at around 6:30 pm today.
Apparently, Pushp Sharma has been arrested in connection with his story published by The Milli Gazette and other media outlets, portals and channels about an RTI reply received from the AYUSH Ministry saying that as per government policy, it did not recruit any Muslim as Yoga trainer. The AYUSH Ministry claimed the said RTI reply was fake but the journalist stood his ground saying that reply came to him from the said ministry."
On 12 March, a day after the story was published in The Milli Gazette, the Ayush Ministry issued a statement refuting the claims made in the story. It said:
"The contents regarding religion based data in the so-called Annexure- I are not only fabricated but factually incorrect also. The response of the International Cooperation Section of the Ministry clearly said that invitations were sent to yoga experts/enthusiasts without reference to their religions."
Earlier, speaking to Catch, Sharma had said, "The government is now talking as per their political convenience but I stand by my claim which has been made in the story."
To read more about the story and see all the relevant documents click here.