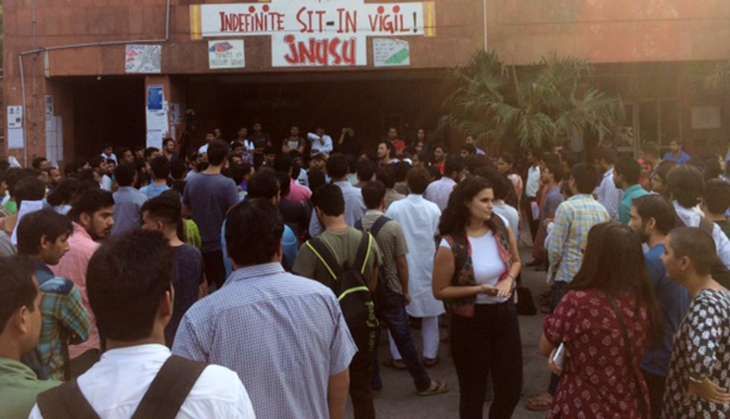 JNU administration has requested all relevant Central agencies, including National Crime Record Bureau (NCRB) and CBI for help in tracing a student who has been missing since 15 October even as the campus continued to be on the edge with protests continuing for the fourth day.
Classes were also boycotted due to the strike called by the JNU students union. A student of School of Biotechnology, Najeeb Ahmed allegedly went missing on 15 October following a brawl on the campus the night before.
Also Read: JNU student Najeeb goes missing after brawl with ABVP members
An FIR for kidnapping and wrongfully confining a person was lodged at Vasant Kunj North police station on 17 October after the police received a complaint from the student's guardians. Asserting that the university is seeking help from all relevant Central agencies to help trace Ahmad, JNU said in a statement, that "Delhi police have been approached to investigate the matter and the administration is regularly in communication with the police. Police has informed that they have already registered a case under section IPC 365 and doing the investigations".
Also Read: Fact, fiction, politics behind JNU student Najeeb Ahmed's curious disappearance
"All PCR vans in Delhi and all SSPs throughout India have been alerted and efforts are being made to trace the student. Further, the police has intimated all the six neighbouring states and put the information on Zip-net in Northern Zone. Moreover, all relevant central agencies, including NCRB and missing section of CBI have been requested for help," it added.
The situation remained tense with the left-backed JNUSU and ABVP levelling allegations and counter-allegations. ABVP alleged that there is inconsistency in the statements of the JNUSU president Mohit Pandey and the roommate of Najeeb Ahmad and demanded a probe.
Also Read: Still no sign of JNU student who went missing after brawl with ABVP
Meanwhile, a group of students of Mahi-Mandvi wrote to the chief proctor specifying nine names claiming that they came to the hostel on the night of 14 October and assaulted him.
Also Read: JNU Students' Union asks administration to ensure fair trial in missing student's case
Also former JNUSU joint secretary, Saurabh Sharma, an ABVP member has been asked by the chief proctor to appear on 21 October for some clarification. However, the reason behind the summon is not clear from the letter. ABVP also staged a protest at the administrative block demanding efforts from the administration and police to find Ahmad.