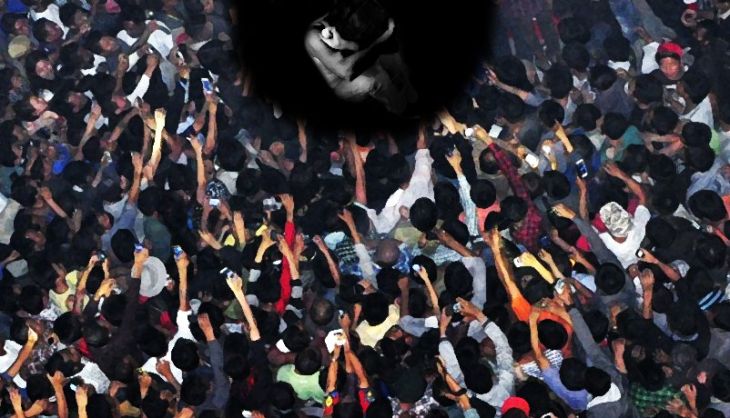 29-year-old Mande Legrand Tshipanda, attacked by a mob at Mahadevapura for allegedly harassing a woman.
Three African youth, including a girl, allegedly beaten up, chased back home. The windows of their house smashed.

Four Africans allegedly attacked by a mob at Byrathi, after residents were 'annoyed' with them for creating 'nuisance' in the area
These are all cases that were reported in the cosmopolitan city of Bengaluru in March last year - just 11 months ago. In April 2015, the city police organised a coordination meeting with African students in order to pacify them.
Also read: Bengaluru racism: Tanzanian woman stripped, beaten by mob, car torched for a stranger's crime
Except, it didn't take even a year for racism to rear its ugly head again. This time, a 21-year-old Tanzanian college student has been thrashed and stripped by a mob in the city. Her crime? That she was driving by the same spot where a Sudanese man had run over a 35-year-old local 30 minutes earlier. What's even more baffling is that local police in the vicinity didn't intervene, and when she tried to file a complaint, she was asked to bring the Sudanese man to the police station, a man who was a complete stranger to her.
While outrage is justified, and even necessary, the larger question here is: if Indians see Africans (people from a whole continent) as a homogenous community, how can this even be remedied?
Here's a hypothetical scenario. Let's say there's an Indian woman driving on the same road an inebriated Sri Lankan man drove on 30 mintues earlier. The man hits and injures an Australian pedestrian at a bus stop and drives off. When the Indian woman reaches the bus stop, her car is stopped by an angry mob. The mob attacks her and holds her responsible for the crime committed by the Sri Lankan man. She's pulled out of the vehicle, and her car is set on fire.
Also read: Here's how much Modi gets paid for being PM. And where he spends it
A bizarre, discomfitting example? And yet, one all too real for so many Africans living in India.
African students in particular, in a city like Bengaluru which hosts nearly one-third of the expat students that come to India, are living in fear of persecution. Not only are they dependents as students, they are also in an alien, arguably hostile environment.
In such a setting, it comes as no surprise that they feel a stark difference in the treatment meted to students from non-African nations and them.
On being asked about this difference, Omer, a student from Sudan told Catch, "Yeah, I think there's difference between fees [paid by African students and other expats]." This, when juxtaposed with a problem Innocent from Rwanda tells The Hindu about, highlights the extent to which African students struggle to live and study in India.
"It is hard to find houses on rent. Even when we do, we have to pay more. They charge us more even in taxis and autos, they never use the meter," says Innocent.
In the same article, a student talks about how institutions aren't the most helpful.
"Soon after confirming our admissions, they take custody of our passports. If there is a delay in paying the fees, they refuse to return it to us. What will we do if we get arrested for not having such important documents?"
And in a city where the police refuses to file a complaint, not having documents couldn't be the best situation for an African national, could it? Top that with cultural stereotypes, and I can't help but think India looks abysmally racist, more so than the 'first world' nations.
Chizoba, a Nigerian student pursuing a course in medicine, told Catch, "I am from Nigeria. The moment I tell people that, people expect me to produce drugs. Then there are those who just walk away."
A couple of months ago, in TGIF's Saket outlet in Delhi, I encountered a Kenyan man in the smoking room. He helped me light my cigarette but seemed to be in need of a smoke himself. When I offered him one, he looked surprised and said, "I didn't think you'd give me your cigarette. I was about to buy a whole pack because I was scared to ask you."
We got talking and I soon learnt he was a student pursuing a short course in JNU. One striking thing he said in the course of our conversation was, "I didn't think Indians, as brown people, would hate black people so much."
And that's what it boils down to, doesn't it? Our inherent hate for each other, be it with regards to religion, caste, sex, etc may be all very indigenous. But when it comes to our understanding of race and skin colour and dealings with people from other countries, we like to throw our colonial baggage at them.
Can this be traced back to Indians and their penchant for lighter skin? That seems to only scratch the surface of the problem.
As Jean Christ, a BCA graduate from Congo living in Bengaluru, puts it, "Most Indians see white people as gods. They see Africans as cheaters, killers."
When asked about Bengaluru Police, a rather disappointing player in Sunday's case, he says, "The police ain't helpful. But they also don't give a f**k. In a good way."
"I'll tell you the problem. It's not easy to make the police understand because they don't understand English. You understand me. I understand you. But they don't."
The Bengaluru Police filed an FIR in the case of the Tanzanian woman's attack on 3 February, three whole days after she tried to file a complaint. That couldn't be a case of lack of understanding. But then again, do Indians understand Africans at all?
"We are all black. We are all Nigerian. That's how Indians see us."
More in Catch:
Also read: Kejriwal can't show his face in TV ads. So he's showing his back
Also read: Still not convinced about Odd-Even logic? Kejriwal dummies can help
Also read: Gay rights took centre stage worldwide in 2015. What stopped India?