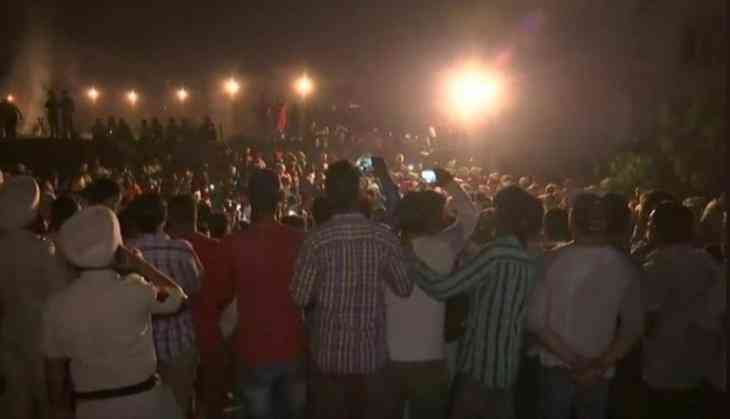 Dussehra event turned into the deadly event after a trained run over the revellers at the tracks near Amritsar on Friday. At least 60 people have lost their lives during the celebration of Dussehra. As per the reports of PTI, Indian Railways called it a 'clear case of trespassing' and also said that no official permission was taken to conduct the event, said, senior officials.
The official sources blamed the Amritsar administration for this tragedy as they said that the local authorities were about the Dussehra programme and it was also attended by the Sidhu's wife also.
It would be wrong to say that Railways is responsible for this accident. There are two manned level-crossing on that track, both were close. It is a main line. There is no speed restriction there: Ashwani Lohani, Chairman Railway Board, on #Amritsar train accident pic.twitter.com/yGJI32gvXb

— ANI (@ANI) October 19, 2018
As per the reports, the railway official said that they didn't give the permission for the event and were not kept in the loop about the event. Therefore, officials also added that it is a clear case of trespassing (the act of knowingly entering another person's property without permission) and the local administration should take responsibility for it.
Railway administration was not informed about the Dussehra celebration near main line. Ppl were watching Dussehra celebrations from railway tracks.Ppl need to be more alert,they must not trespass on railway tracks:Ashwani Lohani, Chairman Railway Board,on #Amritsar train accident pic.twitter.com/PoFCAaVFH3

— ANI (@ANI) October 19, 2018
On asking the question that why the train didn't stop by the driver despite such a large crowd being there then, the official said that 'there was so much smoke that the drive couldn't see anything and he was also negotiating a curve.'
"However, railways' entire machinery is at the spot and we are cooperating with the local administration is rescue and relief operations" the official added.
As per the reports, at least 61 people died, including women and children and 72 were injured after the train coming from Jalandhar to Amritsar and ran over the crowd standing across the railway track to watch the celebration of the Dussehra.
However, the medical team have been rushed to the spot.
Watch Video:
Also read: Amritsar Train Accident: At least 60 feared dead as train rams over people watching Dussehra celebration in Amritsar; rescue underway