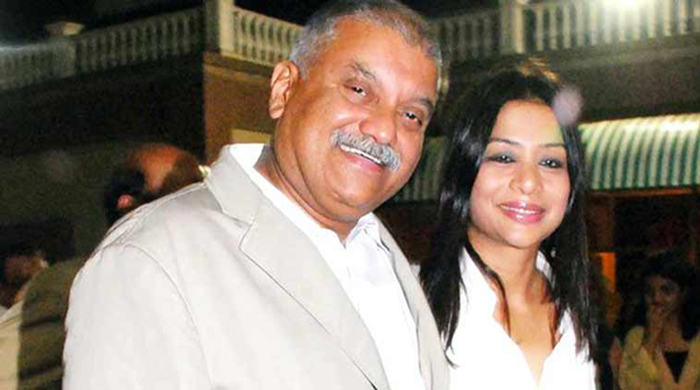 Peter Mukerjea was arrested on Thursday night by the CBI in Mumbai in connection with the murder of Sheena Bora. Peter was produced in the court on Friday where CBI charged him with the murder of Sheena Bora. Peter's arrest put to rest to the theories that former television executive was unaware, and innocent, of Sheena Bora's murder.
The CBI decided to arrest Peter after filing the chargesheet, after an almost two-month long investigation into the grisly murder of Sheena Bora in April 2012. The chargesheet runs into more than 1,000 pages and includes 150 witness statements and 200 documents.
According to media reports, Indrani, who is already in judicial custody for the murder of her daughter, Sheena, played a role in Peter's arrest.
Circumstantial evidence also points at Peter. The former INX Media top boss needs to explain why he did not suspect that anything was amiss, when Sheena failed to contact him for over three years.
After Sheena went missing in 2012, Indrani told Peter that she had gone to the United States to study. But experts believe that three years is too long a time to not rouse suspicion.
Indrani Mukerjea hints did the trick
The extent of Indrani's confessions to the police has not yet been made public. But media reports claim that during questioning Indrani had dropped enough hints that suggested Peter was aware of what was happening.
"She has given enough indications. he knew of the murder," a CBI officer claimed ,reported The Indian Express.
Peter fails to cooperate
According to reports, Peter did not help investigators take the probe further. His statements were reportedly not consistent, and are being seen as an attempt at misleading the CBI.
Media reports suggest that he was not cooperating with the investigations and that the CBI could charge him for destroying the evidence in the murder case.
Financial angle to be probed
If reports are to be believed, Sheena's murder is tangled up in a number of financial deals. This only serves to complicate the matter further. Peter and Indrani had made investments and bought properties not only in India but also in UK and Spain.
The ownership of such financial dealings rests with the Mukerjeas as well as companies owned by them.
Remains found in Raigad forest belong to Sheena Bora
An AIIMS forensic team on Thursday confirmed that remains found in the forest region of Raigad, Maharashtra belonged to Sheena Bora.
Sheena went missing in April 2012. A body was found in Raigad a month later. Police sent the remains to the JJ Hospital in Mumbai, but failed to ascertain the identity of the body. It was only in August this year that police linked the Raigad body with Sheena's murder.
Driver spilled the beans
Indrani Mukerjea's driver has confessed to his role in the murder of Sheena Bora. He made a confessional statement before a special CBI court after the case grabbed headlines.
Driver Shyamvar Rai had stated that Sheena's murder conspiracy was hatched by Indrani Mukerjea and her former husband Sanjeev Khanna had executed the plan.
Rai's statement had been recorded under the provisions of Section 164 of Criminal Procedure Code (CrPC). Statements recorded under this section are admissible in court.