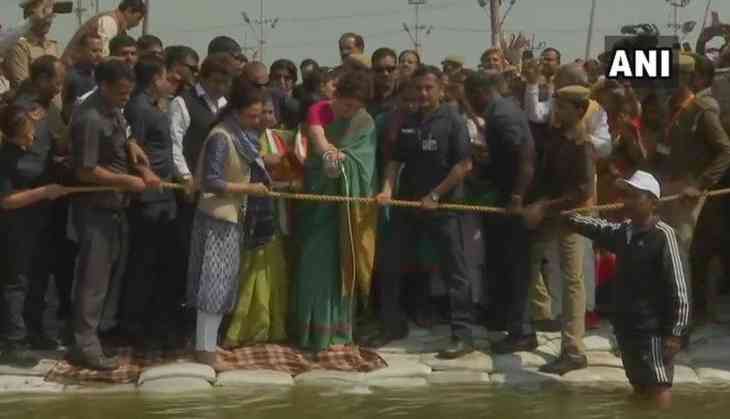 Priyanka Gandhi in Prayagraj
Ahead of the Lok Sabha election, Priyanka Gandhi Vadra has started off her poll campaign from the banks of river Ganga in Prayagraj and will embark upon a 140 km 'Ganga-yatra' to Varanasi.
As per the schedule, Priyanka will be holding 'Boat pe charcha' with the students and will also interact with the communities who live across the river, mostly Mallahas.
Today, ahead of starting the Ganga-yatra, Priyanka offered prayers at the Bade Hanuman Temple in Prayagraj. The sayings by many political pundits that Congress is playing the soft Hindutva card might be active.
Priyanka Gandhi Vadra at Triveni Sangam, to start 3-day long 'Ganga-yatra' from Chhatnag in Prayagraj to Assi Ghat in Varanasi, today. pic.twitter.com/A6gjtbod33

— ANI UP (@ANINewsUP) March 18, 2019
In an open letter, Priyanka Gandhi has yesterday said that "Ganga is the symbol of truth, Ganga Jamuni culture. It does not distinguish. Ganga is the lifeline of Uttar Pradesh and taking the support of Ganga, I will also reach you."
In a reminder, PM Narendra Modi, during his political campaign in 2013-14 had said while in Varanasi, 'Mai yahan nahi aaya hun, mujhe Ma Ganga ne bulaya hai.'
While associating herself with the UP's soil, Priyanka Gandhi reiterated that "I am associated with this land spiritually. I believe that no political change can begin without listening to your problems or sharing your problems. That is why, in order to establish a truthful dialogue with you, I am reaching your doorsteps."
Priyanka Gandhi reached Lucknow on Sunday evening and met the delegations along with the party office bearer.
The Election Commission announced that voting would begin from April 11 and results would be declared on May 23.
Also read: With the help of Ganga, I will reach you: Priyanka Gandhi in open letter