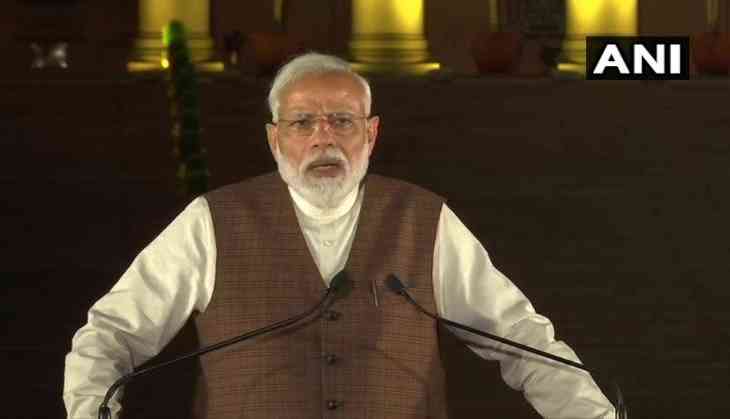 Prime Minister Narendra Modi while addressing newly-elected members of the BJP-led National Democratic Alliance first time after an epical victory, reached out at minorities. PM Modi said the minorities have been cheated by the opposition and that it must stop immediately.
"We have worked for sabka saath, sabka vikas, now sabka vishwas is our mantra," the PM said in parliament's Central Hall on Sunday.
"The way the poor have been cheated, the minorities have been deceived the same way. It would have been good if their education, their health had been taken care of. In 2019, I expect you to punch a hole in that deception. We have to earn their trust," PM Modi said
"The way the poor were deceived, we were able to end it." PM Modi who has been unanimously has been elected the National Democratic Alliance's leader and is set to to be sworn in this week, said in this general election, people voted for pro-incumbency.
"There was a pro-incumbency wave in this election, its result was a positive mandate," the PM told NDA leaders, and added, "The 2019 elections have helped bring down walls, connect hearts."
At the meet, PM Modi also coined a new slogan that would he be guiding path for him: NARA – National Ambitions and Regional Aspirations.
"NDA is moving forward on two tracks, one on regional aspirations and the second on national ambitions," he said.
The BJP scored its 'abki baar 300 par'--- 303 seats in the 543-member Lok Sabha in the national poll and won 353 along with its ally. "The people have accepted Narendra Modi experiment again from their heart. I want to say this about Modiji, whom I have worked with -- for 20 years, he has not taken even a day off. He has worked 18 hours a day," said BJP president Amit Shah.
Also read: Elections come and go, shouldn't lose conscience: Gautam Gambhir to Arvind Kejriwal