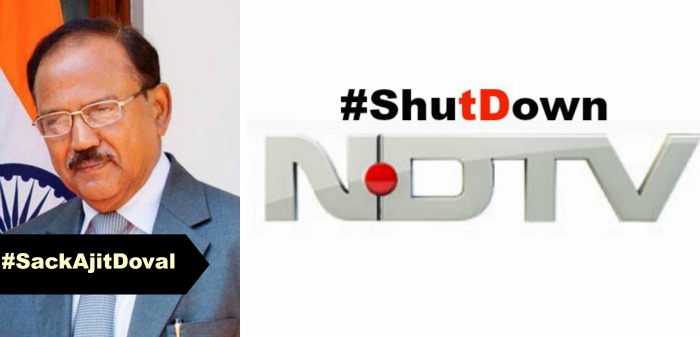 They can't stop and they won't stop. No, not just the party-hoppers Miley Cyrus was talking about in her weird, chart-busting single, but bhakts too. In their resumes, do they list trolling as one of their key skills? Media companies might still be coming to terms with social media marketing, but the bhakts have got it down pat.
The art of trolling, ladies and gents, has been perfected. When the country's 'greatest spy', PM Modi's 007 and the National Security Advisor, Ajit Doval, was put on the spot by media channels for his amateurish way of handling the Pathankot counter-terror measures, bhakts couldn't even with the criticism.
It is said that is was Doval who orchestrated PM Modi's 'impromptu' visit to Pakistan on his Pakistani counterpart's birthday. And since the Pathankot attacks, it is being said that the "National Security Advisor (NSA) Ajit Doval's inept handling has transformed what should have been a short, intelligence-driven, counter-terrorist operation into something that increasingly seems like a debacle."
They also want to know why were there pre-mature congratulatory messages on Twitter, before the operation came to an end. #SackAjitDoval was born, but died a natural death. Because nobody gets to troll India's 007, as long the bhakts are around.
In this report in the Business Standard, Ajai Shukla cannot fathom the decisions taken by the NSA while handling the crisis. For instance, why was the 'National Security Guard flown in and put in charge when it is the army that is most adept at handling terrorist attacks? Only about 50 troops were requested from the army who were kept at the periphery of the entire operation.'
The Pathankot air base was being defended by the jawans of the Defence Security Corps (DSC) jawans comprising retired veterans, Garud air force commandos, and the National Security Guards, who are not specifically trained to fight terrorism, like the army is.
He, of course, was trolled for this piece too.
So could we perhaps have saved some of those martyred in Pathankot, had the army spearheaded the attack? Maybe.
It is but natural that questions are being raised about the strategies used by Doval both by the media and otherwise. But in the age of intolerance and #BhaktTrolling, criticism comes booby-trapped with a hateful hashtag. In this case it was #ShutDownNDTV.
Angry with the channel's reportage and specially with Barkha Dutt who followed the breadcrumbs all over Pathankot, and even to the martyrs' respective houses, they want the media house to be shut down. Added to this fire is a photo of Doval's 2014 letter to the Cabinet Secretary which talks about classified information being reported by media houses in general, and NDTV in particular.
What happened next, will not shock you. With over 40k tweets at last count, bhakts have found a way to break Twitter better than Kim K-West ever could.
It almost takes one back to school where personal dislike of somebody's else's opinion was enough to yell out 'katti'. So, question: is bhakt-trolling this millennium's version of katti slash off-with-their-heads slash un-friend-delete-block?