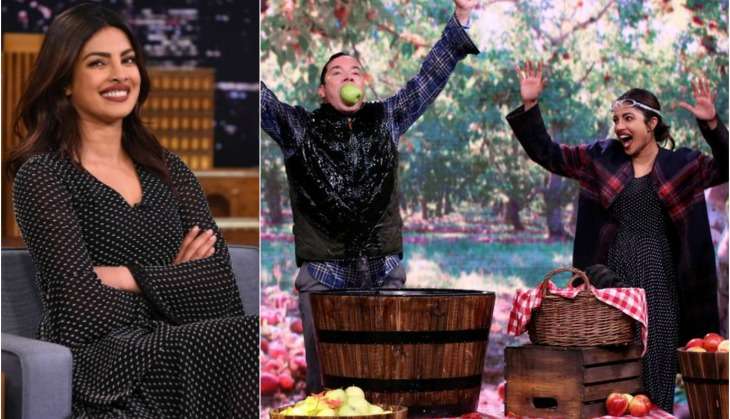 Halloween is coming and with it come the games, and the amazingly outrageous costumes. Priyanka Chopra, who has created home base in the US while shooting for her hit ABC show, Quantico, has slowly and steadily become a staple on American television. In her second appearance at the Tonight Show Starring Jimmy Fallon, PeeCee and Fallon played apple bobbing, much to the audience's delight.
For those unaware of what apple bobbing is (because in India, food isn't game), a whole lot of apples are dunked in a tub of water and those participating need to pick any many as they can with their mouths. A hands-free game, the one who manages to pick the most apples, wins.
The last time Priyanka was on Fallon she played the Hot Wings Challenge - winning comfortably against her floundering host.
This time round, even without the home advantage (of playing a game that hardly makes sense) Priyanka again comes through by a comfortable margin of 5-0. Because, Fallon. Has anyone else noticed how he rarely wins a game on his show despite always putting up a fight? Almost as if it's deliberate (*cough**cough*).
OH. Also, do pay close attention to what happens at 4.05. *CringeLOLs*