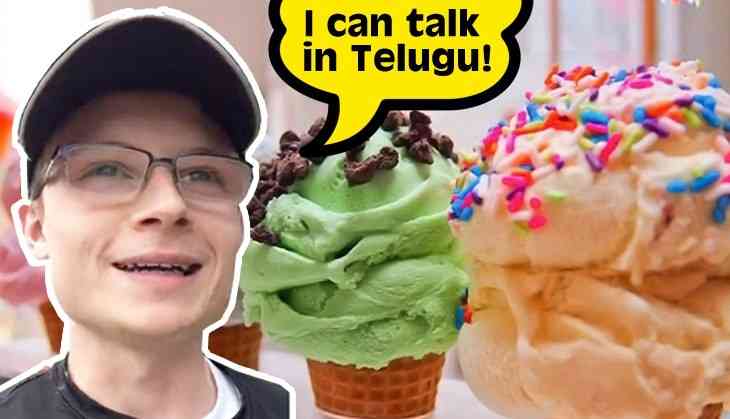 You all have come across to several Indians who can speak more than one languages like Hindi, English, regional and third language every day. But, there are only a few foreigners who can speak Indian languages like Hindi and other regional languages.
We have found such foreigner who has baffled everyone with his fluency in the Indian language. Wait! If you are thinking that he can speak in Hindi then you are wrong as he knows Telugu.
Yes, you read right! Surprisingly, a US-based ice cream vendor has stunned everyone when he started communicating in Telugu.
A video has surfaced the Internet in which a US man named Isaac Richards at ice cream store in Montana, US was conversing with some Indian in fluent Telugu.
In the viral video, Richards can be seen explaining to customers how he learned the Indian language. Isaac said that when he was residing in various places across Andhra Pradesh like Hyderabad, Vijayawada, and Vishakhapatnam for around two years at that time he learned the language.
See the viral video shared by Facebook user Ganesh Kesana:
The video of Richard speaking in Telugu has been flooded with many bewildered expressions and has been shared for over six thousand times on Facebook.
At the beginning of the clip, Richard was asking the customers about the well being of Andhra Pradesh and Telangana citizens in Telugu.
Richard has also shared another video on the YouTube channel and revealed some more surprising details about himself.
See video:
How many language can you speak? Tell us on our Facebook page....
Also Read: Innovative Invention! Two Indian men create eco-friendly pen made of newspaper; Netizens call, 'best creativity'