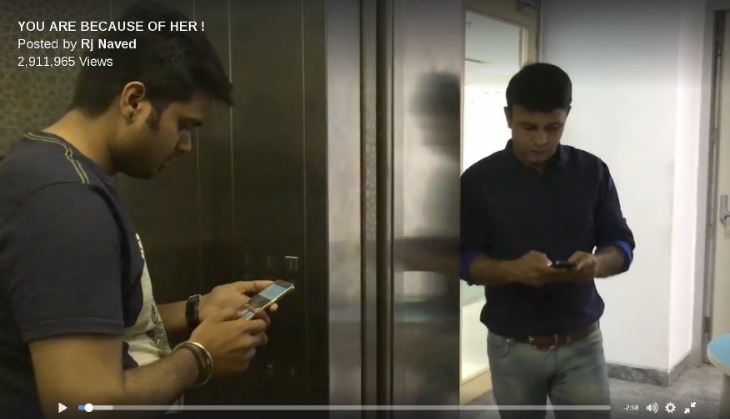 Popular radio jockey RJ Naved shot and uploaded a video of his 'experiment' to find out how Indians truly feel about bringing home a baby girl. Titled 'You are because of her', the video has over 2.9 million views with 52k shares and counting. A viral sensation if there ever was one.
Portraying a new father who gets news of the birth of his child in an elevator, after the first call reveals it is a boy, Naved is ecstatic. He happily tells his co-passengers who congratulate him. Moments later, he receives a second call where he's told it's a girl, not a boy. Visibly upset at the news, he almost grumbles 'sorry' to those with him in the lift. It is a girl, he says.
This is when the experiment truly begins - how will his co-passengers react? In a country where female infanticide hardly raises eyebrows, the contents of this video will give you hope.
The video, which was shared by Naved on his Facebook page, is filled with positive comments as well; with one user sharing his personal experience at a hospital where an old lady tried to comfort him for having a daughter. The commentator proudly notes that his baby girl, who is two years old now, is the best thing to have happened to him.
Special shout-out to the Sardarji in the video for being an absolute rockstar.
Watch:
--
Edited by Abha Srivastava