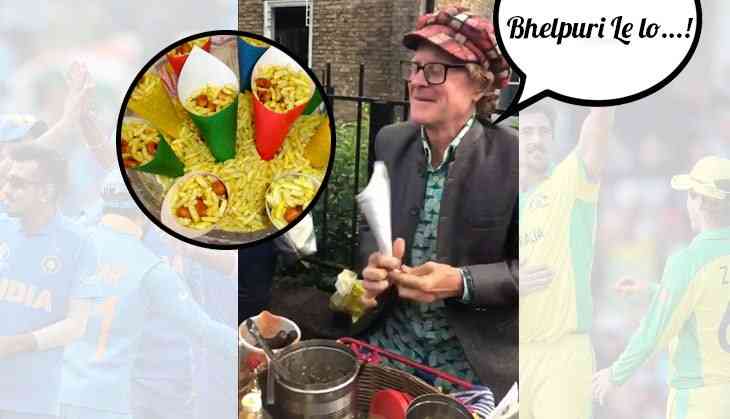 Bhelpuri lovers would definitely go crazy after seeing a British man selling bhelpuri in England. The video of this bhelpuri vendor has brought Internet by storm.
The video was captured outside The Oval, where the ICC World Cup match is currently going on. Amazingly, it was recorded on the day when team India was playing the match against Australia.
Interestingly, the British man has a complete set up just like Indian vendor have and also the way he was making bhelpuri gave an Indian touch to the mouth-watering snack.
Cricket fans who went The Oval to witness the match got more amused after seeing a British vendor named Angus Denoon making bhelpuri just like the way Indians sell on the street.
Now, his video making bhelpuri is doing the rounds on the various social media platform.
Have you seen it? If not then, have a look:
आेव्हल मैदानावर भेळेची गाडी 😬🤗👌 pic.twitter.com/HoZlDXMInS

— Sunandan Lele (@sunandanlele) June 10, 2019
Angus Denoon not only won the hearts of Cricket fans but also sought the attention of Bollywood's Shahenshah, Amitabh Bachchan.
Big B also took to Twitter and wrote, 'bhery bhel done'.
bhery bhel done 🤣 https://t.co/xMNpRT8ZCe

— Amitabh Bachchan (@SrBachchan) June 11, 2019
Check how Cricket fans and bhelpuri lovers react after seeing this British bhelpuri wala:
Aila ..bhel in london😂lage raho

— मुंबई की 🐦 (@UdtiiChidiya) June 10, 2019
👌👌👌
अरे वाह..!!!

सर हे नक्की ओव्हल च आहे ना ,की शिवाजीपार्क..?
🤡😂

— D_Rohit Jain (@DhongadeRohit) June 10, 2019
@2019_Shield

Oval ki bhel aur gabbar ka dhamal👍

— Mahesh (business promoter) (@maheshk20600708) June 10, 2019
India ko isspe patent mangta hai bhai...

— विजयी भारत Roop Darak (@roopnayandarak) June 10, 2019
साले गोरो ने हम पर 200 साल राज किया फिर भी आज भेल बेच रहे है ओर भारत सबसे तेज बढ़ती अर्थ्यवस्था है 😂😂😂 पाकी आतंकी भी खूब पहुंच गए हैं ब्रिटेन में और करो बटवारा

— नाश्त्रेदमस्त (@NastreTheMust) June 10, 2019
इंग्लिश चटणी 😅

— Narendra Pawar (@narenspeaks1) June 10, 2019
We like the way he is selling bhelpuri in suit pant.
How do you feel? Comment...
Also Read: Son pens down emotional message on his mother's second marriage; Netizens applaud his gesture