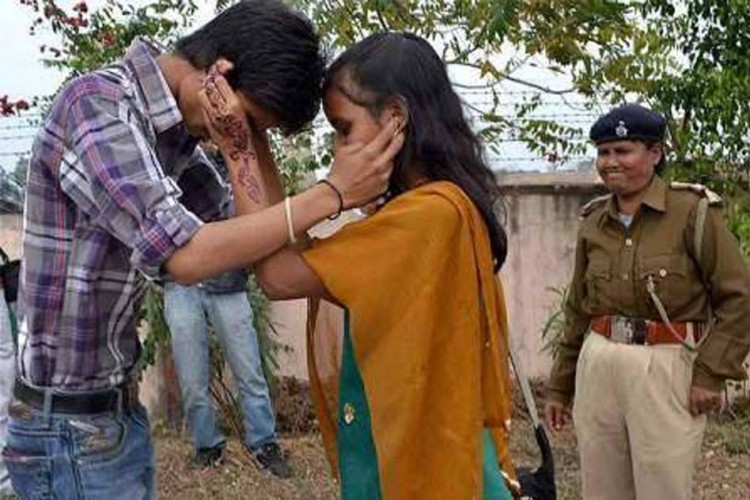 Be my Valentine, said one Hallmark greeting card to another. And that brief romance could have started and ended there, except they were burnt together, uniting them in death.
Excuse the morbid poetry, but it is rather fitting for this 'day of love' in India.
However, there's no point to complaining without understanding where this V-Day business comes from. To be honest, even history is not very clear on that.
The not-so-boring history
While we all brandish our knowledge on the subject by often calling it "that St Valentine person's day", as it turns out, the Catholic Church actually recognised three different saints by that name. And it doesn't help that all three were martyred, and in association with romantic love.
There's one tale about a St Valentine who sent the first 'valentine card' from jail, another who played cupid to young couples in love and helped them marry.
But why 14 February? That's where these already vague legends get even more unsure. Some say it is to commemorate the death of said St Valentine, and others believe it to be a Christian whitewash of the pagan festival of Lupercalia.
Now that we're all so clear on the origins of Valentine's Day, it really shouldn't come as a surprise that so many contradictory emotions come into play this day, especially in India.
Violentine's Day
For a country that observes festivals through the lens of religion, Valentine's Day is a bit of a Joker card. It disrupts our notions of community celebration, narrowing it down to couples, who may or may not be from the same religion, caste or state.
Viewed disapprovingly as 'western culture', V-Day has attained cult status due to the attention it receives from the far right wing in the country. Because taboo and rebellion often thrive under censure, and with Bajrang Dal, VHP and the Shiv Sena planning months in advance to combat this morally degrading day, couples in India have found more reason to feel the love on 14 February.
But that never stopped the torchbearers of Indian culture. Last year, Valentine's Day took a beastly form when couples were threatened with forced marriage by the Hindu Mahasabha if seen together, canoodling or otherwise. This of course pales in comparison with self-styled godman Asaram Bapu renaming the day as 'Matri Pitri Pujan Diwas', or 'Parents' Worship Day'.
In order to keep up with the trend, 2016 has seen some jazzed up Matri Pitri Pujan hoardings on Delhi Metro station pillars.
'Inspired' by rape accused Asaram, ads condemn Valentine's Day on Delhi Metro https://t.co/v0snQh6VJA pic.twitter.com/hxx0yk4Gou

- Janta Ka Reporter (@JantaKaReporter) February 9, 2016
The only sane question that could be asked here is, why does the political right wing not agree with the wide consumerism Valentine's Day encourages?
Cashing in love
There really could be no other reason than how V-Day isn't ideal to homogenise cultures. Because beyond that aspect, it's a businessperson's wet dream.
Right from the butterfly-shaped red hearts, to red roses, to completely unusable little nothings that cost a bomb, Valentine's Day manages to make one want to burn a hole through their pockets, for almost no reason at all.
McDonaldisation and all is very well, but what V-Day does in a day is a whole new phenomenon. The media (guilty as charged) celebrates it with as much fervour as Christmas. In a country like India, V-Day becomes a reason to get couple spa treatments, inexplicably expensive holidays, facial enhancements, boob jobs, even reason enough to buy a car or diamonds.
But as they say, if ladka ladki are razi, the quazi can go take a hike.
Edited by Abha Srivastava