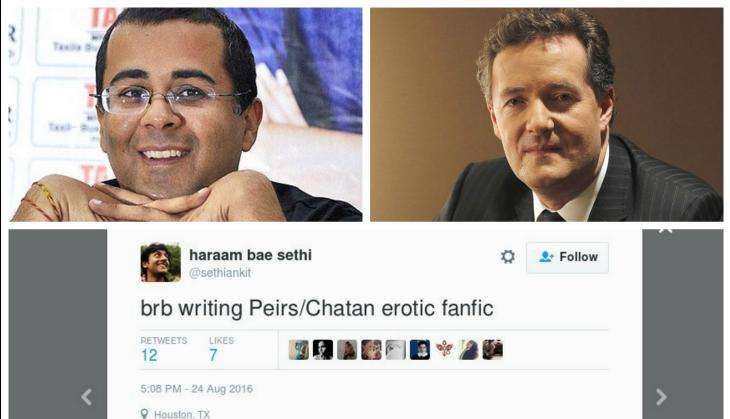 So while you were off sipping that cuppa of tea, Indians on Twitter were having a ball trolling TV presenter, and journalist Piers Morgan because he had the temerity and the thick skin to say what many do think but refuse to voice out, fearing the threat of being lynched.
He asked how such a large country like India managed to win only two medals in the 2016 Olympics at Rio. Yes, Sakshi Malik and PV Sindhu are heroes. But for such a large country, we seem to be be doing very little to help along potential/prospective athletes. The lure of a cushy government job always takes precedence for the urban class. For those living on the fringes - they're just fighting to make ends meet, not win medals.
1,200,000,000 people and not a single Gold medal at the Olympics?
Come on India, this is shameful.
Put the bunting away & get training.

— Piers Morgan (@piersmorgan) August 24, 2016
So in the middle of this, the extraordinary Chetan Bhagat jumped in. To let Morgan know that we celebrate every win and that he cannot really spell words correctly.
We honor achievers Peirs. Top 3 in the world,despite 3rd world sports facilities isn't loser.It is freaking amazing! https://t.co/pbFuP0Hmky

— Chetan Bhagat (@chetan_bhagat) August 24, 2016
To his 'Peirs', Morgan came back with a Chatan.
Noted, Chatan. https://t.co/wYknYWSkQZ

— Piers Morgan (@piersmorgan) August 24, 2016
A mistake which to an oblivious Chatan was not obvious.
It's Chetan. And sorry about the trolling. I get my fair share. Celebration or outrage, we tend to overdo.Clearly :) https://t.co/Wkc6UWUIND

— Chetan Bhagat (@chetan_bhagat) August 24, 2016
So what was a trolling match between the upholders of India's spirit of nationalism and Morgan now quickly turned into a match making fest.
So are you Team Peirs and Chatan 4Eva or not? Twitter, you best yourself at every opportunity.
Peir Chatan Dhan Paayo.

— Naomi Datta (@nowme_datta) August 24, 2016
"Pierce Brosnan should not have made that comment" - Vijay Goel

— Raunak (@MeraHandle) August 24, 2016
@RegaJha The Great Chatan being judged by his Peirs is as poetic as it is apt.

— Dave Besseling (@davebesseling) August 24, 2016
Pls bring peirs morgon and chatan bhegot to orknob goswammys screaming show

— (((psemophile))) (@psemophile) August 24, 2016
A tale of two fraands pic.twitter.com/slv9bv1Gd4

— Bratticus (@bharatunnithan) August 24, 2016
Looks like Chatan and peirs are result of using Safari's auto-correct #safaridictionaryfail

— Prasanna (@terminalfix) August 24, 2016
brb writing Peirs/Chatan erotic fanfic

— 🌹 sethi-san 🌹 (@sethiankit) August 24, 2016
Peirs ❤️ Chatan pic.twitter.com/JuK8gszkes

— Nirali Shah (@nirali_ss) August 24, 2016
One Bollywood song with Peirs and Chatan together is all I ask the universe for.

— Sonia Thomas (@SoKneeOh) August 24, 2016
--
Edited by Aishwarya Yerra