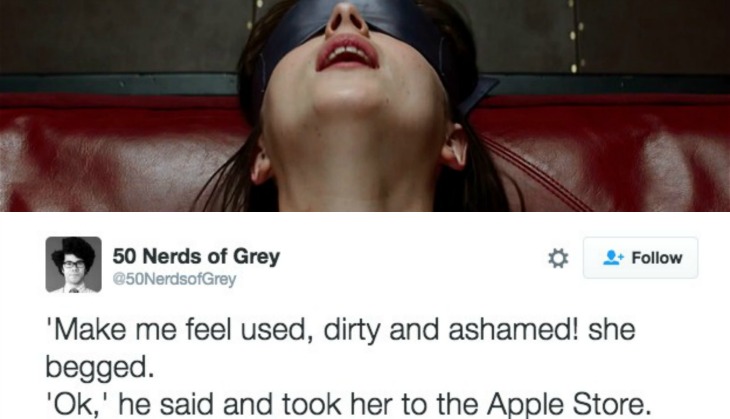 It is believed that great literature inspires and spawns many, many more.
It is however, a widely-known but little-acknowledged fact that terrible 'literature' gives birth to just as many deluded souls.
EL James, the author of the trilogy for nymphomaniacs - Fifty Shades of Grey - has made no secret of the fact that her books were inspired by Stephenie Meyers' Twilight series.
For the uninitiated, the Twilight series chronicled the lives of a 17-year-old girl and an approximately 100-year-old vampire who fall in love and bring a half-vampire-half-human child into this world. There's more, the child turns out to be the 'soulmate' of a werewolf who was previously in love with the human mommy, Bella.
That such a plotline lead to the birth of the most twisted and disturbingly-violent storyline for nymphomaniacs and about nymphomaniacs is hardly surprising.
But what is still more surprising is that for once, the theory that terrible lit begets terrible lit, has been completely shattered.
The memes, cartoons, spoofs and write-ups that have followed have been shockingly refreshing. The primary of these is 50 Nerds of Grey, the Twitter handle that is hellbent on turning the narrative from something crass and degrading into something definitely worth reading and not at all vomit-inducing.
'I've been a very bad girl,' she said, biting her lip. 'I need to be punished.'
'Very well,' he said and installed Windows 10 on her laptop.

— 50 Nerds of Grey (@50NerdsofGrey) September 7, 2015
When she found out he worked in technical support, it really turned her on.
Then it turned her off.
Then it turned her on again.

— 50 Nerds of Grey (@50NerdsofGrey) May 3, 2016
"Don't hold back," she begged, "I like it rough!"
"OK," he said. "I roll a nine so you're trapped in the dungeon with a six-headed troll."

— 50 Nerds of Grey (@50NerdsofGrey) May 1, 2016
'Do you want a happy ending?' she asked, massaging his back.
'Yes please' he replied.
'OK' she said 'Jon Snow's still alive.'#GameofThrones

— 50 Nerds of Grey (@50NerdsofGrey) April 24, 2016
'Ouch!' he cried in pain as her hand swiped right across his face.
'I'm sorry,' she said. 'I thought we were still on Tinder.'

— 50 Nerds of Grey (@50NerdsofGrey) April 23, 2016
'Make me feel used, dirty and ashamed! she begged.
'Ok,' he said and took her to the Apple Store.

— 50 Nerds of Grey (@50NerdsofGrey) April 22, 2016
'How do you feel about chains?' she whispered, stroking his chest.
He gulped. 'I quite like Pizza Hut but I'm not so keen on McDonalds.'

— 50 Nerds of Grey (@50NerdsofGrey) April 17, 2016
'I love listening to a man who can make me feel desperate and humiliated,' she said, squirming.
'All right,' he said, and called IT support.

— 50 Nerds of Grey (@50NerdsofGrey) April 16, 2016
"I can't take any more!" she cried, exhausted after three hours bent over the desk.
It was no good, she just couldn't remember her password.

— 50 Nerds of Grey (@50NerdsofGrey) April 30, 2016
They tried it standing up, sitting down and bent over the kitchen table but it was no good - they just couldn't get a decent wi-fi signal.

— 50 Nerds of Grey (@50NerdsofGrey) April 8, 2016
He was heavily into BDSM - Batman, Daredevil, Superman and Mr Fantastic.

— 50 Nerds of Grey (@50NerdsofGrey) March 31, 2016
'Harder!' she screamed, 'Harder!'
'All right,' he said. 'What's the square root of nine times twelve divided by six point three recurring?'

— 50 Nerds of Grey (@50NerdsofGrey) March 24, 2016
'Punish me!' she cried desperately, 'Make me suffer like only a real man can!'
'Very well,' he replied, and left the toilet seat up . . .

— 50 Nerds of Grey (@50NerdsofGrey) March 18, 2016
--
Edited by Blassy Boben
Also read:
Women's Day? Video #WomenNotObjects shows how messed up ads are
We dare you to answer Kalki Koechlin's questions from The Printing Machine