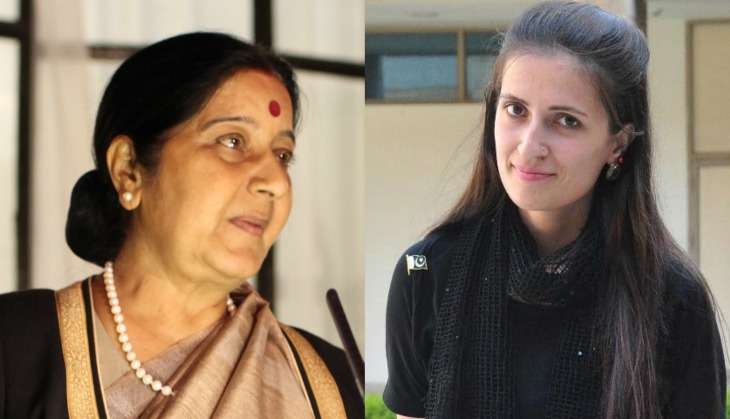 There is much to learn from External Affairs Minister, Sushma Swaraj's magnificent Twitter game. It is a lesson not just for her peers but also for us. Let's name the lesson 'how to respond in situations that could easily escalate 101'.
Twenty students from Pakistan were in Chandigarh for the 11th Global Youth Peace Festival from 28 September to 2 October. But due to the escalating tension between India and Pakistan after Uri attack and India's surgical strikes that followed, the students were logically scared about their stay and the journey back home.
Aliya Harir, who was heading the delegation reached out to Sushma Swaraj who was attending GYPF, and was assured of the students' safety. Post Sushma's reassurance, Aliya tweeted this out:
Extremely overwhelmed. Spoke to @SushmaSwaraj ji who assured that Pakistani delegation of #GYPF2016 will reach Pakistan back safe. 😊 🇵🇰 🇮🇳

— Aliya Harir (@AliyaHarir) October 1, 2016
Responding to Aliya's tweet in the most mom-like manner possible, Sushma reiterated why her humanity, her people's skills as well as her social media game is continents ahead of everyone else's.
Aliya - I was concerned about your well being kyonki betiyan to sabki sanjhi hoti hain. https://t.co/9QyeMQfRwy

— Sushma Swaraj (@SushmaSwaraj) October 3, 2016
After reaching home safely, Aalia tweeted back.
Aap ki beti kehlane ka sharf hasil hai, aur kya chaheyay. The delegation has reached back home safe&immensely happy. Thanks a million times. https://t.co/JHH8VUj91Q

— Aliya Harir (@AliyaHarir) October 4, 2016
On some days, you win at cheering us up Twitter.