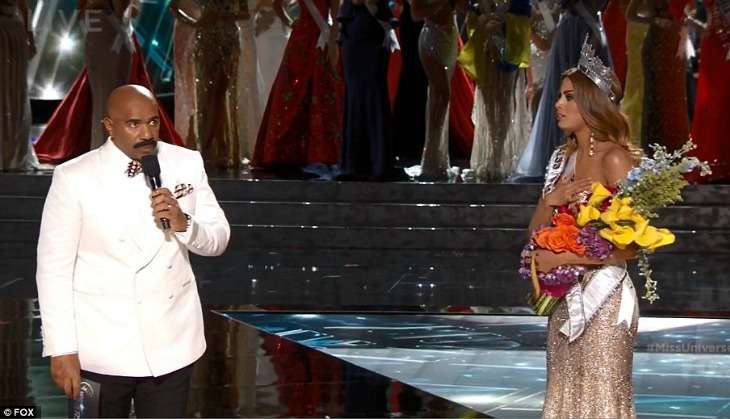 Comedian and long time host of the Steve Harvey Show, Steve Harvey has been officially roped in to host the 2016 Miss Universe pageant. Something that catapulted him to TV notoriety last year after incorrectly announcing the winner's name.
In 2015, the 59-year-old comedian wrongly announced Miss Colombia Ariadna Gutierrez as the winner, while she was the first runner-up. She had received the crown, sash and flowers before Harvey returned to the stage to tell the crowd that he read his cue card wrong.
"I have to apologize, the first runner-up is Colombia. Let me just take control of this. This is exactly what's on the card. I will take responsibility for this. It was my mistake... Horrible mistake," he had said.
Former Miss Universe Paulina Vega had to physically take the crown off Gutierrez and put it on Miss Philippines, Pia Wurtzbach.
Following the major slip-up, Harvey was publicly ridiculed and he even received death threats. Speaking about how he felt when he went back on the stage, he said in an interview: "It was four minutes of pure hell... It was the most gut-wrenching walk I've ever had in my life."
The 2016 Miss Universe pageant will take place in the Philippines on 29 January, 2017. Model Ashley Graham will serve as the backstage host.
Excited to join @IAmSteveHarvey at #MissUniverse as Backstage Host. Tune in to @FoxTV 1/29 to watch!

— Ashley Graham (@theashleygraham) December 14, 2016
In the meantime, Twitter is being its usual nasty self, ridiculing the man for making a mistake he's already paid for in countless memes and a very public and humiliating apology.
⚡ Steve Harvey is hosting Miss Universe againhttps://t.co/tkEyIOUB6C
Don't fuck it up again bruv

— Lorraine (@lorrainebopeep) December 16, 2016
If Steve Harvey can host Miss Universe again, then I can try a semester of college again.

— Darden Shadrach (@dardenshadrach) December 15, 2016
Of course he is.. I don't think Miss Universe was ever talked about so much after him doing it last year 😂🙏🏼https://t.co/fIBX7jpypO

— Ellie Gonsalves (@EllieGonsalves) December 15, 2016
When Miss Columbia heard Steve Harvey was hosting Miss Universe again pic.twitter.com/7YNnhJu8L0

— 死神 (@ShonenJumpman) December 15, 2016
Wait Steve Harvey is hosting miss universe again...

— Jenny Fer (@_jennyvr) December 14, 2016
This is the funniest thing I've heard all day 😂😂😂😂💀💀💀⚡️ "Steve Harvey is hosting Miss Universe again"https://t.co/pizVyyjneG

— Mia (@Mukieeeee) December 16, 2016
Can't believe Donald Trump picked Steve Harvey for Secretary of Announcing the Next Miss Universe. Sad!

— ⓈⒽⒶⓃⒺ (@shanesedlak) December 16, 2016
--
With inputs from IANS