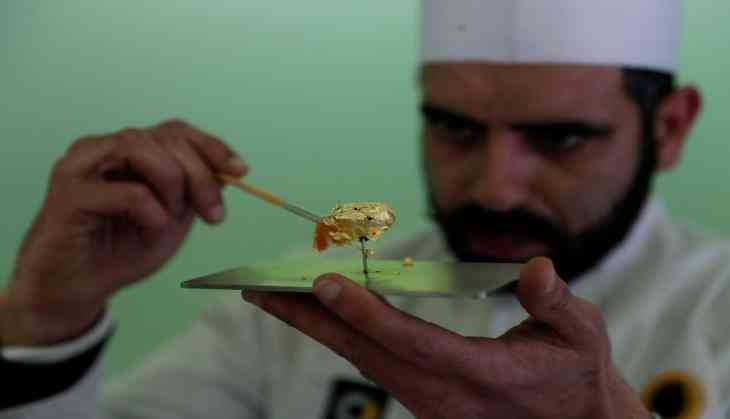 Love for chocolate in Portugal is on peak. The world's most expensive chocolate was unveiled at the International Chocolate Festival in Óbidos, Portugal. This Bonbon chocolate cost approximately Rs 6,00,000 or 7,728 euros.
As per a report on a local website, the chocolate - dubbed 'Glorious' - is coated with 23-carat gold. The chocolate confectionery or Bonbon consists of equatorial black Valrhona chocolate, saffron filaments, Périgord white truffle, white truffle oil, Madagascar vanilla, gold flakes, and a "secret" ingredient.
Also read: This is how Priya Prakash Varrier's wink is assisting Vadodara Police in spreading awareness
The man behind the world's expensive chocolate, Portuguese chocolatier Daniel Gomes, said he has worked for a year to create the unique sensation. He explained that it is a product which utilises the most expensive ingredients in the world. He said the chocolate is aimed at the luxury market.
Daniel Gomes, said the diamond-shaped chocolate was certified as the world's most expensive by the Guinness Book of Records, which in 2017 listed US$250 (RM978) La Madeline au Truffe made by Danish artisan chocolate-maker Fritz Knipschildt's as the record holder.
World's most expensive #chocolate #bonbon unveiled in #Portugal

Read @ANI Story | https://t.co/oTJBlbSAOm pic.twitter.com/LhHuMwfq4c

— ANI Digital (@ani_digital) March 24, 2018
Its crown-shaped box is decorated with 5,500 Swarovksi crystals and also carries personalised pincers. — Reuters
The report goes on to highlight that the packaging uses a black lacquered wooden base with gold serial number engraving and a crystal cloche, coated with thousands of Swarovski crystals and pearls, topped off with a gold ribbon handle.
The Bonbon covered in edible gold, the chocolate is part of a limited edition of 1,000 bonbons. The product is so exclusive that it requires the seller to not divulge to whom the bonbons are sold, said Gomes.
Unfortunately, the chocolate lover in India has no way to purchase the uber-expensive chocolate in the country as it has only been shipped to countries like the United Arab Emirates, Russia, Angola and Argentina.