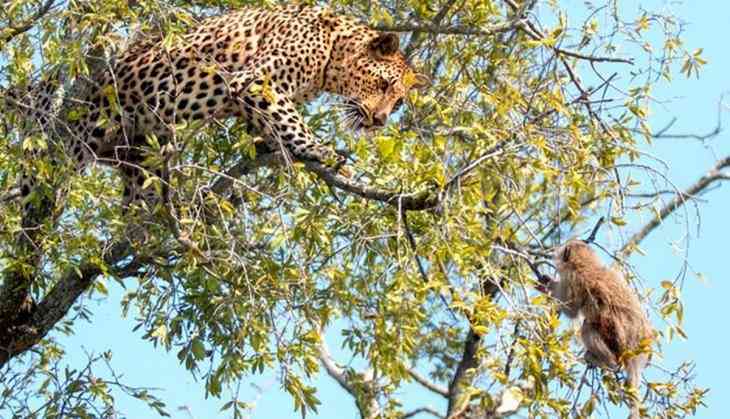 Do you have any idea how nimble a monkey can be? By the way, the leopard also has amazing skills when it comes to agility. However, this viral video on social media is putting in the picture.
Indian Forest Service (IFS) officer Susanta Nanda, gave a magnificent overview of the jungle life. In which you can see a leopard launch an attack on the monkey and the monkey does every thing to avoid becoming the prey.
Check out video:
Monkey was not happy with his date pic.twitter.com/mvHnHIfmTh

— Susanta Nanda IFS (@susantananda3) July 29, 2021
This amazing video was shared by IFS Susanta Nanda on 29th July, the video has garnered over 21,000 views and 2,400 likes thus far. In the clip, the monkey can be seen dodging the leopard attack with its agility.
Both the animals are on a tree. Sometimes a monkey can be seen climbing a tree high to save his life, and sometimes it can be seen jumping from one branch to another dodging the leopard.
The leopard can also be seen trying to catch hold of the monkey with all its speed and strength. But his strength goes down in front of agility.
This video is the sheer evidence of how much an animal has to fight in order to live in the wild.
Also Read: Scary! Python vomits out dog after devouring it; video will give you goosebumps