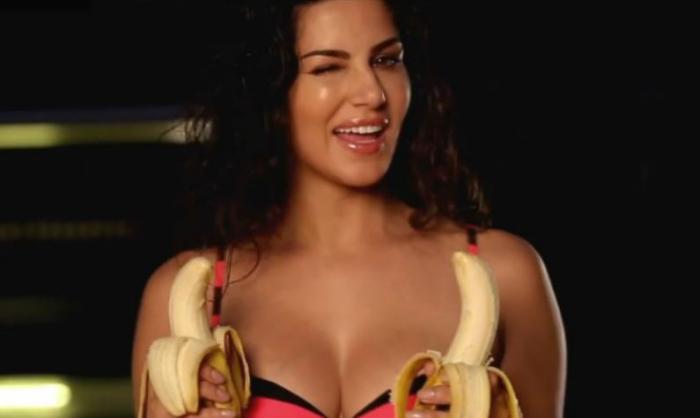 A total of 857 porn websites, including PornHub, were banned in India in August 2015 due to child pornography content. And yet, India beat Canada to secure the number 3 spot for the world\'s most porn consuming nations. Moment of pride?
Indian consumers love to watch their porn on mobile, at least on PornHub. More than most other countries out there.
India can suprise us, even provide humour, on the bleakest of days. If you're wondering why we sound so romantic about India all of a sudden, know that it's all thanks to PornHub's trusty Year in Review data.
As every year, the world's top pornography website has released its analytics on viewership in 2015. And India has beaten Canada to secure the top three slot as far as global viewers across different countries go. But while our continued growth in the domain isn't entirely shocking, there are some facts in there that downright amused us.
So, get this. Every website in the world, including Catchnews.com and PornHub.com, face a traffic slump during the holiday season. And though we often lament this inevitable phenomenon, PornHub has given us a reason to chuckle. While most other countries sort of tune off sexytime on the internet during Christmas and even May Day, India in 2015 chose to go sanskari on Rakshabandhan.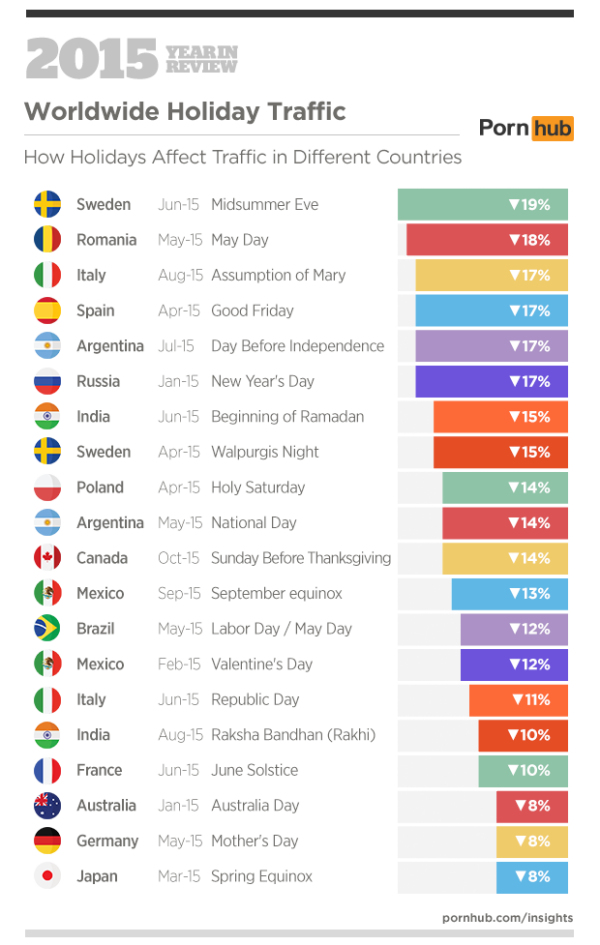 We'll wait for you to finish laughing.
Yeah, so India saw a 10 per cent traffic slump on PornHub on the bhai-behen ka pyaar day. Either it's guilt kicking in, or some major sanskari-ness. For one wonderful day.
If we say PornHub Analytics is a gold mine now, you'll probably believe us. Here's more such exciting data.
1. Pocket mein rocket
Ranbir Kapoor sporting a sardarji's turban lip-synced to this song back in 2009 before we knew about just how powerful this little wonder device would eventually be -- the smartphone.
While Japan saw a 49 per cent growth in mobile porn consumption this year, India with its 16 per cent growth still consumes more porn on their phones, taking the whole masturbating population into consideration. While 52 per cent of Indians watched PornHub videos on mobile in 2014, a lion's share of 60 per cent did so in 2016.
And we're not just talking of MLAs watching porn on phones in Assemblies here.

2. Such patriotism, much wow
If one had any doubts about India's patriotism, they just need to take one quick look at PornHub's data on what we search the most and faith shall be restored.
Starting with "Indian", the top searches from India include "Indian bhabi/aunty" (hullo, Savita), "Indian actress" (oh so Sunny), "Indian wife" (so patni-vrata), "Indian college/teen" (because creepiness), "desi" (that's right) and "Japanese/Indonesia" (huh?).
The Savita bhabhi phenomenon ceases to die as "Indian bhabhi devar" genre saw a 222 per cent jump in searches. Basically, behen is not okay, bhabhi is.
3. The younger the better?
"Anal", "Arab", "Babe", "Mature". These are some of the favourite categories of porn watched all over the world. India, it seems, is pretty 'big' on teen.
But before you think it's a natural choice for most, here's some fascinating insight from PornHub:
"In the 18-24 and 25-34 groups (all over the world), searches for 'teen' rank higher than other terms like 'milf' which begin to rank higher in the 35-44 groups and up. In the 35-44 and 45-54 groups, 'teen' ranks much lower, then disappears off of the list in the 55-64 group's top 10. 'Granny' is the second most searched term among the 65+ crowd. This finding comes back to the argument of whom we are most likely attracted to (those similar to ourselves)."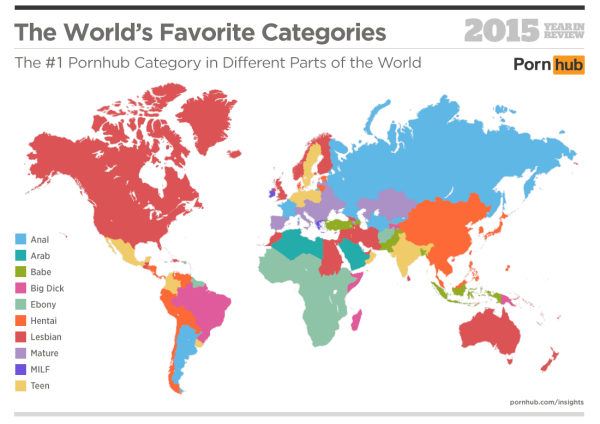 4. Ladies in the house
It's promising, to say the least, that the population of female porn viewers is growing. Not only does this create a market for more porn from the female perspective, but it shows a lack of inhibition among women to explore themselves.
While it's only a 30 per cent female population in India that spent quality time on PornHub in 2015, it is still a notable jump from the 26 per cent viewership in 2014.
You go, girls.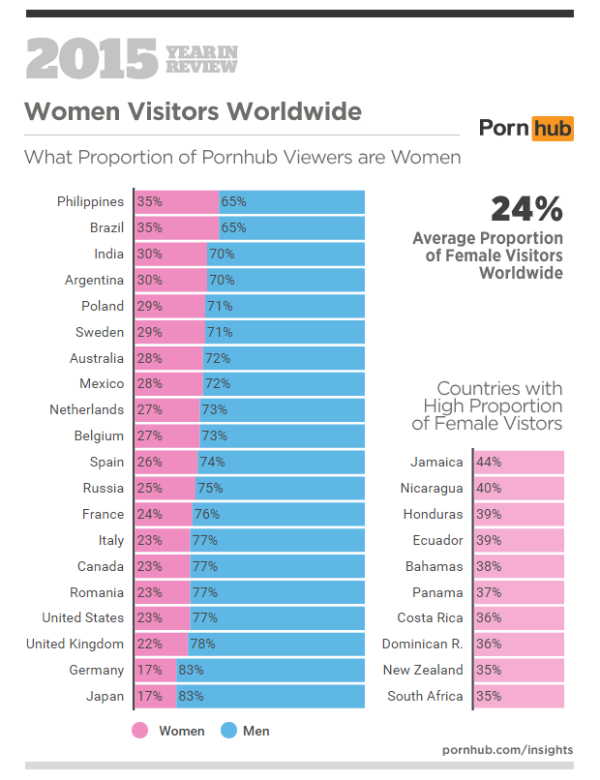 Oh and just in case you're still wondering about "what women want" in 2015, here's a useful recap.
While men continued to watch teens and large body parts, women explored plural sexualities, for both sexes. And what did they search? "Man eating pussy", "Guy eating girl out". You get the drift.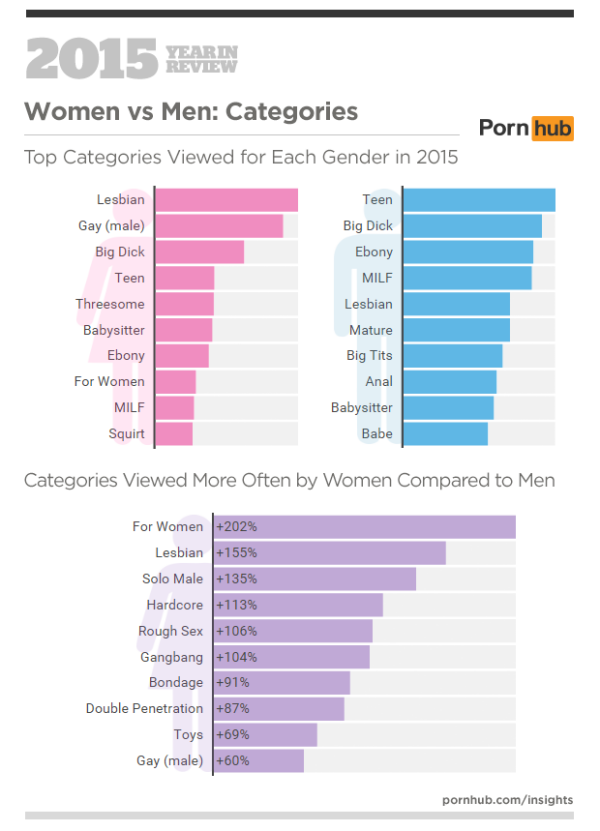 5. 'India is a young country'
Prime Minister Narendra Modi has on more than one occasion reminded us just how young a country India is. And PornHub stats show us what young India has been up to.
While the average age of a PornHub visitor is 35.5 internationally, a whopping 49 per cent of the Indian population on the website is less than 24 years of age. Hmm.
As long as the youth of the nation is keeping things up, eh?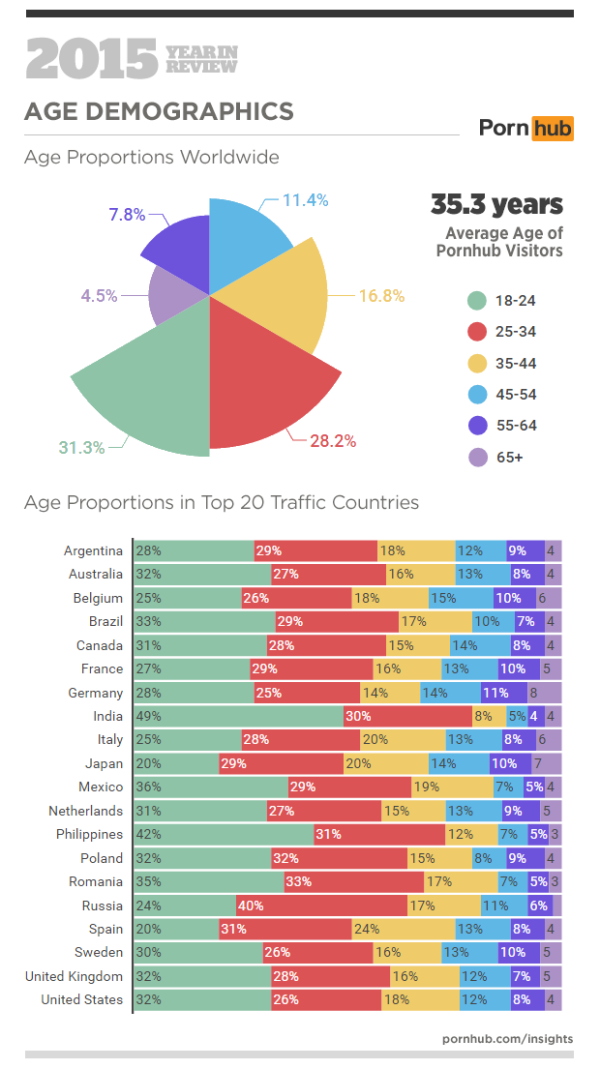 Well, for a country that had most pornography banned in the month of August, we did pretty well for 2015.
Forward ahoy.