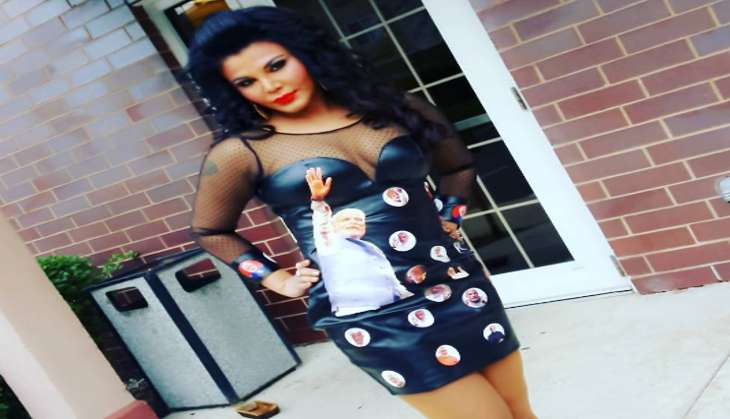 Rakhi Sawant never ceases to amaze us. Unfazed by all the criticism that comes her away, she refuses to stop shocking us with her unique brand of attention-seeking mannerisms.
Unless you live under a rock, you would know that Rakhi Sawant is an ardent Modi fan. She has been very vocal about her admiration for Prime Minister Narendra Modi. However, this time she has taken it to another level. Literally.
The actress, who was attending a pre-Independence Day party in Chicago, USA, wore a black dress plastered with pictures of PM Modi in, well, strategic places. And of course, Sawant wasted no time in posting these images on Instagram.
One picture on her Little Black Dress actually shows our Prime Minister's figure on her there's-no-other-way-to-put-it breast. The weirdness doesn't stop here. There's another picture of PM Modi on Rakhi Sawant's posterior. A picture chosen so carefully that it almost gives an impression that our Prime Minister was appreciating Rakhi's fan girl moment.
Warning (2): file_get_contents(https://api.instagram.com/oembed/?url=https%3A%2F%2Fwww.instagram.com%2Fp%2FBI3EjWmghu_%2F%3Ftaken-by%3Drakhisawant151): failed to open stream: HTTP request failed! HTTP/1.1 404 Not Found
 [APP/Controller/MediaParserController.php, line 218]
No data to display.

If all of this wasn't crazy enough, Rakhi has now claimed that she was only representing India in the US and was, in fact, armed with the BJP's approval.

"I have got this dress made from all my heart and love for our dear prime minister. He is the best PM and I am representing him in the US. I just want to tell people:'Don't waste your time creating controversies over my dress, instead take care of your family. There are more serious issues in India that needs to be dealt with, like rape of little girls, farmers committing suicide...So live and let live and don't waste your time on my dress. Love you guys.' Rakhi told Firstpost.

She added, "I wore this dress so that I can impress BJP, especially Narendra Modi ji and Amit Shah. I love them both. Rajnath [Singh] called me, he considers me as his daughter. I met him in Delhi and I will meet him again. I am already BJP's daughter. I made this dress so that I can impress Modi ji. Modi ji is my dream man. I am most happy that he is our PM and he will remain one for next 15 years. I'm accountable only to Modi ji. I got it approved from him and his team and only then wore the dress. I respect Modi Ji, I respect Amit Shah and all the BJP members. In the future, I want to join BJP and do lot of work. If they want me in their party, I will be with them."

Don't-know-what-else-to-say-now, so over to our PM.