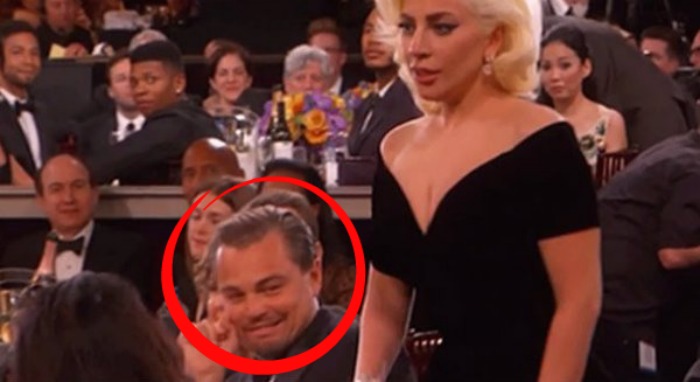 Hey, hey, hey! What's happening there Leo? This year's Golden Globe is increasingly turning into a series of good looking people in designer clothes being awkward.
Mother Monster, Lady Gaga, walked up to the stage - almost in shock - to accept her award for Best Performance by an Actress in a Limited Series, for American Horror Story The Hotel. But guess who sat between her and the trophy. Yep. Leonardo DiCaprio - snickering away to glory. #WhatDoYouMeanLeo
For now let's assume that Leo wasn't laughing 'at' Lady Gaga. But he was there obstructing her path, with his arms thrown carelessly over the chair paying no heed to the arrival of The Countess. Gaga, being the Queen that she is, brushed past the man-who's-never-won-an-Oscar.
Prompting him to give her the same expression we assume he gives women who are over 25 and not models. #SorryNotSorry
The result? The birth of countless memes - the first lot of the awkward award show moments of 2016.
And here we were thinking Indian award shows were the only things that give us an opportunity to cringe at celebrities.
Here's one last look at the GIF that will probably define all future GIFs because of its sheer awesomeness. What's going on here? #GagaOverThatEyeRoll