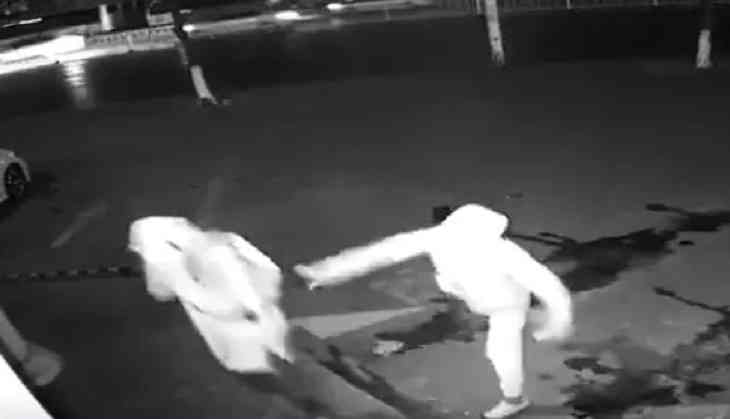 A video is making rounds on social media where Bulgars try to rob a shop but unfortunately because of his own partner the robbery failed. This video is of Shanghai, China in which one of the Bulgars while attempting a robbery ended up injuring his own partner.
The two masked man, a hooded man arrives at a scene and tries to shatter presumably a glass door with bricks. While one of the partners manages to make an aim, his second partner, unfortunately, comes in his way of the mark. And the aim ended up hitting his partner in the face, knocking him to the ground.
Later, the bulgar reaches to his partner, who is unconscious laying on the ground, drag him out of the sight.
This unfortunate and failed robbery was uploaded on Weibo by Shanghai Police. Shanghai Police mocked the failed burglars on Weibo and said, "If thieves are at this level, the police will not have to work overtime."
According to the time-stamp on the CCTV footage, the suspects tried to break in on February 14 after midnight. Shared just a day ago, the surveillance footage has already clocked over 12 million views.
While this video is making rounds over the internet, Redditors are making a perfect joke out of it.
At first, I thought the rock was going to bounce off the glass and smack one of them in the face. I severely underestimated their stupidity," wrote Redditor NYC_Man12
Petesanchez99 wrote, "This is one of those videos that is so ridiculous it's unbelievable. I mean I do but come on what a train-wreck."