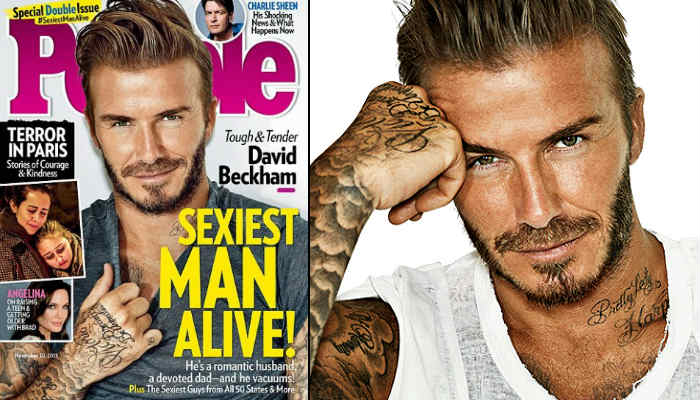 PEOPLE magazine has christened David Beckham as the 'sexiest man alive' for 2015 and the 40-year-old football player could not be more thrilled.
Jimmy Kimmel broke the news on Tuesday, during an interview with Beckham on his popular show Jimmy Kimmel Live.
The global celebrity and heartthrob said that he was honored and "pleased to accept" the title.
Meanwhile, Twitter (obviously) got busy with the hot news. While some were thrilled with the poll.
David Beckham is the sexiest man alive 👏🏻

- Catherine♡ (@cathyromannn) November 19, 2015
Thanks @people, for telling us what we've all known for years - that David Beckham is The Sexiest Man Alive. In other news: water is wet.

- Mariel Stoll (@MarielStoll) November 18, 2015
Sexiest man alive DAVID BECKHAM !He is the man i look up to !From his fitness to his haircut he's "THE BEST "! #LEGENDOFALLTIME

- Kartikeya Purohit-KP (@Rockonwidkartik) November 19, 2015
David Beckham voted sexiest man alive? Fuuuhhkk yesss 👅

- bree♡ling (@breeehaertling) November 19, 2015
David Beckham the most SexiestAliveMan of the wrld..The best HUSBAND...FATHER&SON...i wish i too can become lyk him n have 1% looks lyk him☺

- MIT Chauhan (@Zaniest_Mit) November 19, 2015
Others argued otherwise.
Insted of David Beckham People magazine were to choose Baba Ramdev 'Sexiest Man Alive' but some MNC ki chaal happened

- Working Class Zero (@Common7Man) November 19, 2015
It's confirmed. #DavidBeckham must have nude photos of the editor of People mag cuz there's no way he's sexiest man alive. #10yrstoolate

- Sarah Fraser (@heyfrase) November 18, 2015
Of course David Beckham is super sexy...until he opens his mouth. =)

- radha phukan (@raddujour) November 19, 2015
David Beckham named Sexiest Man Alive. Sexiest Man Dead, for the 162nd consecutive year, is Millard Fillmore. pic.twitter.com/66ZIN3F7ks

- John Moe (@johnmoe) November 18, 2015
David Beckham is #SexiestManAlive? That's lame😕

- Mrs. Johnson (@latersbabes) November 18, 2015
Meanwhile, Beckham's reaction to the news was quite adorable. "I never feel that I'm an attractive or sexy person," he told the PEOPLE magazine in an interview.
Speaking about wife and fashion tycoon Victoria Beckham's reaction, he flashed a shy smile and said, "I would hope that she feels this way about me all the time anyway!"
Regardless of whether people agree or disagree, the man seems to have his heart in the right place.
Congratulations Beckham, and keep making 'em swoon!