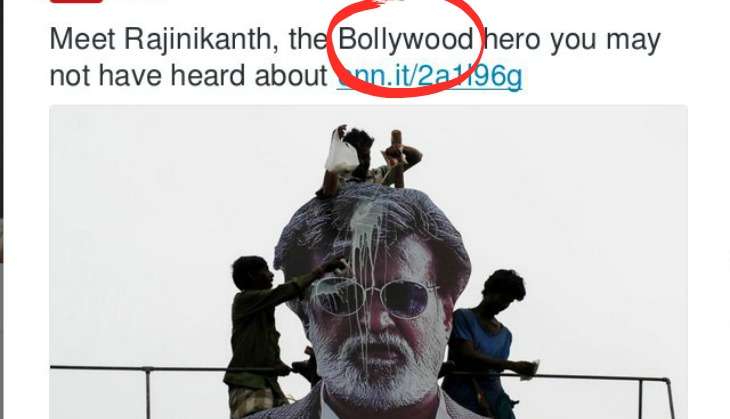 Amidst the global hysteria known as Kabali, CNN has written an article titled, 'Rajinikanth: Meet the superstar you may not have heard about'. Before you hyperventilate and wonder how it is humanly possible to not know Rajini, answer this: have you heard of Fan Bingbing? No, right? And yet she's the top grossing actress of China.
The writer of the CNN piece, Huizhong Wu notes that Rajinikanth is "a balding, 65-year-old man. He's also an action hero, beloved by tens of millions around the world and, in some cases, worshipped like a god".
Yes, he most definitely is, Mr Wu. And now since your company's social media handle has incorrectly labelled this man - this world phenomenon, this beloved actor who's worshipped like god, 'a Bollywood star' - are you ready for the sh*t that's bound to follow?
For Rajinikanth, the God of Larger Than Life Cinema, is nobody to mess with.
Yes, he may have done several Bollywood films in the past but he is by no means a Bollywood star. It is Tamil cinema that gave him his superstardom, his current legendary status. It is also Tamil cinema where he's done his best work - fought like a demi-god, emoted like one, looked like one.
Bollywood may wish to appropriate him, but that's a wish the fans down south will probably fight to the last.
For now, the slugfest on Twitter has begun and if CNN hadn't heard of Rajinikanth before, this controversy will ensure they'll never ever forget him hereafter.
Dear @CNN do you have internet connectivity in your offices? Can you not just google before posting anything that is not correct?

— Anurag Singh (@raza_azh) July 26, 2016
Reaction in Tamil Nadu after CNN referred to Rajni Anna as 'Bollywood Star' pic.twitter.com/clHqzINvwo

— Alt-Brumby (@brumbyOz) July 26, 2016
@CNN Rajinikanth meet @CNN, a Chinese entertainment channel you may not have heard about. #facepalm

— Purnachandran Nair (@purnacool) July 26, 2016
Kollywood. Not bollywood. He lives in a part called south India - Which you guys dont even visit. @CNN

— Prashanth Rangaswamy (@itisprashanth) July 26, 2016
Dear @CNN, #Rajinikanth is not a "Bollywood hero". Your article acknowledges "Tamil cinema", why doesn't ur tweet? https://t.co/wCS5dCWIQz

— Anna MM Vetticad (@annavetticad) July 26, 2016
@chrys_bruckner @CNN CNN u should be atheist if u've not heard about RAJINIKANTH

— Prasanna Bharathwaj (@Bharathwajspb) July 26, 2016
--
Edited by Abha Srivastava