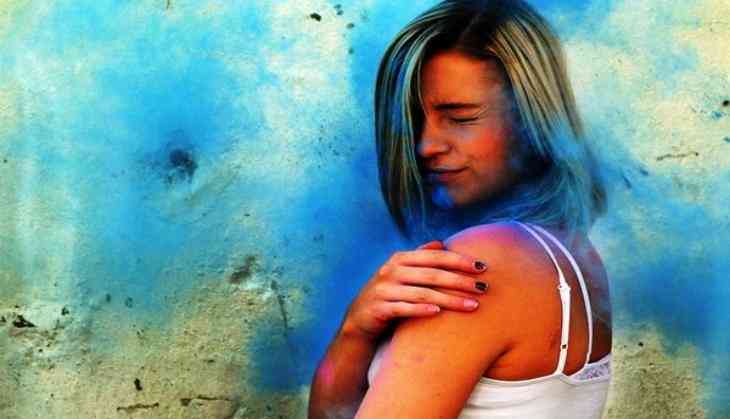 Vibrant colours, splashing water balloons and pelting pichkaris at each other with synthetic colours causer rashes,itchy, patchy, breakouts and dryness every year during spring festival Holi.
So, post-Holi, pay attention to certain aspects so that you do not have to grapple with the after-effects of the festival and could easily get rid of colours safely, to save the hair and skin.
Merely washing off the colours with soap or face wash is not enough to remove the harmful chemicals, says herbal beauty expert Shahnaz Husain.
-The real problem is removal of colours after playing Holi. Rinse the face with plenty of plain water and then use a cleansing cream, or lotion. Apply and massage it on the face. Then wipe off with moist cotton wool. Remember to cleanse the area around the eyes too, using a light touch.
-To make your own cleanser, take half a cup of cold milk and add one teaspoon of any vegetable oil, like "til," olive or sunflower oil. Mix well. Dip cotton wool into this mixture and use it to cleanse the skin.
-Sesame seed (til) oil can be used to remove colours from the body, massaging it on the skin. This not only helps to remove the colours, but gives added protection to the skin. Sesame seed (til) oil actually helps to counteract sun-damage. While bathing, scrub the body gently with a loofah or wash cloth. Immediately after your bath, apply a moisturizer on the face and body, while the skin is still damp. This helps to seal in moisture.
-If there is itching, add two tablespoons vinegar to a mug of water and use it as a last rinse. This helps to reduce itching. However, if the itching continues, and there is rash and redness, there may be an allergic reaction to the colour. Consult a doctor as soon as possible.
-While washing the hair, first rinse with plenty of plain water to wash away the dry colours and tiny particles of mica. Then apply a mild herbal shampoo, working it into the hair with the fingers. Massage the scalp gently and rinse thoroughly with water again.
-Beer can be used as a last rinse. In fact, it will soften and condition the hair. Add the juice of a lemon to the beer. Pour over the hair after shampoo. Leave on for a few minutes and rinse off with plain water.
-The day after holi, mix two tablespoons honey with half a cup of curd. Add a pinch of turmeric. Apply this on the face, neck and arms. Leave it on for 20 minutes and wash off with water. Helps to remove tan and soften the skin.
-Apply Aloe Vera gel or juice on skin. It moisturizes the skin, relieving dryness. It also soothes sun burn. It contains zinc, which is anti-inflammatory. Take one tablespoon gram flour (besan), one teaspoon curd and onetablespoon aloe vera gel. Mix together and apply on the face, washing it off after 20 minutes.
-Within the next few days, give your hair a nourishing treatment. Mix one tablespoon pure coconut oil with one teaspoon castor oil. Heat and apply on the hair. Then dip a towel in hot water, squeeze out the water and wrap the hot towel around the head, like a turban. Keep it on for 5 minutes. Repeat the hot towel wrap 3 or 4 times. This helps the hair and scalp absorb the oil better. Wash your hair after an hour.
-Make your own mild Ayurvedic shampoo. Add a handful each of dry reetha, amla and shikakai to one litre of water and soak overnight. Next day, simmer over a low fire till water reduces to half. Cool and strain. Keep in fridge. The liquid is enough for four hair washes. Make small quantities at a time.
-Use Neem oil for the hair. Heat 250 ml pure coconut oil, or sesame seed oil. Take a handful of neem leaves and add it to the oil. Keep in the sun during the day for 4 or 5 days. Strain the leaves and keep the oil for use to relieve itching and scalp eruptions.
-For oily hair, add a handful of fresh marigold flowers to three cups of hot water. Allow it to stand for an hour. Strain and cool the water and use it to rinse the hair after shampoo.
--ANI