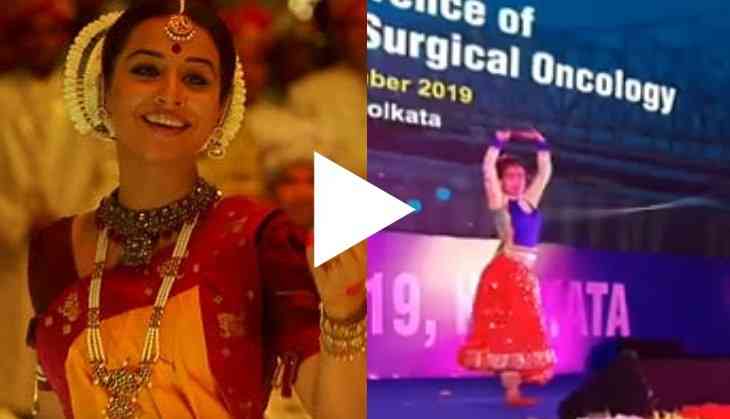 We must be thankful to netizens who keep on sharing several inspirational videos on the social media platform. Recently, a video of 11-year-old girl who lost one of her leg to cancer has become the talk of the town for her spirit.
In the viral video, the eleven-year-old Anjali gave an outstanding performance at an annual medical conference at NATCON IASO 2019 in Kolkata.
Amazingly, she performed some difficult kathak steps on the hit song of Vidya Balan, 'Mere Dholna Sunn' from Bhool Bhulaiyaa.
Dancing like a warrior, Anjali was looking beautiful in her classical attire and the way she spinned around the stage left everyone stunned.
Meanwhile, her video went viral on all social media platforms.
The inspiring video was posted on Facebook by one of the doctors attending the NATCON IASO 2019, an annual conference for medical personnel attached to surgical oncology in Kolkata.
He captioned the video, "One of the best parts of the Conference. Anjali, who dreamt of becoming a great dancer lost her left leg at the tender age of 11 to cancer. Our treating doctors and nurses Inspired her with the story of Sudhachandran. She fought back to become an outstanding dancer within a couple of years, winning several accolades and hearts. She fulfilled my wishes by performing in the Surgical Oncology Conference Inauguration to this particular Shreya Ghoshal number, sending a strong message to all about how to face Cancer with a grit even at her age. She will remain my inspiration. God bless her..."
Here's the video:
Meanwhile, netizens are pouring their love on Anjali after seeing her amazing dance performance and her spirit. The video has garnered over 3,000 likes on Facebook. The comment section on FB has been flooded with comments.
How do you feel after watching her dance video?
Also Read: Meet this Indian lady Police officer who shaves her head for Cancer patient's wig