This orchestra from the slums turns hopelessness to harmony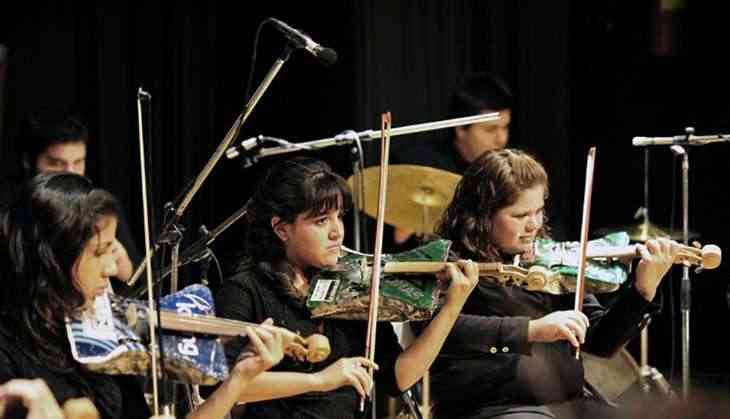 The word 'slum' comes loaded with connotations, almost all negative. But scratch beneath the surface of the prevailing squalor and you'll find a pulsating vitality - the desperation of humanity to exist even in the face of overwhelming deprivation.
Yes, this perception brings with it the risk of romanticising impoverishment, but it's undeniable that amongst the struggle and suffering of the slum are heartwarming stories of success and redemption against all odds. India's slum football movement is one; Dharavi's breakdancers another.
Also read - Homeless show the way: India is playing at a football World Cup
The Paraguay Recycled Instruments Orchestra, however, takes this to a whole new level - because not only do they transcend their impoverished surroundings, they use those same surroundings to do so.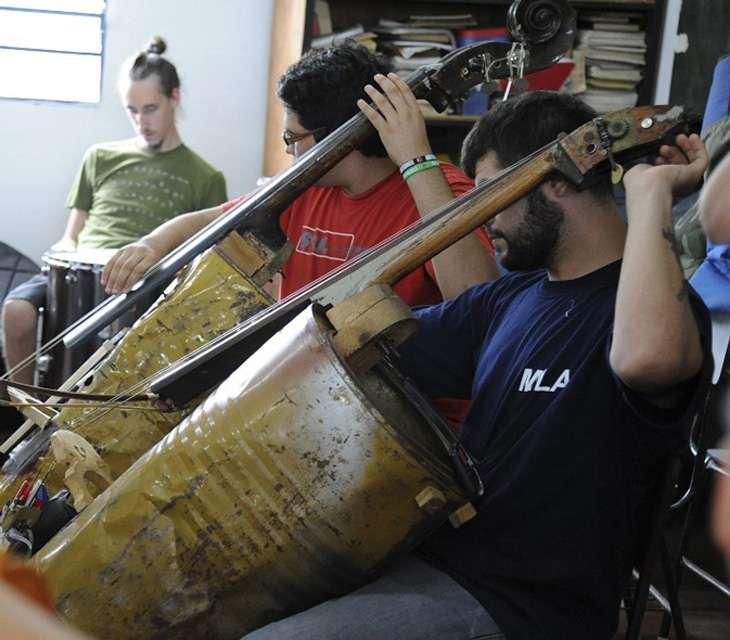 Musicians from the Paraguayan Recycled Instruments Orchestra play their instruments made out of recycled trash during a rehearsal ahead of a concert with Metallica (Photo: AFP PHOTO / NORBERTO DUARTE)
The landfill harmonic
This orchestra, you see, is like no orchestra you've seen before. Unlike the grand orchestras we're used to - with instruments worth as much as cars and musicians trained in the finest conservatories, this one is made up of youth from Cateura, one of Paraguay's poorest slums. What's more, the tools of their trade - the instruments - are fashioned from the landfill next to their neighbourhood.
The inhabitants of slums have always used the trash that makes up their surroundings as a resource. Dharavi even has an entire industry built around it. It was this attitude towards waste that inspired Favio Chavez and Nicolas Gomez to create the orchestra.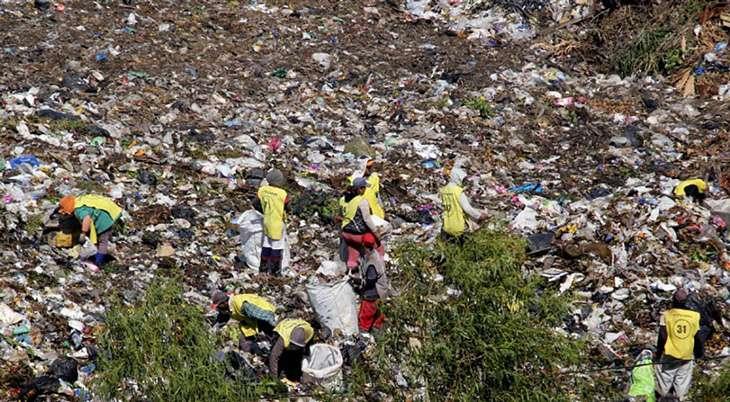 Scavengers work at the trash dump from where the material to create instruments for the Orchestra are sourced (Photo: AFP PHOTO / NORBERTO DUARTE)
Chavez, who is both a trained musician as well as an environmental technician, stumbled upon the slums of Cateura while doing his thesis on waste management. What began purely as a research project soon turned into one driven by passion as he started to interact more with the children of the waste pickers of the slum.
Also read - 11-year-old from Odisha slum gets selected for Bayern Munich academy
He originally brought some guitars to the slums to entertain these children while their parents slaved away in the landfill. He then began to teach them how to play the music, quickly drawing even more children, all thrilled at the escapism his lessons provided. Realising that he didn't have enough instruments to help all the children, Chavez began to think bigger.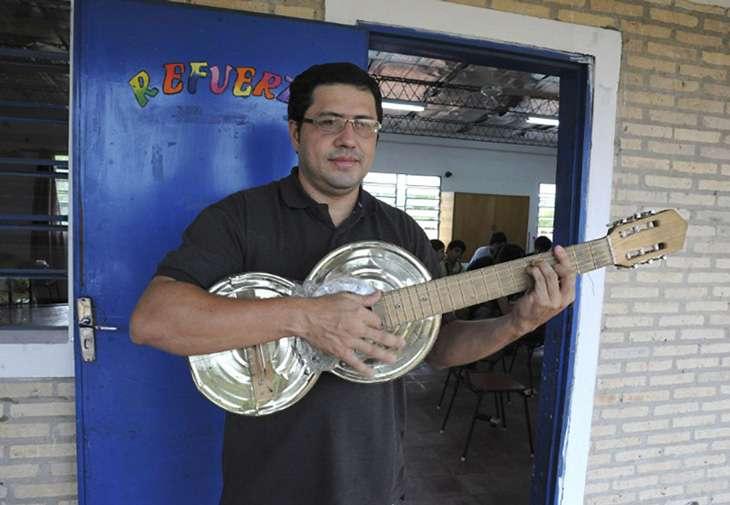 Favio Chavez with a guitar made from recycled trash (Photo: AFP PHOTO / NORBERTO DUARTE)
Transforming trash
However, to turn his idea into a reality it would take the touch of one of the veteran waste pickers from the area, Gomez.
Chavez took Gomez an old, broken violin and asked him to repair it - the results were incredible. Using nothing but scraps from the landfill, Gomez made the violin playable again.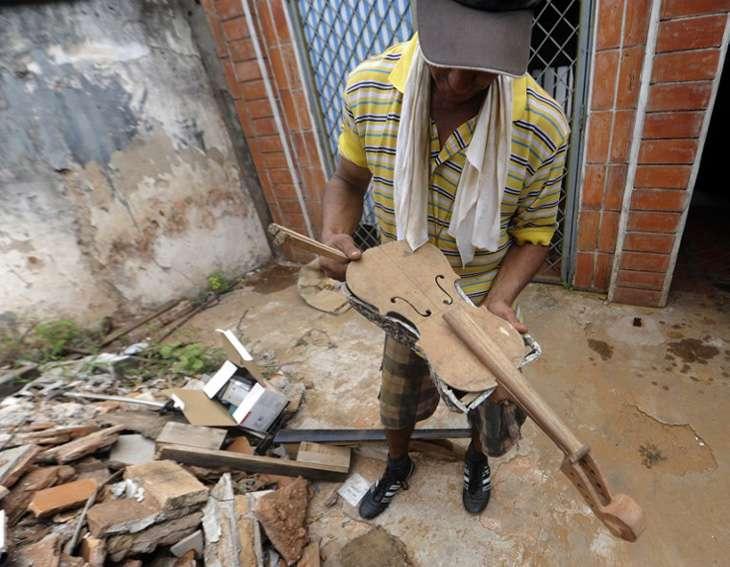 Nicolas Gomez at his workshop in the landfill (Photo: AFP PHOTO / NORBERTO DUARTE)
Soon, other instruments too were being refurbished using the waste that was dumped in the landfill - from basses made of old cans to saxophones and flutes made from rusty pipes. This upcycling set the group apart from every other movement, giving it a unique touch which would even find its way into the orchestra's name.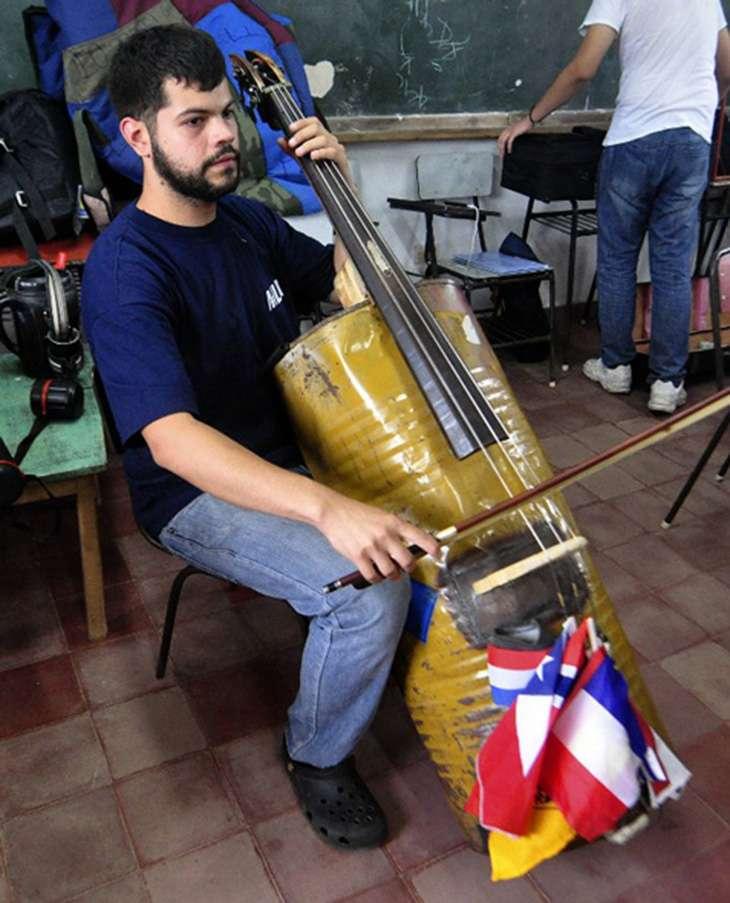 Photo: AFP PHOTO / NORBERTO DUARTE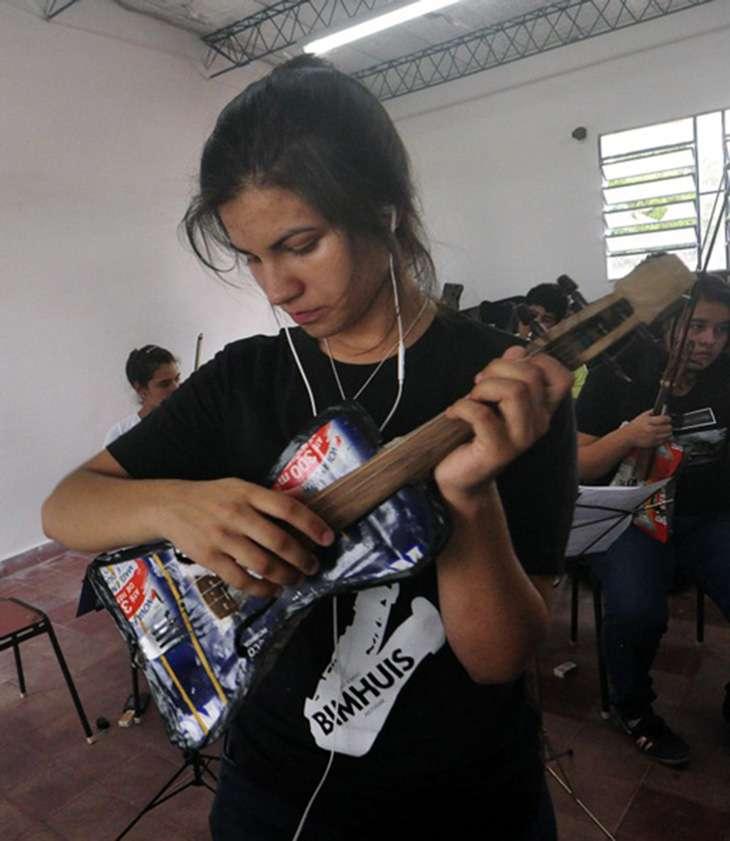 Photo: AFP PHOTO / NORBERTO DUARTE
A success story
The orchestra is no token offering just meant to entertain poor children though. Thanks to the sort of drive that can sometimes only come from the desperation to escape a terrible situation, Chavez' wards have turned into genuinely phenomenal musicians.
This dedication to their craft has seen them go from nobodies with nothing to a celebrated group of musicians who have toured the country and are now touring the world. Their sheer drive and determination has already landed them gigs with metal legends Metallica as well as Megadeth. There's even been a documentary on the group, The Landfill Harmonic.

However, the real success here isn't the fame. It is the hope they foster in other children from similarly impoverished backgrounds - a hope that they too can transcend their boundaries and achieve their true potential.