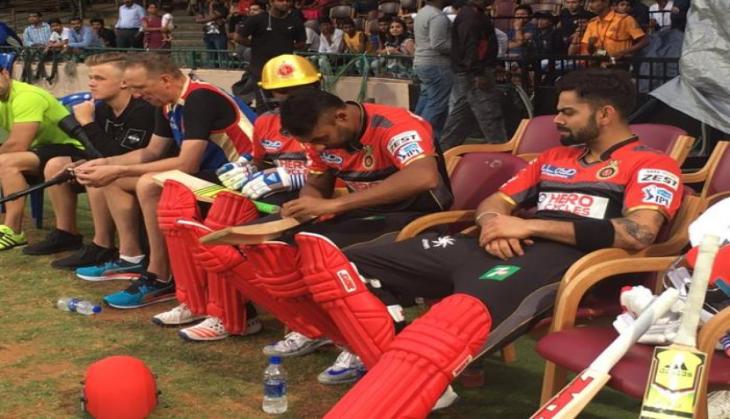 Royal Challengers Bangalore captain Virat Kohli remembered former franchise director Vijay Mallya for picking him in the team and providing an opportunity to rub shoulders with the world's best players.
Also read: Virat Kohli's RCB eye winning start against Warner's SRH in IPL 9
"My association with RCB has been special as it has been exciting from the first season. I was chosen to play for RCB by Mr Mallya. I have learnt so much and getting to play with the world's best players. I am welcomed here warmly, I love this franchise, the city, fans, deep connection," he told reporters on the eve of his team's face-off with Sunrisers Hyderabad at the M Chinnaswamy stadium.
Mallya, who has defaulted in loans in excess of Rs 9000 crore, is facing probe by various investigative agencies. The 60-year-old bought RCB in 2008 but the popular franchise has not been able to win a single Indian Premier League title in eight attempts.
Mallya had resigned from the post of Director of Royal Challengers Sports Private Limited (RCSPL) before anointing United Spirits Limited President and Chief Marketing Officer Amrit Thomas as the new chairman of RCB.
Replying to a query, Kohli said even though the team has the feelings of not lifting the title for he last eight seasons, the team takes pride in being among the top three teams.
"There is always a feeling that we haven't been able to lift the title having been runners-up twice. That is one hurdle we haven't been able to cross despite wanting to, but as a team, we have been among top three," he said.
Kohli said he wouldn't comment about their best chance of lifting the title this season, but their number one priority is not to depend on any other team to reach the play-offs stage.
"I wouldn't like to comment. Too long a tournament to think of the winning the title. We would like to be in a position to reach the play-offs first on our own effort and not depend on other teams, run rate, etc. Our number one priority is not to depend on any other team to reach the play-offs stage," he said.
On Mitchell Starc's absence, Kohli said the team would miss the Aussie pacer, but they have Shane Watson who is economical as he thinks like a batsman, and also Harshal Patel, Adam Milne to form a good bowling attack.
"We will miss Starc, but we got Watson, who is very economical in bowling. An all-rounder like him can think like a batsman and bowl accordingly. We also got Harshal Patel, Adam Milne who is clocking 150, and Stuart Binny. We have a wonderful mix but everyone has to play their roles and work to potential," he said.
Asked what did he do to freshen up after World T20, Kohli said the chips were down for players when they lost to West Indies, but recovered from it after they took off and then prepare for IPL.
"Personally, it was difficult to get over the loss in the semi-final to West Indies after creating such a momentum. We took a few days to get over and switch over. Everyone has taken time off and prepared for the IPL which is a challenging game with travel, hectic schedules. Lot of things in IPL than in other tournaments where we may not have sponsors commitments," he said.
Kohli further said it would b a challenge for Indian players as some of them have not been amongst runs or wickets.
Asked about the batting spots of Shane Watson and AB de Villiers, Kohli said the team have many options and decision in this regard will be taken depending upon prevailing ground conditions and the potential of rival teams.
"We have discussed but would not like to disclose. We got so many options. Getting the right field, where to bat. We need to find the comfort level ... conditions and teams we are playing," he said.
Asked whether he foresees European football like culture emerging for IPL, Kohli said, "Cricket is a different ball game. It has its own standards. Everyone wants to play and win the tournament. It is not good to get into club culture."
-PTI