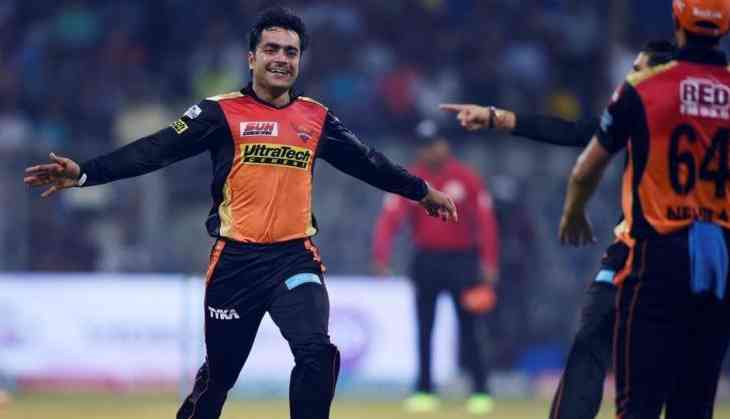 Rashid Khan was superb in all fields, whether it is bowling, batting or defending runs in crucial time. He is most restricting overseas leg spinner. Afghanistan Star Leg Spinner hits one of his six was so charismatic that it made our jaw drops in shock. People have gone crazy over the thrilling one-legged shot.
The shot happened at the 3rd ball of the 19th over, when Rashid Khan smashed Prasidh Sharma's fine delivery straight into the audience by hitting a maximum.Commentators also shocked when Rashid smashed one-legged six which transform him as all-rounder player, amazingly he was compared to Dhoni.
#srhvkkr
ONE LEGGED HELICOPTER SHOT BY RASHID KHANhttps://t.co/OBVpu2WvZY

— Monica (@shrma9402) May 25, 2018
Blistering and seizling performance by the Afghanistan star bowler Rashid khan against Kolkata Knight Riders in Qualifier2 of Indian Premiere League at Eden Gardens stadium in city of Joy, Kolkata on Friday.
Riding on the Rashid Khan Shoulder he broken an charismatic record. This Afghanistani magician became one of the most wickets taken by an overseas leg-spinner in a single season, he scalped 21 wickets and added this milestone to his name.
Interestingly, the previous holder of this record was former Australian Spinner Shane Warne, who took 19 wickets for Rajasthan Royals in 2008, the inaugural edition of the IPL.
When Rashid Khan decided to take the charge and try to available juice in the pitch. He scored a unbelievable 34 runs off just 10 balls, which included four massive sixes, as he took his team to an impressive 174/7.
Rashid Khan picked up three crucial wickets of Lynn, Robin Uthappa and Andre Russell at crucial situations which proivided momentum to the team and registered their spot in IPL Final to meet CSK on Sunday in Wankhede Stadium.
At a time when 150 looked tough, Rashid came out to bat at No 8 and slammed an unbeaten 10-ball 34 as Hyderabad scored 50 runs in the last three overs to post a total of 174/7 in their 14-run victory here last night.
Also Read: Shah Rukh Khan praises team efforts, Cancelled his Mumbai Flight after KKR exit