With a stellar record of ineptness, does Bassi deserve a post-retirement job?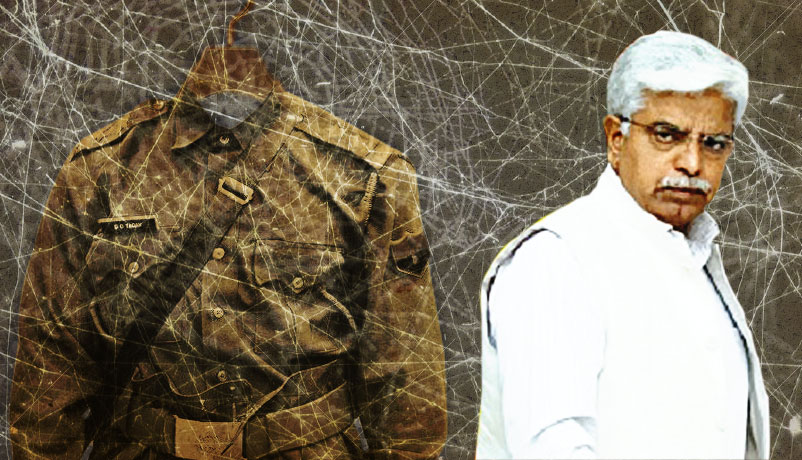 The record
BS Bassi\'s tenure as Delhi Police commissioner has been a disaster
Even apart from the JNU row, there has been a rise in serious crimes and riots under him
The attempt
Bassi wants the cushy job of information commissioner after his 29 February retirement
However, the PM-led selection committee has reportedly rejected his application
More in the story
How Bassi has mishandled the JNU row
Shocking numbers that prove his ineptness as Delhi Police chief
There is no real threat of an armed insurgency in Delhi. Yet, the job of the Commissioner of the Delhi Police sometimes gets tougher than that of the police chiefs of Chhattisgarh, Jammu and Kashmir, Assam, Nagaland or Manipur.
That's because the national capital houses not just the seat of power, it is also the headquarters of political intrigue in the country.
Read- 10,000 protestors. 2 top lawyers. 1 mission: #FreeKanhaiya
This is the city where headlines are made to reach out across the country, to build or destroy political powers. Mundane law and order situations are used to the advantage of the forces in power. Such situations test the commitment of the city's police chief to the constitutional responsibility he has been entrusted with.
Bhim Sain Bassi, the man who has been holding this office for the last two-and-a-half years, and is about to retire by the end of this month, has failed this test miserably. Not only has he consistently demonstrated that his commitment lies with the party in power, he has also brazenly defended it publicly.
In that context, it is not surprising that Bassi had already applied for a cushy post-retirement job, that of an information commissioner in the Central Information Commission. As a key position with the country's top transparency watchdog, this job, too, is one of immense constitutional responsibility.
However, there are now reports suggesting that the Prime Minister-led selection committee has decided to drop his name from the list, following the Congress's objection.
Delhi Police commissioner Bassi has consistently demonstrated his commitment to the party in power
It is good that the committee has decided to recognise that Bassi has failed to prove his credentials in a key position, and cannot be entrusted another similar responsibility.
The government will be well-advised to take a cue from this committee and avoid considering Bassi's candidature for any other public office, after his retirement on 29 February. The unfortunate series of incidents that have unfolded in Delhi in the last 10 days are enough to present solid ground for that.
Six failures in handing the JNU row
1. The fact that some people got the opportunity to chant inflammatory slogans inside a central university in the national capital is, in itself, a failure of the police.
2. The real culprits are yet to be identified, either because of political pressure or sheer incompetence of the police. Both factors show the police force and its leadership in poor light.
3. Bassi himself jumped the gun in labelling JNUSU president Kanhaiya Kumar's speech as 'anti-national', without furnishing any evidence. The FIR in the case reportedly doesn't accuse Kanhaiya of delivering any hate speech. An Intelligence Bureau report is also believed to have absolved Kanhaiya of 'anti-India' slogans.
Also read- #LessonforDelhi: how teachers, cops prevented violence in Jadavpur
4. The Delhi Police will be haunted for a long time to come by the action of hooligan lawyers, who beat up journalists, students, as well as other lawyers inside the Patiala House court premises, even as cops present there looked the other way.
Shockingly, the attacks on journalists and students were repeated the next day, in spite of the Supreme Court having taken note of the previous day's incidents and asked the police to ensure these were not repeated. On this day, Kanhaiya too was attacked inside the court premises, and all this happened under the policemen's noses.
5. When confronted by journalists, Bassi defended his force's handling of the situation. He called the rowdy lawyers 'officers of the court' and claimed it would have been inappropriate to stop them. Three days later, these attackers have not just been identified by the media, they have even boasted about it in interviews. None of them has been arrested.
6. BJP MLA OP Sharma was caught on camera roughing up activists just outside the court. He defended his actions in interviews given later, and even said he would have killed if he had a gun. No action has been taken against Sharma. He was arrested and interrogated only on 18 February, four days after the incident, and quickly let-off on bail.
From protests to a full-fledged fracas
Look at the net result of the entire fracas. A prestigious central university has been branded as 'anti-national'. The democratically-elected chief of its students' union is behind bars, and has suffered injuries in police custody. Assailants caught on camera indulging in violence have gone scot-free.
Protests and counter-protests have been triggered at several places across the country. The country's top parliamentarians have been forced to appeal to the President of India to intervene. All because of the ineptness of the Delhi Police, led by Bassi.
The real culprits of JNU are yet to be identified, either due to politics or police incompetence
Former Central Information Commissioner Shailesh Gandhi wrote to the Cabinet Secretary saying if Bassi was made an information commissioner, "people will believe that the denigration of the two estates of governance had the approval of the government".
Bassi, Gandhi wrote, "appears to have acquiesced to an open subversion of two of the estates of our nation". He added, "By his collusive inaction, journalists were attacked and the sanctity and respect for the judicial system and the courts was diminished. Even when a citizen does this, it is unacceptable. From a public servant charged to uphold the law, it deserves the strongest condemnation."
Read more- #PatialaHouse violence: 'Cop out' Bassi has become a liability for Delhi
Gandhi also quoted former Mumbai Police commissioner Julio Ribeiro as having said: "I would have arrested the lawyers from their homes at night. I would never condone such acts," and "I always had a good opinion about Mr Bassi. Unfortunately, circumstances have changed my opinion about him. He is angling for a post-retirement job."
Five other 'feathers' in Bassi's cap
This episode is not the only ribbon on the Delhi Police commissioner's chest. Here are five other reasons to remember his record and assess his credentials as the country's next information commissioner.
Crime: Under Bassi, Delhi topped the ignominious list of mega cities where maximum murders, rapes, kidnappings, abductions, robbery, burglary, and theft were committed. The National Crime Records Bureau's statistics for 2014 state this. By the Delhi Police's own admission, heinous crimes committed in the capital nearly doubled from 2012 to 2013, more than doubled in 2014 and went further up in 2015.
In Bassi's tenure, Delhi witnessed a spurt in the number of murders, rapes, kidnappings and riots
Riots: The national capital witnessed a spurt in riots under Bassi. Since 2001, Delhi had seen a maximum of 87 riots, in 2007. In 2013, these went up to 113, to 160 in 2014 and 130 in 2015. In the run up to the 2015 Delhi Assembly elections, the BJP was accused of attempting to polarise Delhi's electorate. The period saw unprecedented communal disturbances in many areas, including Trilokpuri, Bawana and Okhla, among others.
Taking sides in a political fight: The AAP-led Delhi government, involved in a struggle with the Centre over full statehood, has consistently blamed the Delhi Police under Bassi of doing the Centre's bidding. Indeed, over half a dozen AAP MLAs have seen police action against them, even as BJP MLAs like OP Sharma have gone scot-free.
Read- The BS of Bassi: 5 jobs tailored for Delhi's Police Commissioner post-retirement
Police brutality: On 30 January, Delhi Police officers brutally beat up students who were peacefully protesting outside the RSS headquarters in Jhandewalan. The cops also thrashed journalists and broke cameras and other equipment. After facing flak, Bassi promised action against the erring cops, but no action has been taken so far.
Corruption allegation: The AAP government has accused Bassi of helping his brother in usurping two properties, and also undervaluing his own property. The government has filed a case against Bassi in court, which will come up for hearing on 19 March.
Edited by Shreyas Sharma
More in Catch:
Hot Feminist is a book no-one should read. Especially feminists
Ram Madhav renews alliance hope, but is PDP-BJP rift too deep to fix?
Neerja review: A near-flawless exploration of courage in the face of darkness
Pride and Prejudice and Zombies review: the zom-com is exactly what it sets out to be