Rohith redux? PhD student attempts suicide in Hyderabad after 'discrimination'
It hasn't even been a year since Rohith Vemula's infamous suicide at the University of Hyderabad (UoH). But the discrimination that forced him to take the extreme step still seems prevalent at the university.
On Friday, 18 November, a 27-year-old PhD scholar at UoH, Moses Abraham, attempted suicide by slitting his wrist in front of his research supervisor's office.
The student took this step after his research guide, Professor G Vaitheeswaran, refused to supervise him any further and humiliated him, said students.
On Saturday, the UoH Students' Union staged a protest before the university's administration block, demanding an inquiry into the incident, as well as a proper institutional mechanism to deal with such cases, and to end discrimination.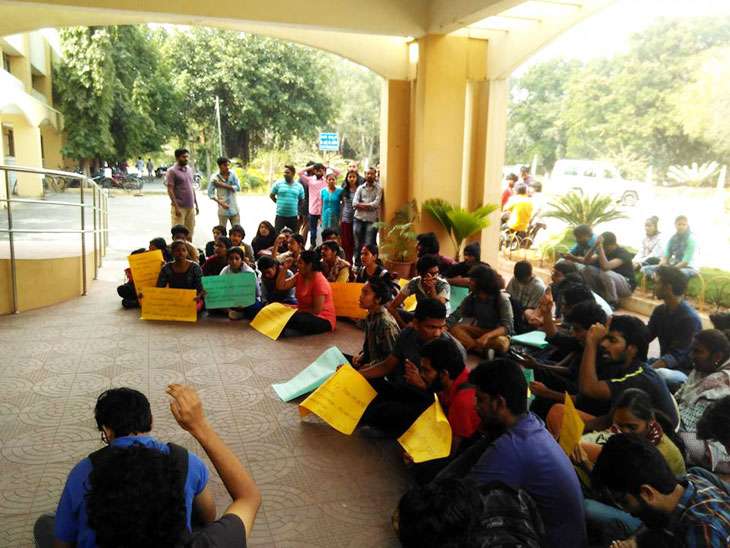 Students protest outside the University of Hyderabad administrative block on Saturday. (Photo: University of Hyderabad Students' Union/Facebook)
How things unfolded
On Thursday, there was a research seminar where Abraham, who is working on Condense Theory Solid State Physics for his thesis, gave a presentation before his guide.
After Abraham presented his research, he was reportedly humiliated by Vaitheeswaran, who was apparently not happy with the presentation. Some sources also said Abraham had to come to the seminar a few minutes late.
After the seminar, Vaitheeswaran told Abraham that he could not work with him anymore, and that he should find someone else to guide him.
On Friday, between 4.45pm and 5pm, Abraham slit his wrist with a razor blade in front of Vaitheeswaran's office at the ACRHEM building.
Around 5pm, Abraham was rushed to the campus health centre, and given medical aid.
He was then sent to a psychiatrist at Asha Hospital for counselling, and returned later in the evening to his flat. Abraham stays outside campus with a friend.
It has been reported that Vaitheeswaran had not allowed Abraham to attend seminars or publish papers earlier as well, despite the student having two published papers in reputed academic journals. The veracity of this particular allegation could not be established by Catch.
Pro-VC versus students' union
There were news reports that Abraham, a second-year PhD scholar at the Advanced Centre for Research on High Energy Materials (ACRHEM), is a Dalit. But this could not be confirmed, and pro-vice-chancellor Vipin Srivastava refuted this, saying Abraham belonged to the OBC category.
Srivastava also denied the allegation that Vaitheeswaran had refused to guide Abraham, a native of Machilipatnam in Andhra Pradesh.
But students' union president Kuldeep Singh Nagi refuted Srivastava's version.
"I met Abraham at his flat last night after he came back from the hospital. He himself told me that Vaitheeswaran had refused to guide him after a research presentation a day before," Nagi said.
On Friday night, Srivastava had told the media that Abraham had 'apologised' to his guide for attempting suicide, and that he might have been facing 'exam pressure'.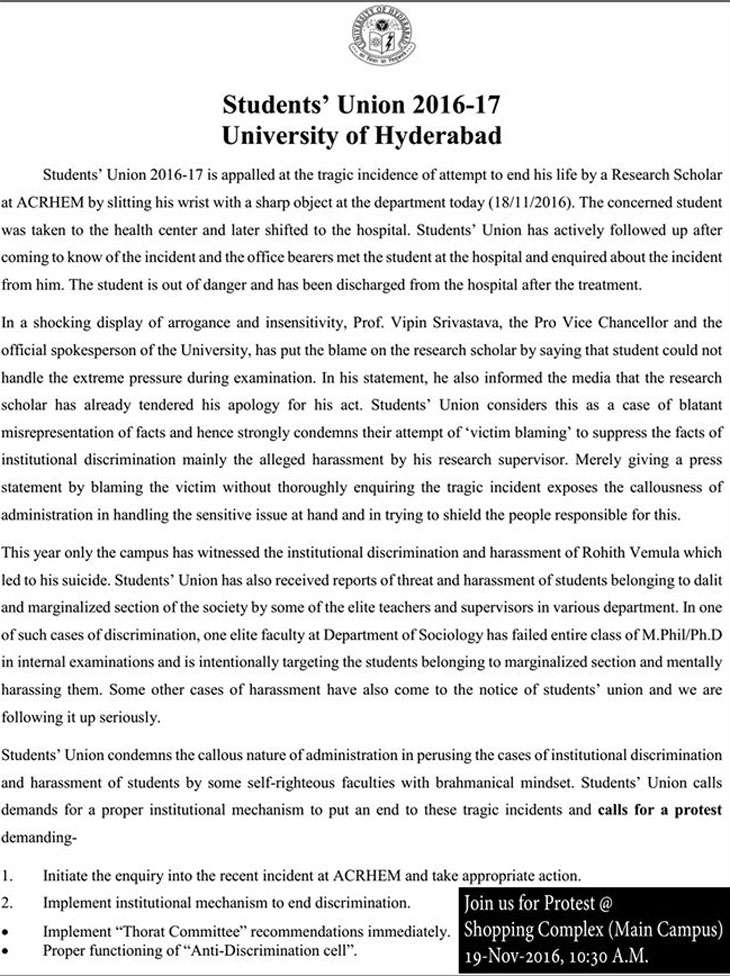 The students' union statement. (Photo: University of Hyderabad Students' Union/Facebook)
But on Saturday morning, the students' union also put up a statement on the campus and on social media, condemning the Srivastava for 'victim blaming'and 'blatant misrepresentation of facts' in his press statement.
"This is not an isolated incident. First of all, we demand that a proper inquiry be held and the inquiry committee include representatives from the students' union and the SC/ST teachers' forum," Nagi told Catch.
"Then, we demand that the university put in place an institutional mechanism to stop discrimination, and immediately implement the recommendations of the Thorat Committee report to tackle cases of caste discrimination."
The students' union statement also said: "The Students' Union has also received reports of threat and harassment of students belonging to Dalit and marginalised section of the society by some of the elite teachers and supervisors in various department."
The students' protest on campus began at 10.30am and went on till the afternoon.
Nagi said while Srivastava refused to meet the students, citing work as exams begin from Monday. But the registrar, Sardar Singh, met them and assured them of a meeting with Vice-Chancellor P Appa Rao, who is currently in Delhi.
Meanwhile, Srivastava said: "Abraham is perfectly fine. He has an exam on Monday. I was told that today morning, he shifted to another friend's place to prepare for his exam, as his flatmate has gone away. His supervisor has been in constant touch with him.
Srivastava reiterated to Catch that Abraham had 'said sorry' to his supervisor at the hospital after speaking to the counsellor.
However, the Pro-VC said he had not met the student yet.
Srivastava did not say much on why Abraham might have committed the act.
But Srivastava, at first, claimed that Abraham suddenly took out a razor blade and slit his wrist during a lecture by Vaitheeswaran. On being told that students had said the PhD scholar slit his wrist before Vaitheeswaran's office, Srivastava said Abraham had done the deed while Vaitheeswaran was 'advising' him along with other students on research methodology inside the latter's office.
Teachers need counselling
However, Sannaki Munna, a PhD student and convenor of the Ambedkar Students' Assocation, said: "We've heard that the professor was not allowing Abraham to present his research papers anywhere. Abraham was going through mental torture day by day."
Munna said faculty members should be given counselling on how to deal with students.
"There are students from different backgrounds, many are from deprived sections, they are facing different issues. The teachers are here to guide us and support us. Faculty members should be provided counselling on how to deal with different students and their needs. We also desperately need an institutional mechanism to end discrimination," he said.
Five previous suicides at UoH
Rohith Vemula's suicide, on 17 January this year, was widely regarded as an 'institutional murder' and sparked outrage across the country. He had been facing institutional harassment and discrimination by the university for a few months.
Then, two months ago, Nelli Praveen Kumar, a first-year postgraduate student of fine arts at UoH, killed himself. Kumar was allegedly depressed. While not a Dalit, he was reportedly from a backward caste.
In November 2013, another PhD scholar at ACRHEM, Madari Venkatesh, a Dalit, had committed suicide after not being assigned a research guide by the department for 18 months.
Six months before that, in January 2013, another Dalit student, Pulyala Raju, who was pursuing his MA in Applied Linguistics, had committed suicide.
In 2008, Dalit research scholar Senthil Kumar, a PhD student in physics, ended his life.
Edited by Shreyas Sharma
More in Catch
What killed Hyderabad university Dalit scholar Rohith Vemula?
Rohith is the 23rd Dalit student suicide in institutes like AIIMS and IITs
Hyderabad University rocked by another student suicide in reminder of Rohith Vemula episode