Hyderabad University rocked by another student suicide in reminder of Rohith Vemula episode
The Hyderabad Central University (HCU) is in a state of utter chaos and confusion. The university, where Dalit PhD scholar Rohith Vemula killed himself earlier this year, has witnessed another student suicide - this time that of Nelli Praveen Kumar, a 27-year-old first semester student of fine arts.
Praveen, who hailed from Mehboobnagar, was found hanging from a ceiling fan at 4.15 am on Saturday. It had been just two months since he moved from a college in Mehboobnagar to HCU.
Praveen belonged to the Other Backward Classes (OBC) category, and was enrolled at the Sarojini Naidu School of Arts and Communication under HCU's Department of Fine Arts.
How the body was discovered
According to a release sent by the university administration, Praveen's roommate (also his classmate) returned from his painting studio at around 4.15 am. He found the room, L-204, latched from the inside.
When Praveen did not open the door despite persistent knocking, his roommate alerted his other hostel mates. Together, they managed to open the latch through a ventilation grill, and found Praveen hanging from the ceiling fan with a rope meant for drying clothes.
The students, together, undid the rope from his neck and checked his pulse before rushing him to the university health centre on a motorcycle. He still had a feeble pulse.
After a preliminary examination by the University Health Centre's medical officer, Praveen was rushed to Citizen Hospital, where doctors declared him dead on arrival.
Some hours later, the police moved his body to Osmania General Hospital.
A father's grief
Speaking to Catch, Praveen's father Narsimmulu expressed shock and disbelief. "My son was fine at HCU. Nothing explains this. He is incapable of committing suicide," he said over the phone.
Narsimmulu says he got a call soon after 4 am from some of Praveen's friends, asking him to come to Hyderabad immediately. "His friends called to tell me that he has high fever and is suddenly very ill. They asked me to come right away. But before I could leave, media people were at my door. That's how I found out my son had died," he said.
Narsimmulu said his son was gentle, soft-spoken, and was not known to be political.
Did the Rohith Vemula movement for justice impact him at all? "I wouldn't know much," the father said.
What's in the FIR?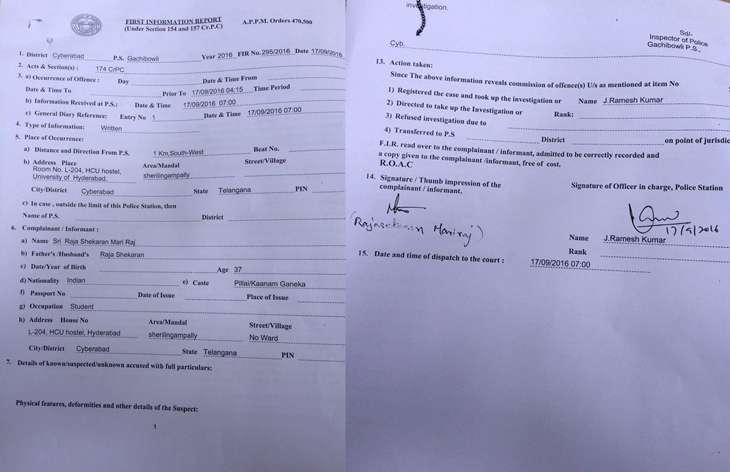 The first information report filed at Gachibowli police station after Praveen's death.
Catch accessed a copy of the FIR filed at the Gachibowli Police Station. It states that the deceased was in depression due to being weak in his studies, and was lonely. Both these reasons might have led to his suicide. The police are investigating the matter.
Should the university be blamed?
The university issued a statement saying it deeply condoles the death. The Department of Fine Arts held a condolence meeting this morning.
However, it remains to be seen whether the reasons for Praveen's suicide go deeper than personal ones, like it was in the case of Rohith Vemula. That case threw light on the caste discrimination faced by Dalit and OBC students at the HCU by professors and university authorities. This incident is cause further outrage in an already charged atmosphere on campus.
Sannaki Munna of the Ambedkar Student"s' Association, the political group that Rohith was associated with, told Catch that they were still trying to ascertain the reason for the suicide. He said the ASA would only take it up politically when more facts emerged.
"All I can say is that the administration is so poor. The ambulance which is parked inside the campus itself took 45 minutes to come. His pulse was still ticking when his roommates undid the noose. They had to take him on a scooty to the health centre, and from there to a hospital. Imagine a body on a scooty being carried by two people! The sheer lapse in acting fast is a reason for his death," Munna said.