NABARD chief on farm distress: credit flow hasn't improved. It's a grey area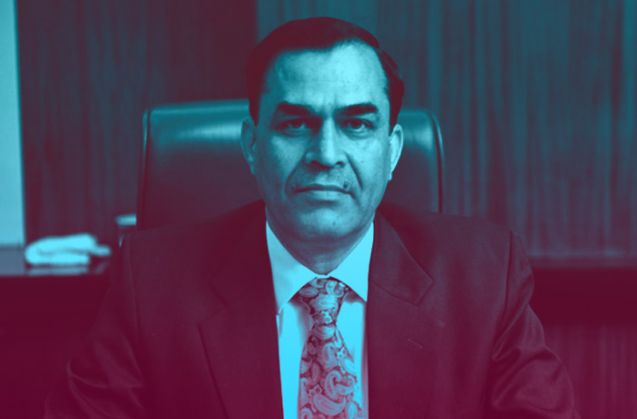 The agriculture sector fared poorly this year. Unseasonal rains and a drought in at least 10 states has caused a decline in foodgrain production. So severe is the distress that farmer have been driven to suicide even in historically prosperous states like Punjab.
One of key reasons for farmer suicides is piling debt. In the absence of easy loans from banks and state institutions, farmers are forced to take loans from moneylenders. The loans are so usurious, the farmers are hardly ever able to repay, particularly when their crops fail.
Also read - Govt has failed drought victims by starving MGNREGA of funds
It's precisely this distress that the National Bank for Agriculture and Rural Development, or NABARD, is meant to redress. The primary task of India's apex bank for rural finance is to ensure credit support for various agricultural activities and other initiatives for rural India.
Clearly, though, NABARD has come up short. Catch spoke with Harsh Kumar Bhanwala, the bank's chairman, to understand why.
Bhanwala says the bank has taken initiatives to "better equip farmers to deal with issues such as drought and limited access to credit". He emphasises the need to treat the farmer as a professional and farming as an economic activity of dignity to encourage their children to it take up as a profession.
He explains why it's difficult to bargain for lower interest rates for farm produce, and how the government's new "model land leasing law", which aims to open up funding for landless farmers, may not work. Excerpts from the conversation:
Agriculture hasn't perform well in 2015-16. What do you think were the major reasons for this?
The kharif foodgrain production in 2015-16 is estimated to be 124 million tonnes, compared to 130 for a normal year. It's a little less than the 126 MT produced in 2014-15, which was a deficit year.
The main reason for the poor performance of agriculture this year is the drought. Rainfall deficit was 14% during the southwest monsoon and 20% during the northeast monsoon, up to mid-Dec 2015, making this the second consecutive deficit year. Added to this the floods that damaged crops in certain states.
Also read - 50% of India is reeling from drought. Here's the impact at a glance
Many experts argue that if anything this situation has underlined the urgent need to overhaul crop insurance schemes. Indeed, many farmers still do not have formal access to credit. How do we address this?
There is no second opinion about the need to overhaul crop insurance schemes to increase the coverage. Results of the NSSO's 70th Round tell us that a very small segment of agricultural households insure their crops. Hardly 5% households growing even major crops like paddy or wheat are insured. The main reason quoted was the lack of awareness.
Other issues in crop insurance are also there, of course. For one, coverage of non-borrowing farmers. We have to work on expanding coverage, making the scheme universal and educating farmers to go for crop insurance cover, and simultaneously. Making insurance acceptable, making it comprehensive and integrated to cover losses across a range of assets is a challenge. Innovation can help in this respect.
Limited access to institutional credit is another vexed issue we are trying to tackle. The major hurdles in this are increasing the number of small holdings with small loan sizes, which increase transaction costs proportionately. If we allow the financial institutions to add these transaction costs to interest rates, the loans will be very expensive and would deter farmers from opting for institutional loans. The price effect, it's called.
We've introduced several innovations to overcome some of these hurdles. Kisan Credit Card and Rupay card, for example, have reduced transaction costs to a large extent, and helped reduce absolute interest costs.
We must expand the coverage of MSP. The share of farmers benefiting from it's very low: HK Bhanwala
Self Help Groups and Joint Liability Groups also help reduce transaction costs for both the banks and the farmers. Here, banks get the additional advantage of high recovery due to group dynamics such as peer pressure.
Farmers Producer Organisations, or FPOs, which enable aggregation of their produce, is the key to improving farmers' bargaining power in the market and ensuring better prices.
At a meeting of the finance minister with CEOs of public sector banks on 23 November 2015, I appealed to the bankers to, among other measures, prepare at least one area-based scheme per district keeping small holdings in mind, and focus on joint liability funding.
That said, a lot still needs to be done.
What do you think are the major challenges in reviving agricultural growth?
The biggest challenge is enhancing productivity as the pressure on land is increasing by the day. We need to produce enough to feed people, enough to feed the industry - that too from a limited amount of land that can't expand. The challenge is how to do this while keeping the productive capacity of our ecosystems intact.
Economic factors like lower international prices of various crops have also hit our farmers hard. What could be done to redress this?
International prices are determined by the interplay of the forces of supply and demand. Since our exports of major commodities such as rice and wheat are limited compared to domestic consumption, domestic support measures assume importance.
Such measures include expanding the coverage of price support operations such as the Minimum Support Price. Currently, the share of agricultural households benefiting from MSP is very low, except in a few states.
What steps has NABARD taken to redress this situation?
See, this is not the core mandate of NABARD. However, we keep sensitising all stakeholders about these issues on every possible forum.
You had mentioned in a previous interview about NABARD forming "farmer producer organisations" and supporting them. How exactly would this help?
The major challenge is to make the farmer a professional, one who takes up farming as an economic activity that would make him prosper, not just as an activity to keep him engaged. The dignity of the farmer should get enhanced so that they wish their children also take up farming as a career. In other words, the farmer's self-respect should be protected and enhanced.
One way of enhancing the farmer's self-respect is to make him economically free, which can be made possible if his bargaining power in input and output markets improves.
Organising themselves into functional groups gives farmers the needed social capital and bargaining power. NABARD has been promoting FPOs to enable farmers to reap the benefits of aggregation and exploit the synergies of groups.
Also read - 95% of MP's drought-affected farmers are angry with their govt. Here's why
The NDA government is working on a "model land leasing law" that essentially aims to open up funding opportunities for landless farmers. Could this boost the agricultural sector?
It is very important to ensure flow of benefits, schemes and credit to the tillers, including pure tenants. In spite of serious efforts by the government, the Reserve Bank and NABARD, credit flow to tenants has not improved much.
This has remained a grey area. Any law that can ensure leasing rights to tenants is welcome. But such a law can produce positive effects only if it addresses the apprehensions of land owners. Else, the law may led to the evacuation of tenants, rendering them landless in the real sense.
Merely proposing a model law is not enough. We should work towards its adoption across states to ensure its benefits reach the tenants. And this is a big challenge. It requires long-term intervention.
Credit flow to tenants hasn't improved. It's hard for even land owners due to poor records: Bhanwala
Meanwhile, NABARD has been leveraging the joint liability concept to promote groups that can include tenants to ease land-ownership related constraints to credit flow.
I would add here that credit flow to even land owners is not smooth due to poorly kept land records. Hence, digitisation of land records should be a priority.
Would a scheme for interest rate subsidy be a good option?
There's a growing feeling against such schemes though a few people are calling for subvention - as such a scheme is called - even for long-term loans. Presently, interest subvention is available for short-term crop loans only.
The RBI's Working Group on Financial Inclusion, headed by Deepak Mohanty, recently recommended its phasing out. It said that subvention is likely to be misused and misdirected, besides dampening capital formation.
It's increasingly becoming difficult to justify subventions due to their impact on fiscal deficit. However, sudden withdrawal without thinking of alternative support measures can be detrimental to many farmers who are already in distress.
Do you think increasing support prices will address this dire situation?
Support prices address only a particular type of problem that the farmers face. They ensure minimum guaranteed prices for their produce in the event of a glut. We can protect farmers from this price risk by promoting staggered marketing and holding the stock till the prices are strong.
And to enable farmers to hold the stock without strain, we are helping create warehousing facilities, giving loans against warehouse receipts and extending subvention to Kisan Credit Card holders who keep their stock in warehouses.
We must remember that focusing on prices alone will create imbalances. Instead, we need to work simultaneously on creating infrastructure, reducing cost of production, creating alternative and attractive employment avenues for rural youth, promoting rural entrepreneurship and industries, providing clean energy, working on sustainability, and so on.
More in Catch - Growing economy, failing agriculture: why this is a disastrous mix for India
Farmer suicides: how farming is made unviable by bad policies