Terror attack: 50% of India is reeling from drought. Here's the impact at a glance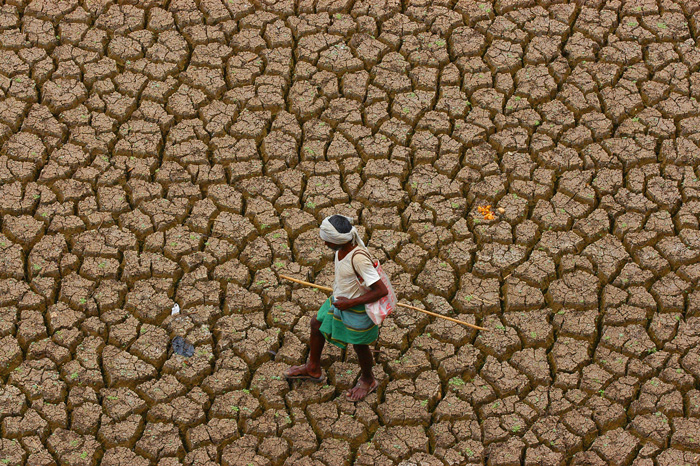 This year's poor monsoon - it was 14% below average - has left nearly half of India reeling under drought.
Uttar Pradesh has already declared drought in 50 of its 75 districts, Madhya Pradesh in 35 of 51 districts, Chhattisgarh in 25 of 27, Karnataka in 27 of 30. Maharashtra has notified 15,747 of its 43,711 villages as drought-hit. Nearly half of Telangana is also parched.
In India, the scale of drought and its consequences are dependent as much on nature as on state policies and mechanisms. The more prompt the state is in reaching the affected populations, especially farmers, the less their suffering.
Also read: India's water bank is bankrupt. Govt makes a good move to save it
That said, the phenomenon of drought in India is quite layered - in how it occurs; how it affects farmers, agriculture, the economy and even politics; how it's tackled.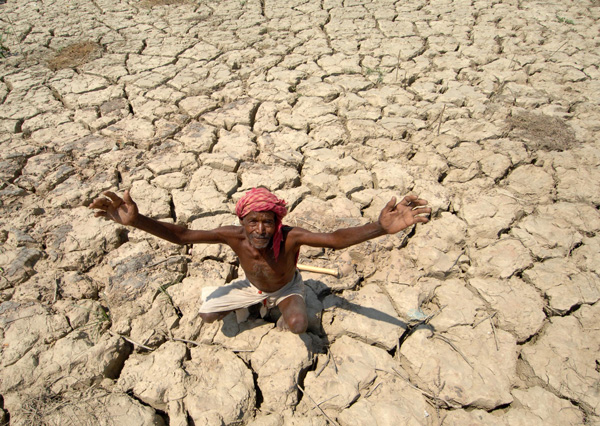 Here, we break the phenomenon down to better understand it.
The main factors that lead to drought, apart from deficient rainfall.

Climate change: Global warming wrecks rainfall and temperature patterns, which parches the earth and damages crops.

El Nino: This periodic weather pattern dehydrates the Indian landmass.

Landscape changes: Deforestation depletes the water retention capacity of the soil.

Hydrological changes: Rising summer heat reduces water level in reservoirs.

Agricultural practices: Lack of rainwater harvesting, over-exploitation of reservoirs.
The effects of a drought are environmental, agricultural, socio-economic.

Environmental: Rivers, lakes and wells dry up, soil cracks, groundwater level dips.

Agricultural: In the absence of adequate irrigation facilities, deficient rainfall affect crop cultivation and production. The consequences of this are more imports, price rise, starvation.

Long droughts may also change crop patterns and cause mass cattle deaths.
Socio-economic: Fall in agricultural employment, shortage of drinking water, spread of waterborne diseases, malnutrition, hunger, depression, distress sale of valuables and assets, mortgaging of land and property, strengthening of superstitious beliefs.

The most severe effect is usually on marginal farmers and landless labourers. They end up selling whatever they have and borrowing money at exploitative interest rates, which further impoverishes them.
Share of India's population whose livelihood depends, directly or indirectly, on agriculture.

5,650 farmers committed suicide in 2014, according to the National Crime Records Bureau. Maharashtra, Telangana, Madhya Pradesh, Chhattisgarh and Karnataka accounted for most of these suicides.

Farmer suicides accounted for 4.3% of all suicides in India in 2014. The major causes are bankruptcy, indebtedness, crop failure, family problems.
"I have visited some of the drought-affected areas. The situation is so grim that in some states there could be over 20% decline in foodgrain production," says Ashok Gulati, advisor to Niti Ayog. "In large parts of the country, the farmer has got negative returns."
Or over two-thirds of India is prone to drought. Much of western India and the Deccan plateau is especially vulnerable.

Since 1997, there has been a 57% increase in India's drought-prone areas, according to NC Saxena, former rural development secretary.

India witnessed 10 severe droughts between 1966 and 2000, which together affected over 900 million people.

The 1987 drought in Tamil Nadu, Kerala, West Bengal, Rajasthan, Karnataka, Bihar and Odisha was the worst in independent India.
The amount of water supplied every day for four months by tankers, trucks and trains during the drought of 2002, possibly the worst drought in recent memory.

This is roughly equal to the entire daily water requirement of Singapore.

The 2002 drought affected about 300 million people, more than double the population of Mexico.

The loss to agricultural income was estimated to be about Rs 39,000 crore.
Money released from the National Disaster Response Fund to 10 states to tide over droughts from 2012-13 to 2014-15.

India's first bullet train project is estimated to cost 10 times this amount.

The department of agricultural cooperation has created a Rs 500 crore price stabilisation fund and a Rs 568 crore soil health card scheme.

The measures are meant to shield farmers from price fluctuations and to help them apply "the recommended dosage of nutrients to enhance fertility and crop production".
Number of farmers that the government claims price stabilisation fund and soil health card scheme will benefit.

The Central Research Institute of Dryland Agriculture has also developed a contingency plan to sustain agricultural production in case of a drought in 580 districts.

But is this enough? "It is time the government gave an economic bailout package of at least Rs 1.5 lakh crore to farmers. This should be easy now considering almost all farmers have bank accounts under the Jan Dhan Yojna," says the food and trade policy analyst Devinder Sharma.

"And this has to be accompanied by more public sector investment in agriculture."
Number of steps the states must take to minimise the severity of the drought, according to the MoS, Agriculture, Mohanbhai Kundaria. These are:

Make available short-duration, drought-tolerant varieties of seeds to farmers and set aside 10% Rashtriya Krishi Vikas Yojana funds to mitigate crop loss.

Construct water harvesting structures under MGNREGA.

Promote cultivation of less water consuming crops, improve irrigation by desilting canals, energise tubewells, replace and repair faulty pumps.
In April, Prime Minister Narendra Modi told the Lok Sabha: "Nothing is more important than a farmer's life. We have to see which road we walked. What were the wrong steps taken in the past and now."
Yet, more than 1,000 farmers have committed suicide since he assumed power. Datatery Popat Ghadwaje, a farmer from Umbrale village in Maharashtra killed himself in June after days of lamenting that the "sky betrayed me".
Was Ghadwaje indeed betrayed by the sky or did the government fail him?