Cotton farmer suicides: Punjab has been here before and not learnt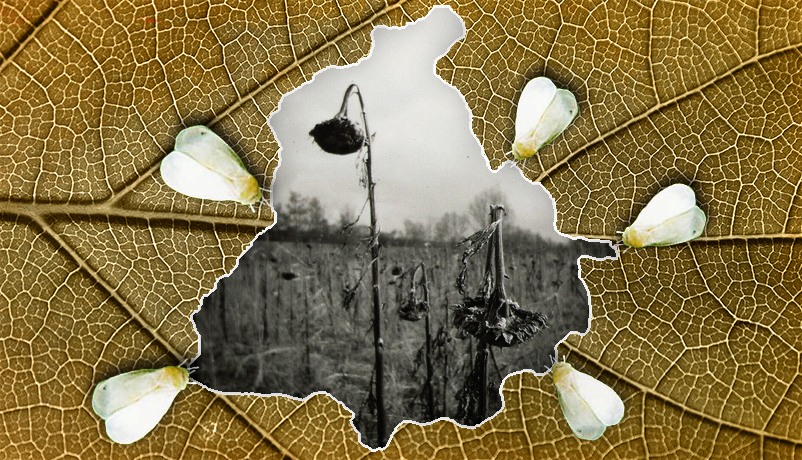 The crisis
15 cotton farmers have committed suicide in Punjab
Whitefly has ravaged two-thirds of the state\'s cotton crop
Farmers\' organisations are up in arms, have blocked trains
The genesis
Whitefly only affects Bt cotton, which most of Punjab crops
Bt cotton is resistant to bollworm, not pests like whitefly
Rampant pesticide use makes it resistant, kills it natural predators
More in the story
Did Mealy Bug, Whitefly pests come with Bt cotton seeds?
Are agricultural scientists to blame for the crisis in Punjab?
In the past two months, 15 farmers have committed suicide in Punjab after a pest destroyed their cotton crop. The tragedy was entirely avoidable.
Whitefly, the 2-mm-long pest that caused the havoc is just a new chapter in an old story.
Agricultural experts point out that rampant use of pesticides and genetically modified Bt Cotton have caused such pest outbreaks before. As recently as 2007, a pest known as Mealy Bug had ravaged Punjab's cotton fields. And, indeed, then, as now, stopping the use of pesticides checked the attack.
Laid to waste
Whitefly has ravaged two-thirds of Punjab's cotton plantations over the past two months, forcing 15 farmers to take their lives. Farmers' organisations are up in arms against the government, which they allege has provided little compensation for the lost crop. As a result of their protests, train services have been hit.
Whitefly is not unknown to Punjab's cotton farms, but this year it has arrived in menacingly huge numbers. Why? Nobody knows for sure. According to a report in The Times of India, one theory is that the pest arrived earlier than usual and unseasonal rains helped it survive for longer.
The farmers claim they were sold spurious pesticides in the market, while the Punjab Agricultural University, which approves seeds and recommends what and how much pesticide to use, blames the farmers. PAU vice chancellor BS Dhillon claims the farmers did not use the seeds suggested by the university and planted the crop early.
Most of Punjab grows Bt Cotton. Being genetically modified, it generates insecticides on its own to keep away common cotton pests like the bollworm. But it's not resistant to other pests like Whitefly. So, farmers have to spray pesticides to kill them.
In 2007, stopping pesticide spray allowed Mealy Bug's natural predator, Beetle Larvae, to thrive
Excessive use of pesticide, however, makes the pest develop resistance. It also destroys "friendly" insects, which only eat the crop without harming it and drive away the pests.
Kavita Kuruganti of the Alliance for Sustainable and Holistic Agriculture points out that while Bt Cotton specialises in keeping bollworms at bay, the experience of the last decade shows it has become more vulnerable to smaller "secondary" pests, which over time become major pests.
"It should be noted that farms without Bt cotton have been spared," she said. "The point is that we don't need a silver bullet but holistic solutions that appreciate crop ecosystems and the balance of nature. You can't destroy the balance and expect things to be fine."
Pestering problem
According to a 2010 study by the Institute of Science in Society, the experience of Mealy Bug outbreak in Bt Cotton fields in 2007 yielded many solutions to tackle a crisis like the one facing Punjab now.
The bug had caused severe damage in four districts of Punjab. The economic loss was estimated by the National Centre for Integrated Pest Management at Rs 159 crore.
Then too, non-Bt crop had survived. Mixed cropping prevented the bug from spreading while stopping pesticide spray allowed Beetle Larvae, a natural predator of the pest, to grow.
The Central Institute of Cotton Research, Nagpur, studied the outbreak and found that most Mealy Bug strains were not indigenous, indicating that they had come along with the Bt Cotton seeds.
Further, CICR scientists advised against using insecticides as these killed native insects like Beetle Larvae and ladybugs, which would otherwise have prevented Mealy Bug from growing.
Why were these lessons not learnt?
Umendra Dutt, executive director at the farmers' organisation Kheti Virasat Mission blames both the government and the state's agricultural scientists. "Scientists and the government have always encouraged a pesticide-centric approach. Even after Mealy Bug, not once did they sit down to consider the alternatives," he said.
Countering the PAU's claim that farmers were to blame, Dutt pointed out that Whitefly also attacked the university's own cotton fields. He fears the pest will spread to other crops now such as rice and wheat.