Growing economy, failing agriculture: why this is a disastrous mix for India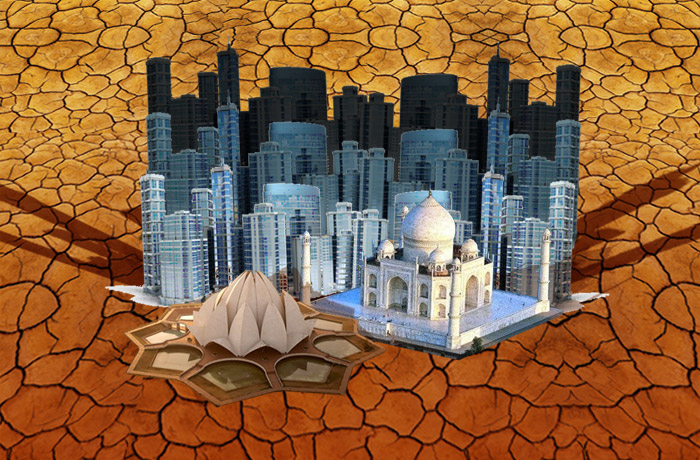 India has witnessed four droughts in the past six years. But instead of being alarmed, the Chief Economic Advisor Arvind Subramanian gleefully tweeted on 1 January that India has emerged as the world's fastest growing economy "despite" the droughts.
This sense of achievement betrays the fetish for "growth" at any cost and ignores the distressed lives of nearly 40% of the population. It also reflects the government's thinking that the economy can grow without a robust agricultural sector over the long run.
But this thinking is disastrous, not just for the farm sector, but the economy as a whole.
"Since agriculture accounts for less than 17% of India's GDP, achieving growth won't be a problem," says HS Shergill, professor emeritus, Panjab University.
Also read: Why farmers commit suicide: hear it from the heartbroken
"The government focuses on the services sector, which has a 57% share in the GDP. But this way of looking at the economy ignores the vital fact that over 50 crore of India's population is still dependent on agriculture sector."
Since the Indian economy was liberalised in the early 90s, the establishment economists have advocated growth of non-farm sectors to bring people out of poverty.
But Shergill insists that this approach is wrong. "Look at income disparity between farm and non-farm labourers. If you set aside Punjab and Kerela, in most states this income disparity has been increasing. The country has not been able to create jobs in non-farm sectors, but it has stopped focusing on the farm sector."
For the 12th plan, 2012-17, the now scrapped Planning Commission had set a target of 4% growth in agriculture. But the sector has grown by no more than 2% so far. And given that half the country is reeling from drought, it won't be a surprise if we end up with just 1% growth in five years.
Also read: The Modi plan: How Narendra Modi aims to create more Indian jobs
Increasingly poor returns from their crops will pile on the debt on farmers, putting them under further pressure. Already in 2014, at least 5,650 farmers have committed suicide. Between 1995 and 2014, 296,438 farmers have killed themselves.
Also, deficient rainfall reduced food grain production by 4.66% to 252.68 million tonnes in 2014-15. The current year is on course to witness a further decline in output.
296,438 farmers committed suicide from 1995 to 2014. 45.5% of the suicides in 2014 were in Maharashtra
Though the situation isn't yet alarming in terms of food security as India has sufficient stocks, the government has been forced to import pulses and onion to control domestic prices in the past two years.
What ails agriculture?
According to Ajay Vir Jhakhar of Bharat Krishak Samaj, the "biggest reason" for distress in the agriculture sector is that governments do no consult farmers on policies.
As a result, he points out, "all government support goes to farmers with irrigation facilities. Farmers dependent on rainfall are the most neglected."
The support for farmers in the form of cheap fertilisers and electricity is "meant to help farmers with irrigation facilities", Jhakhar points out. "A farmer dependent on rainfall for his crop does not use fertiliser or free electricity the way a farmer in Punjab with irrigation does."
Also read: The absurdities of farming in India
"Also, rice and wheat are the crops of irrigated land and they get support. But where is the support for farmers of Gujarat, Maharashtra or Telangana?"
The data on farmer suicides seems to support Jakhar's claim. In 2014, 45.5% of the suicides, or 2,568, were reported in Maharashtra, followed by 15.9% or 898 in Telangana and 14.6% or 826 in Madhya Pradesh.
In 2015, the Marathwada region of Maharashtra alone reported 660 farm suicides until September.
Make no gain
The noted agricultural economist and former union minister YK Alag says, "The government's policies are distorted under pressure of the urban lobby. Farmers are not allowed to export the products that command high prices in the international market. Moreover, whenever prices in India are high, the government imports agricultural products to suppress domestic prices."
"Today countries like Australia, Canada and the US are growing pulses just to export to India," Alag adds. "I am not against imports, but why should the government buy cheap pulses from other countries while it does not buy from its own farmers. Is our government supporting farmers of other countries?"
Jakhar too criticises the government's decision to ban export of various agricultural products "under pressure of the industry".
Also read: Less talk, more work: what economists want from the NDA in 2016
"Today, cotton growers are the most distressed farmers in India. When cotton prices had touched Rs 7,000 per quintal, the government under pressure from the textile industry changed export notification 17 times in 18 months. This led to halt in exports," he says.
"That was the time when Indian farmers could have made money and gotten rid of their debts. Now, after two successive droughts they are neck-deep into debt. Who is to be blamed for this?"
Left to rot
It's not that agriculture has been a low priority only for this government. In 2015, a parliamentary panel led by Hukum Dev Narayan Yadav revealed that in the 11th plan period, 2007-2012, the Department of Agriculture Research and Education was allocated only Rs 10,325.76 crore for research against a demand of Rs 31,672 crore.
The department couldn't utilise even this amount, spending only Rs 9,800 crore. In 2014-15 too, the department spend only Rs 1,260.39 crore of the allocated Rs 6,144.39 crore.
"State agricultural universities do not even have the money to pay salaries to scientists, forget taking up new projects," says Shergill. "India does not even spend 1% of its GDP on agricultural research and development".
Also read: 50% of India is reeling from drought. Here's the impact at a glance
The gross capital formation in agriculture - the money invested to enhance productivity - has fallen from 18.3% of the agri-GDP in 2012-13 to 14.8% in 2014-15. And nearly 80 % of this has come from the private sector, not the government.
Private sector investment was on the increase when global and domestic prices of agri-products were on the rise. But now with falling commodity prices, even this is slowing down.
Shergil says, "The government is not ready to invest in increasing irrigation facilities. The area under irrigation has remained stagnant at 33-35% for the last two decades."
According the agriculture expert Devinder Sharma, "the government is following a model of shifting rural farmers to urban areas to make cheap labour available to the industry. In the 11th plan, public investment in agriculture was Rs 1 lakh crore and five years later, it's just Rs 1.5 lakh crore."
"In a sector that supports 50 crore people, the government is investing only 1.5 lakh crore. How will you get growth?" asks Sharma.
Contrast: Rs 1.5 lakh cr for agriculture, Rs 42 lakh cr in tax exemptions to corporates in 10 years
In contrast, the government has been quite generous to the corporate sector. "It has given Rs 42 lakh crore to the corporate sector through tax exemptions over the past 10 years. If this much money had been invested in agriculture, poverty would have been eradicated from India," Sharma says.
If the chief economic advisor's statement is anything to go by, this state of affairs is unlikely to change in the near future. Perhaps, it would take a food grain crisis of the scale witnessed in the 1960s for the country to revive the slogan, "Jai Kisan".
Also read: Drought, death & destroyed crops: just how much more can Marathwada take