The Modi Plan: five clear steps to job creation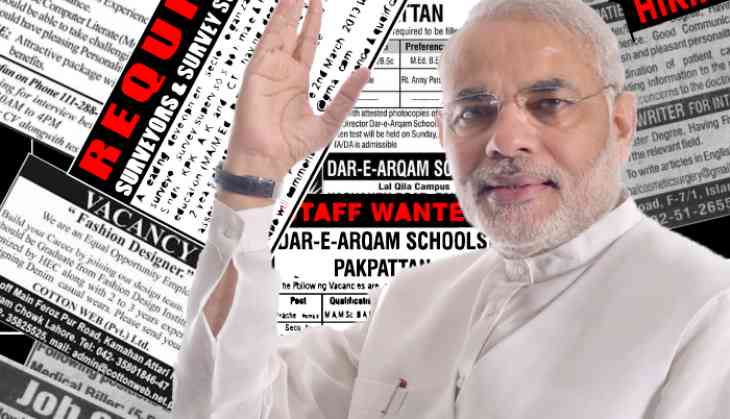 The big picture
PM Modi understands India\'s aspirations have moved from \'Garibi Hatao\' to \'Ameeri Banao\'. From poverty alleviation to creation of prosperity.
UPA had focussed on welfare and a framework of rights. They were booted out.
Modi came to power promising job-oriented growth.
The task
Modi\'s plan is focussed on 3 Es: education, employment and employability.
His main challenge is to fix the mismatch between demand and supply of jobs.
The challenges
There are only three lakh apprentices in India. Japan has 10 million.
Only 11% of India\'s labour force is in manufacturing. China has 40%.
90% of our jobs is in the informal sector.
The innovation
Modi\'s big idea has been to shift action to the states. For job creation, 29 CMs matter more than one PM.
The report card
\'Very good\' for laying the foundation for job-creation outside the farm sector. \'Good\' in skilling. \'Poor\' in education.
The amendments to the Apprentices Act, 1961 has tried to put \'learning while doing\' at the heart of skill development. That\'s a good start.
Modi government needs to focus on outcome-based learning, not get into controversies.
The most interesting question about poverty is why countries are poor. But the most important question is how the government of a country can put poverty in the museum, where it belongs.
Our last government at the Centre decided that the best way to reduce poverty was to have a state that spends big and provides people a framework of rights - Right to Education, Right to Food, Right to Work and so on.
However, this strategy changed India from an economy with high growth and low inflation to one with low growth and high inflation. In many ways, the spectacular victory of the BJP in the Lok Sabha elections was a product of rising aspirations.
As a nation, our collective aspiration has changed from poverty alleviation to poverty elimination and, individually, we have moved on from being inspired by Garibi Hatao to dreaming about Ameeri Banao.
The creation of prosperity - and not the alleviation of poverty - has become the main priority.
Narendra Modi came with a message that three Es - education,employment and employability - can change lives in a way that subsidies never can.
These three Es have three problems: matching (connecting demand to supply), mismatch (repairing supply for demand) and pipeline (preparing supply for demand).
As this government completes one year, how have they done in these three areas?
Judging a government elected for a five-year term in one year is like a person on a diet getting on a weighing machine every day. Nonetheless, 12 months is enough to lay the foundations of the future.
The bottom line report card of the government is: 'Very Good' in laying the foundation for non-farm job creation, 'Good' in skilling and 'Poor' in education.
5 points on the road to job creation
Let us take jobs to begin with. Farming is no longer viable - more than 50% of our labour force generates only 13% of our GDP.
The role of the government in the creation of non-farm jobs is not about lighting a fire but creating instead the conditions for spontaneous combustion. The government gets high marks for creating a fertile ground for non-farm job creation because we finally have a holistic plan that simultaneously focuses on several key factors.
1. Smart cities: We need to take jobs to people rather than the other way around. Our present demographic realities aren't conducive to this.
Two lakh villages in India have less than 200 people. On the other hand, we have only 50 cities with more than a million people, as compared to 350 in China.
2. Ease of doing business: India's 63 million enterprises translate to only one million companies, of which only 10,000 have a paid up capital of more than Rs 10 crore. This needs to be expanded significantly.
3. Make in India: This is another idea that shows that the government has its priorities right. As of now, 11 per cent of India's labour force are engaged in the manufacturing sector. We may never catch up with China's peak figure of 40% manufacturing employment. But surely we can endeavour to make ours at least 22%?
4. Energy reforms: India, in some ways, is a country with a birth defect. The country with the world's second largest population doesn't have any major form of energy available domestically, besides coal.
5. Labour law reform: Our labour laws are like marriages without an option for divorce. They breed informality, capital substitution of labour and corruption.
Labour law reform has been a taboo for governments because of a small minority of trade unions. Only 5% of the labour force have imposed a huge tax on labour market outsiders like women, young people,and people from small towns.
Only 50 cities in India have more than a million people. China has 350. We also have 2 lakh villages with only 200 people
The existing system ensures that 90 per cent of our employment is in the informal sector. This labour aristocracy, however, has been disappointed with the current government. Reforms have included competition for pension and health insurance providers and a move towards online compliance for companies.
[fullsuite/]
But the big innovation has been shifting the action to states; using Article 254 (2) of the Constitution that allows states to diverge their laws from national norms. This provision has already been used by Rajasthan and Madhya Pradesh. Six more states have lined up to follow them.
While there may be something akin to an Indian capital market, there is no such thing as a unified land and a labour market in India.Therefore when it comes to job creation, 29 chief ministers matter more than one prime minister. The shift of power to state capitals has also been accompanied by a shift of funds - 62% of total receipts in the last Budget.
NDA's big innovation has been shifting action to states. For job creation, 29 CMs matter more than one PM
How to skill a billion
More has been done on skills in the last five years than in the preceding 20 years. But a lot more needs to be done.
Most importantly, the institutional and legislative structures at the Centre need to be fixed. Despite placing reform of the Apprenticeship Act, 1961 as the 20th point in Indira Gandhi's 20-point programme in 1975, India languishes with only three lakh apprentices. Japan alone has 10 million.
The amendments to the Apprentices Act, 1961 passed by this government lays the foundation of placing 'learning-by-doing' and 'learning-while-earning' at the heart of skill development.
The new Ministry of Skills is a great start because while the issue of skills is a horizontal one, the government is organised vertically and most silos have an antibiotic reaction to co-ordination or aggregation.
The recent transfer of the apprenticeship programme and the regulation of industrial vocational institutes from the Ministry of Labour will create sharper accountability.
The final turf battle in connecting vocational qualifications to the world of university degrees is still being resolved.However, the move to create a National Skill University under the Ministry of Skills may allow innovation to flourish.
Finally, the recognition of prior learning in the revamped Pradhan Mantri Kaushal Vikas Yojana addresses the heart of our skill problem where people who have skills often do not have formal certificates.
Education - missing the woods for the weeds
In education, the government has not walked the talk and has got entangled in the weeds while missing the big picture.
We need to amend the Right to Education Act because it confuses school building with building schools. We need to make it outcome-based by transforming it into the Right to Learning Act.
We need to introduce flexibility in higher education by allowing new set-ups like skill universities to innovate in flexible delivery and modularisation. We need to create a corridor with multiple on and off ramps for every qualification between three-month certificates, one-year diplomas, two-year associate degrees to three-year degrees).
We need to turn the Right to Education Act into a Right to Learning Act. We need to build schools not just school buildings
We need to liberalise medical education - we only produce 35,000 doctors a year as compared to 1.3 million engineers. We need to neuter education regulators that do not add value. Sadly, all this is not even work in process as yet.
The art of politics
In the last decade, we had forgotten that policy is a child of politics and that politics is a contact sport.
It is nice to have a government whose brain is connected to the backbone and it is important to realise that politics is not about solving a math sum but painting a picture.
We have long known what needs to be done to fix our 3E ecosystem, unfortunately the transmission losses occurred because we did not detail the how and who.
The first year of shifting policy for a greater focus on jobs, has gone well. But this is only the start of a long journey, which needs to gather policy momentum in the next one year if the government wants to look at young people confidently in the eye when they go back for votes in four years' time.
The views expressed here are personal and do not reflect those of the organisation.