#CourtAttack lays bare the real threat to this nation. It isn't Kanhaiya Kumar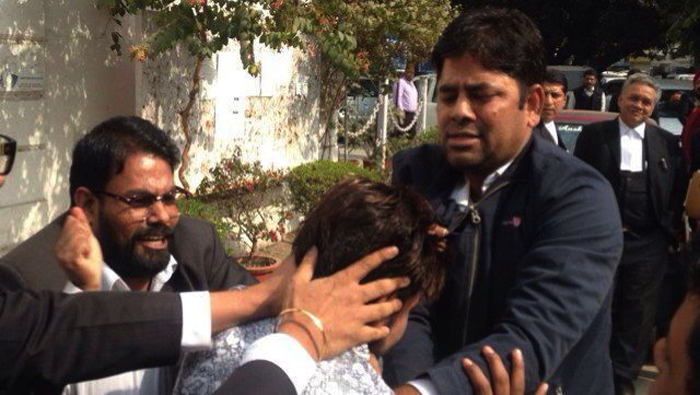 For an hour Monday, the Patiala House Court felt very far from Delhi. Far from all sense of security that a resident of the capital generally takes for granted. Far from the police station with which this court complex shares a boundary and far from the Delhi Police HQ, which is barely half a km away. All this violence was unfolding while Union Finance Minister Arun Jaitley was in court. Jaitley had come in connection with a defamation case he had filed against Delhi Chief Minister Arvind Kejriwal and five other minister.
Because in that one hour, journalists, students and teachers were chased, beaten and held hostage in courtrooms, by a mob of lawyers spouting the vilest of abuses in the presence of police personnel who stood, in neat queues, as mute spectators at the main gate of the court.
Because some women journalists, who had been punched and manhandled, rushed to the room of the District Judge, the seniormost authority in that complex, looking for a refuge. Only to be told that the judge won't be able to meet them since he was busy meeting a "very senior police official".
Also read: #JNUCrackdown: You don't mess with a nationalist like BJP MLA OP Sharma
And because the hoodlums in black jackets, chanting "Bharat Mata Ki Jai' all the time, did not even pretend to conceal their bigotry when they went around specially looking for journalists and other "traitors" with long beards.
Once in a while a policeman did come up to where the journalists were being roughed up by the lawyers, not to stop the goons but to escort the victims out, while telling them without a hint of irony, "mauke ki nazaaqat toh samjho (this is a delicate moment, please understand)."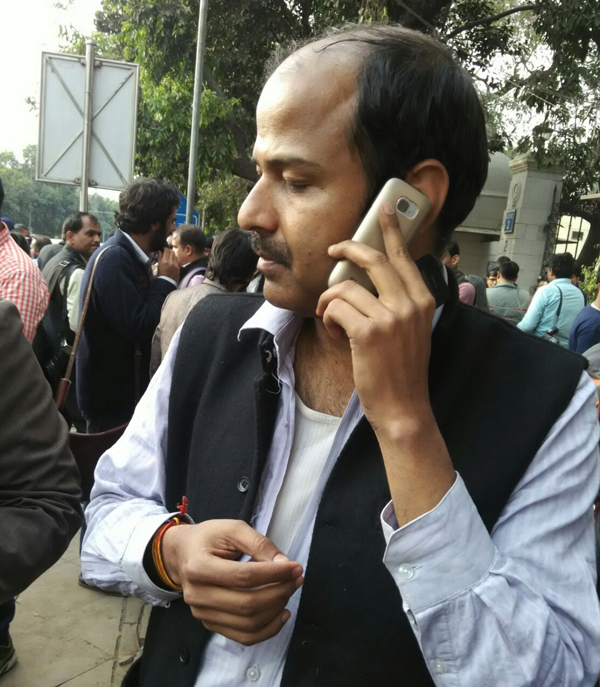 A senior Kashmiri journalist who was on the spot was moved to remark, "I have never seen anything like this happening in Kashmir in my reporting career of over 20 years. Even in the worst of circumstances it's unthinkable that such lumpen could even dream of touching female journalists, let alone assaulting them physically."
I haven't seen anything like this in Kashmir in 20 years of reporting: senior scribe on #CourtAttack
To most of the people on the spot, the one thing that felt real were the tears that some of the journalists couldn't hold back after running into each other outside the court complex and finding each other in better state than they'd feared.
Inside was a wall of black and white, of uniformed hooligans, that kept pouring out of the building complex in waves. Sometimes it was a hapless student or a JNU teacher that was being chased and beaten, but more often they were running after a journalist.
Also read: JNU update: Delhi HC may involve NIA to probe Kanhaiya's sedition case
A planned assault
It all seemed to have been planned well in advance. The lawyers, in fact, had given hints about what was to come early in the morning.
"Manish of India TV and I were standing outside a court when one of the lawyers came to us and said, 'just watch out for the scene we'll create today'. We dismissed it as some publicity charade they were planning. We didn't know this is what they were planning," said Srinivas of Sahara TV.
Also in the morning, the lawyers at Patiala court started receiving messages about a "peaceful demonstration" that was being planned to teach a lesson to "anti-national" elements.
The actual violence started at about 2:10 pm in Court 10, where Kanhaiya Kumar, the leader of the JNU Students Union, was appearing to respond to the charges of sedition slapped against him.
Some lawyers stepped inside the courtroom and asked two teachers of the JNU to move out, calling them "traitors" and "anti-nationals". After a heated argument, they forced the teachers out, and then beat two students in the gallery. Then began the search for journalists.
"Some lawyers approached me and asked who I was. When I replied that I am a journalist, they slapped me and tore my clothes off. They took away my phone and broke it. They were threatening to 'break the bones after the phones'," said Amit Pandey, a senior journalist with IBN 7 TV channel.
Amiya kumar, of the IANS news agency, was assaulted by at least half a dozen lawyers and hit in the head, but he managed to flee.
Also read: #JNUcrackdown: Why campuses have become the new battlefields
Manu Shankar, a reporter with Kairali TV, was not so lucky. "My colleague was hit on his forehead by some kind of weapon, an iron rod, perhaps... I do not know. He almost lost consciousness and is admitted in the RML hospital right now," said Shibul, who works with Shankar.
No refuge anywhere
A senior woman court reporter, who did not wish to be named, recounted the traumatic experience of being forced to hide inside a courtroom. "When they first started hitting JNU people, we thought we'll get away with our ID cards. But they came after us as well," she said.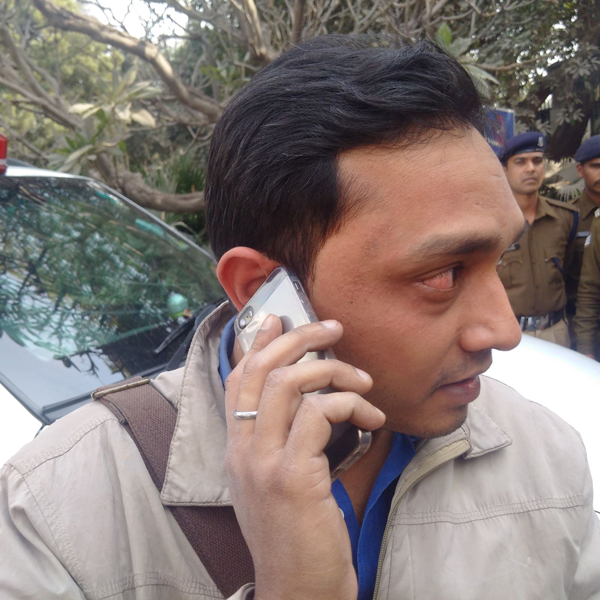 "So I and several female colleagues of mine rushed into the District Judge's room to plead him to save us. There, the court staff told us that we could not meet the judge as he was busy meeting a senior cop."
We rushed into District Judge's room for help. They said he's busy meeting a top cop: woman reporter
She continued, "Right then, the lawyers chasing us from before, who had threatened that the next turn was ours, came to this room and asked us to come out. We refused, so they snatched away our phones and browsed through the images gallery to see whether we had captured any of their violence on our cameras."
Also read: Which part of JNUSU president Kanhaiya Kumar's speech is seditious?
These women journalists finally escaped through a seldom-used gate that opens onto a back alley.
In a report she filed for her channel, Sonal Mehrotra of NDTV recounted, "There were people in lawyers' attire going around asking others, 'are you from JNU?' and then they were going around kicking them, beating them... This happened once, twice, thrice in front of me. When I took out my phone to capture a video, that's when they realised I was trying to revord evidence. Then they came after us."
The journalists have returned to their posts for the day. Some have reported the incident. And hopefully, their accounts, like this one, recounting that one hour of unchecked mob violence have dispelled all doubts about who is the bigger threat to this nation. Just for the record, it's not Kanhaiya Kumar.
More in Catch:
Afzal Guru JNU protest: Stringent action against those raising anti-national slogans, says Rajnath Singh
BJP's Swachh Bharat against 'anti-nationals' should begin at home, not JNU
#JNUcrackdown redraws battle lines: it's the right vs the rest now