Alleged ISIS operative threatens to kill top cop. Why is Barge targeted?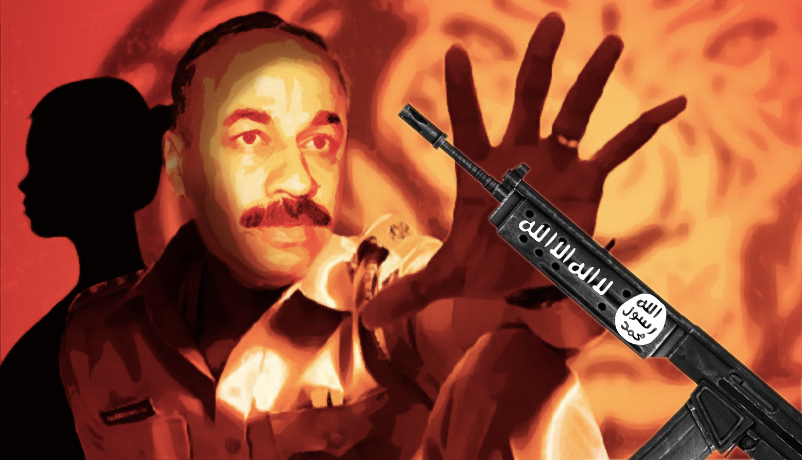 The letter
The Mumbai police commissioner\'s office received a death threat in an anonymous letter
An alleged ISIS operative wrote he was going to kill Maharashtra Police ACP Barge and his family
The reason
Barge is one of Maharashtra\'s star investigators, and currently heads the Pune anti-terror squad
He has been thwarted at least two attempts by ISIS recruiters to radicalise Indian youth
More in the story
How the cops plan to save one of their own
Barge\'s reaction to the threat, and the future of anti-terror operations
Police stations across the country are quite used to receiving calls and letters bearing threats. But recently, personnel at the office of the Commissioner of Police, Mumbai, found it difficult to believe their eyes when an anonymous letter was allegedly sent to them by an ISIS operative, threatening to kill ACP Bhanupratap Barge.
The reason? Barge has been highly instrumental in cracking down on terror-related activities, and has foiled attempts to radicalise Indian youth.
Also read - ISIS and its ideology: Does India need to worry?
Star investigator
Barge is considered one of the best investigators in the Maharashtra Police. He has been called in to probe some of the toughest cases, and his track record has helped him rise to the top of the Pune Anti-Terrorism Squad.
Sources in the Mumbai Police confirmed that an anonymous letter threatening to kill ACP Barge and his family was received at the office of the Commission of Police, Mumbai. "The sender has claimed that he is an ISIS operative. ACP Barge has been instrumental in many anti-terror operations in the state in the recent past. We have transferred the matter to Special Branch of Pune police for further investigation," an official said.
When contacted, Barge himself declined to comment on the alleged threat by ISIS. "I would have commented on it, had someone else been threatened. Since it directly concerns me, I would not make any comment," he said.
Thwarting ISIS plans
So why is an alleged ISIS operative threatening a top cop? That's because on at least two occasions, he has dealt major blows to ISIS's hopes of recruiting Indians.
First, he played an instrumental role in deradicalising a 16-year-old girl from Pune, who wanted to join ISIS as a suicide bomber. The ATS team led by Barge traced the girl in the nick of time and de-radicalised her.
"She is a bright student and aspired to be a doctor. Currently she is studying in a city college. We got suspicious about her after her activities on the internet and her day-to-day conduct. She was under surveillance for several months before we interrogated her. During interrogation, we noticed that the girl could go to any extent to execute any orders by the ISIS. She later underwent a deradicalisation programme. Her family members and religious leaders of the community were highly cooperative in the deradicalisation of the girl," Barge said.
The office of the Mumbai police commissioner recently received an anonymous threat to kill ACP Barge
Further interrogation also revealed that she had connected to 200 radicalised youths from across the globe via the internet. She had even contacted the recruiters and was asked to come to Syria, where she would be enrolled in a medical college and subsequently be recruited in the ISIS.
"The girl was attracted to the extremist ideology of the ISIS due to various documentaries about the outfit. Later she became regular viewer of Al Jazeera news to get updates on ISIS operations. While under surveillance, we noticed drastic changes in her behaviour. She had stopped wearing western outfits like jeans and t-shirts and shifted to veil (burqa) and traditional Islamic dresses. Even her family members had noticed this," Barge said.
Also read - ISIS increasing influence in India's neighbourhood: RAW report
Tracing radicalised youth
After this major step, Barge once again crossed paths with ISIS recruiters when he traced one of the four youths from Mumbai who allegedly wanted to join ISIS.
In mid-December, four youths from the Malvani suburb of Mumbai went missing. When the local police inquired into the matter, they were shocked by the information that the youths wanted to join the ISIS.
Once they got this information, frantic efforts began to trace them and the entire police department of the state was mobilised. It was Barge who traced one of the youths to Pune. Though he was not arrested, he is under surveillance and being counselled with the help of local religious leaders at Malvani.
The Maharashtra police has launched a special campaign to identify vulnerable youths and deradicalise them. These two are just examples; merely the tip of the iceberg of what the ATS has actually achieved in the last few months.
Barge has thwarted at least two attempts by ISIS recruiters to radicalise Indian youth
Sources said the ATS has succeeded in deradicalising more than 25 youth from Pune alone.
"There are several vulnerable youths who get brainwashed, without even realising the enormity of the trap they fall into. Interrogation of suspects in different crimes often lead us to such youths," said ATS sources.
It has now become a regular practice for ATS officials to interact with students, and elaborate on the modus operendi of terror outfits such as fundraising and radicalising the youth.
There are over 12,000 volunteers in different colleges in Pune, associated with the ATS.
More in Catch - Clear and present danger: ISIS spooks govt into action
Manohar Parrikar says India will fight against ISIS only during UN missions
False colours: why protestors in Kashmir are waving ISIS flags