False colours: why protestors in Kashmir are waving ISIS flags
Catch Team
| Updated on: 13 February 2017, 3:31 IST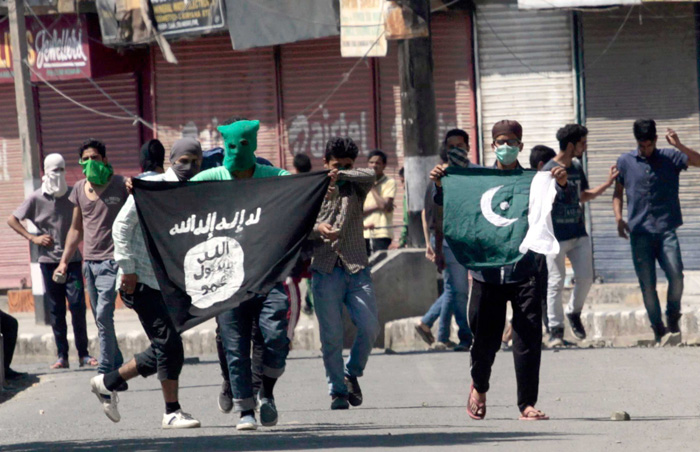 Flagged up
In the past few months, protestors have started waving ISIS flags
Is there growing admiration for ISIS among Kashmir\'s youth?
Is ISIS planning to get recruits from Kashmir to strike India?
Played down
Flag-waving is more an expression of anger at India than support for ISIS
Separatists and militants won\'t countenance an ISIS offshoot
Though militancy is again gaining ground, it has a distinct local flavour
On 21 July, VHP and Bajrang Dal activists torched an ISIS flag in Rajouri. A black cloth inscribed with Kalima Tayyaba was hoisted on a pole and set afire.
The incident touched off a storm of protest from Muslim residents of the town which continued for days. And in solidarity with them, a shutdown was observed in the Kashmir valley as well.
Also read: Clear and present danger: ISIS spooks govt into action
The protest, however, wasn't against the burning of the flag per se. There is little indication that ISIS enjoys any pronounced sympathy in Kashmir. The anger was against the disrespect to the Kalima.
It's the Muslims' fundamental oath of allegiance to Islam and its burning was thus deemed a sacrilege.
The incident though highlighted a key aspect of the challenge in combating ISIS' spread in India. More so in Kashmir, the country's only Muslim majority state.
Raising an alarm
Amid reports that ISIS is planning a strike in India, Kashmir is seen as a potential recruiting ground for the terror group - a perception that is only reinforced by the repeated flying of ISIS flags in the state.
To deliberate on the issue, the home ministry, on 1 August, held a high-level meeting of home secretaries of 12 states, including J&K, to find ways to prevent Indian youth from coming under the sway of extremist doctrines, including that of ISIS.
The evolving new situation also brought National Security Advisor Ajit Doval to the state in late July. He held discussions over two days with Governor N N Vohra, Chief Minister Mufti Muhammad Sayeed and the security brass, whom he reportedly told "to stop the youth from joining the militancy".
The frequent raising of ISIS flags in the valley has been worrying security agencies for a while now. The incidents have been deliberate, in your face and designed to provoke.
A few masked youth separate from the crowd after Friday prayers in downtown Srinagar, get to a place of high visibility, preferably the roof terrace of a shopping block, and wave the flags, sometimes together with the flags of Pakistan and Lashkar-e-Taiba.
Does this mean there is growing admiration for ISIS among Kashmir's youth? There is nothing to prove this. Not even the discourse on social media, where the terror outfit's brutal methods generally elicit outrage and condemnation.
According to the former chief minister Omar Abdullah, so far only one Kashmiri, Australia-based Adil Fayaz, has joined ISIS. Fayaz's business family, which lives in Srinagar's upscale Jawahar Nagar, denies this.
'Throwing stones won't get Azadi. We have to pick up the gun,' says Aaqib, whose father was killed in '92
In the valley, except for the flags, ISIS has no known presence on the ground; and there has been no militant action in its name.
This has led people to conclude that though the flag may go up from the heart of Srinagar, the valley's separatist hub, it is far from rooted in political reality.
This apparent disconnect makes some people, including the separatists, suspect the flag-waving is not spontaneous. They argue with some zeal that the flags are "planted from outside" and designed to "project our Azadi struggle as a terrorist movement".
"Waving ISIS flags during peaceful demonstrations is against the discipline, and also negates our strategy," says hardline Hurriyat leader Syed Ali Shah Geelani.
He terms the actions of the Taliban, ISIS and Boko Haram as un-Islamic. "New Delhi is using the ISIS flags as a tool to convey a message that the struggle in Kashmir is not for the right of self-determination but a problem of terrorism".
Symbol of resentment
But the issue has its layers. A renewed fascination with the gun among a section of the youth is one of the most troubling features of Kashmir today.
Though ISIS may not be a favourite, Hizb-ul-Mujahideen and Lashkar certainly are. This is amply borne out by the fresh recruitment into militant ranks in parts of south and north Kashmir.
A police estimate puts the number of young men who have joined militancy in the past six months at 35, a figure that represents a steep jump in recruitment in recent years.
And if conversations with some youth are to be taken at face value, even ISIS is not untouchable for them. Almost all were reluctant to be named for fear of being harassed; their names have been changed to protect identities.
This is the result of a complex array of factors - the fallout of the 26 years of the secessionist campaign, the prevailing separatist and mainstream politics that doesn't adequately speak to the swathe of grievances and aspirations of the people, and the general lack of employment and opportunity.
"Everybody is a thief here. All politicians and political parties are compromised. It is the poor people who have sacrificed but the leaders have benefited," says Aabid Manzoor, 26, of Nowhatta, in support of his argument for an ISIS-like movement in Kashmir.
"ISIS doesn't compromise. It can't be bought. They fight and die for their cause."
Aabid, an undergraduate student, has long indulged in stone-pelting but says he has never flown a flag. One of his cousins, a Hizb militant was killed in 2000.
But would Aabid join ISIS? He won't. "Flying ISIS flags is our way of venting our anger against India, demonstrating solidarity with militants fighting elsewhere in the Muslim world and forging unity among Muslims in the valley," Aabid says.
He has little idea that ISIS is waging a war on the Shias in Iraq and Syria and, hence, waving the flags could alienate Kashmiri Shias from the separatist movement.
Waseem Ahmad Khan, 23, of Hawal follows a similar train of thought. He doesn't think separatist politicians articulate the youth's aspirations forcefully enough.
Waseem has a litany of grievances against the Indian state and lists the small and big incidents of excesses by the security forces - some of them documented by the media - right down to occasional shouting of abuse by a cop on the road.
He is also aggrieved over Yakub Memon's hanging, terming it yet another instance of Muslims being treated as the "perennial other" in India.
"If we had Azadi, this would never have happened. If we were part of Pakistan, this would never have happened," says Waseem, adding with some cockiness that Srinagar's youth have inherited the separatist movement from the "martyrs" and would take it to its logical conclusion.
"It is the youth of Nowhatta, Khaniyar, Mausuma (areas in downtown Srinagar) who are keeping the tehreek (movement) alive. We are the custodians of the Azadi movement".
In 2010, Waseem spearheaded stone-throwing by a group of 20 boys, and was arrested and jailed for two and a half months.
"Three FIRs were filed against me in three different police stations. This was done to prolong my stay in jail. When I got bail in one FIR, the police brought forward another FIR," says Waseem, who quit his studies after Class 12.
'New Delhi is using the ISIS flags to convey that our struggle is a problem of terrorism,' says Geelani
The police is still after him, he says, and calls him every now and then to various police stations in the city. "I have long quit stone-pelting but the police won't let go off me or my companions."
One such companion is Ahsaas Rasool, 22. Son of a garment seller, Ahsaas rattles off a list of alleged atrocities in downtown Srinagar in recent years, beginning with the police's killing of teenagers Tufail Mattoo, Wamiq Farooq and Zahid Farooq in 2010.
"Around 120 youth were killed by the police in 2010. Was anybody punished? None," he says. "And they will not punish anybody because they (India) occupy us."
Not a fertile ground
But for all the flag-waving and the frequent stone-throwing, downtown Srinagar has not produced a single militant in the past four years. The last militant Sajad Ahmad Khan, of Firdausabad, Batamaloo, was killed in 2011 in Rajouri.
Even before Khan's death, the city's contribution to the valley's militant pool had all but dried up. The police attribute this lack of attraction to jihad to Srinagar's traumatic experience with the gun.
"At the peak of militancy in the nineties, downtown Srinagar with a population of around four lakh was awash with around 12,000 militants," says a police officer. "So, in a sense, every family has suffered and seen death and bloodshed from close quarters."
"This may be the reason for a certain lingering inhibition against taking up the gun again."
But does a segment of the youth in the countryside taking a shine to militancy, including ISIS, signal a dangerous new dimension to the situation? Not necessarily.
"Does ISIS have the capacity to fund, arm and sustain a local group in Kashmir? The obvious answer is no," the officer said. "So the youth flying the ISIS flags are just piggybacking the group's terror popularity to gain instant media attention."
Also, as Geelani's disapproval of the flags would underline, the separatist groups, including militant outfits like the Hizb, will not countenance an ISIS offshoot. Nor would Pakistan.
The reasons are obvious: for them, ISIS would not only internationally stigmatise the separatist movement but also mean a loss of control over a part of the militancy in the state.
"An ISIS-linked group will strike on its own and not take dictates from anybody," says Naseer Ahmad, the author of Kashmir Pending.
"Besides, it will metamorphose the isolated Kashmir struggle for Azadi from India's control into a pan-Islamic jihad for the creation of the Caliphate. That is, if at all such a group comes into existence".
Up in arms
But while any prospect of ISIS remains vague and uncertain, there is little doubt about a surge in local militancy.
For the first time in a decade, local militants now have outnumbered the foreigners. Of the 142 active militants in the valley, 88 are locals and the rest from Pakistan or Pakistan Occupied Kashmir.
The support for the armed struggle is endemic across scores of Facebook pages set up under fake accounts, some reportedly by the militants themselves. These include Sangbaaz-i-Kashmir; Tral, the Land of Martyrs; Jihad-e-Kashmir; Jihad, the Solution for Kashmir.
Pictures of ISIS flags are a common sight but they are identified more as a symbol of jihad than of the terror group.
A post on Tral, The Land of Martyrs hails the recent Gurdaspur attack: "The gun speaks again in Punjab. The streets of Punjab again turn rebellious. Occupation is not accepted. Resistance will rise again (sic)."
Tral, a south Kashmir town, is at the vanguard of the fledgling fresh shot at jihad. In the past few years, many youth from the town and its outskirts have given up studies to take up the gun, a trend that is now spreading to the surrounding areas of Shopian and Pulwama.
And if their stories are anything to go by, families of most of the new militants trace their decisions to take up arms to either harassment by security forces, as was the case with Hizb's South Kashmir commander Burhan Muzaffar Wani, or to a personalised collective grievance.
The hurtful personal experiences, the intermittent incidents of excesses by security forces and the perceived injustices by the state government and New Delhi are disproportionately magnified by the prevailing political context, creating conditions for an impulsive resort to the gun.
Aaqib Rehman, 25, of Janwara in Sopore, offers a glimpse into this psyche. In 1992, Aaqib's father, a government servant, was used as a human shield by the army and killed in a crossfire with militants holed up in a house.
"Wherever you go, uniformed men stare at you with guns. They arrest boys without any provocation and hassle their families," Aaqib says, adding that the only way out of this endemic harassment is Azadi.
"But nobody will give us Azadi if we merely throw stones. All of us have to pick up the gun."