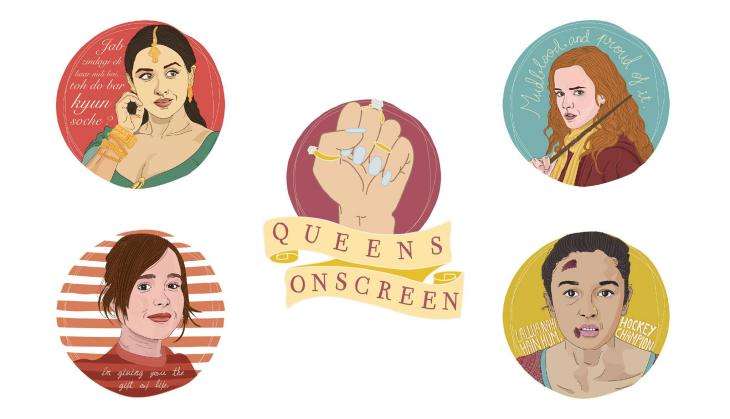 Women-centric films. There's a phrase that's thrown about a lot. It ranges from referring to films that deal with women's issues, films with central female characters, or even films targeted at a female audience. Basically, never the same thing.
But why should there be a separate category at all? Can films not have strong characters - both male and female - and not be boxed into a particular category? That's precisely the limiting mould Mumbai-based 21-year-old Shivani Gorle's art breaks free from.
Also read - Love in the making: Photographer Sophie Ebrard on 'beauty in porn'
Breaking free from the limitations of genre, these women aren't necessarily a part of 'women-centric' cinema. Some may play the lead, but all of them stand out as ladies who spoke their mind and did what they thought was right.
Shivani, who majored in advertising, currently works as a freelance illustrator. Her Instagram artwork titled 'Queens OnScreen' brings a whole bunch of fierce, funny, forthcoming and fabulous ladies in cinema together.
The idea is beautiful, and so is the art. Queens OnScreen is captioned, "I watch movies, and draw their women in circles."
Why? "I love circles," Shivani told Catch.
"My room is full of them, including the closet decor, ceiling lamps, bed, headboard, and 2 full-sized hanging hula hoops. I wouldn't want my Queens to feature in any other shape."
Catch spoke to Shivani over e-mail about Queens OnScreen and here's what she had to say:
What was that first thought behind Queens On-screen?
I actually came across a weird category called "movies with a strong female lead" on Netflix, and I thought why is that? Why can't there just be regular movies with both genders playing equally strong and well-rounded characters?
I felt like there was a lot more room for gender equality in the film industry, especially in the 21st century. So I started this series to bring recognition to those wonderful female characters who've wholeheartedly entertained their audience, but also touched their hearts in one way or another.
Also read - 'I'm no psychotic cannibal nurse,' says artist after her eww-inducing cakes go viral
You do all the artwork on your own? How long does it take you to finish one Queen?
Yes I do. I started the page last month and initially released a post daily. But now I've begun to even out the distribution and do 2-3 posts per week regularly to gain more traction.
It takes me 4 hours to finish one Queen, but usually I take a break to crack my neck a little and focus on other projects, so it ends up taking 6 hours.
What made you mix women from such divergent genres and even locations - both Hollywood and Bollywood? If it's deliberate, please share why.
I definitely wanted to go global and attract a larger audience, and that's the main reason I picked both Hollywood and Hindi heroines. Besides, I watch a lot of Hollywood movies and it would be unfair for me not to include a non-Indian character; it would mean not acknowledging their badass-ness!
I also plan to do vernacular language-heroines soon, starting with Maharashtrian actresses and then making my way into other industries like Tollywood. I'll watch those films with subtitles but I'll find a way to feature them!
You've picked up characters who are inspired from real life (Mastani/Sacha/Silk) or from books and credited the actresses who played that part. If they were historically badass or badass in text wouldn't they be so onscreen anyway?
Yes that's true - and part of the reason why I would feature them. That just goes to show that the film industry borrows heavily from the lives of real-life heroines to portray convincing characters.
I don't know if it makes the filmmaker's job easier, but these women have been recognised and archived in art forever. This only means good things for the makers who portray them and the watchers who are inspired by them.
Also read - Women in Hollywood are doing worse today than in 1998. Here's proof
Why is Queens Onscreen relevant?
Because films have finally progressed from blonde and Bond girls to revolutionary and coming-of-age heroines. These strong, bold, loud, unapologetic women need to be celebrated, and I can't think of a better time than now, especially in this post-modern feminist era.
Also read - Why does Sally Nixon think you want to see a woman in her toilet? She tells us
Do you have any other projects in mind? Where are you planning to take this?
I want to eventually start selling Queens OnScreen based merchandise. So far I think the illustrations will look really cute on badges, t-shirts, notebooks and canvas bags. Honestly anything that people would wear to show their feminism off to the world!