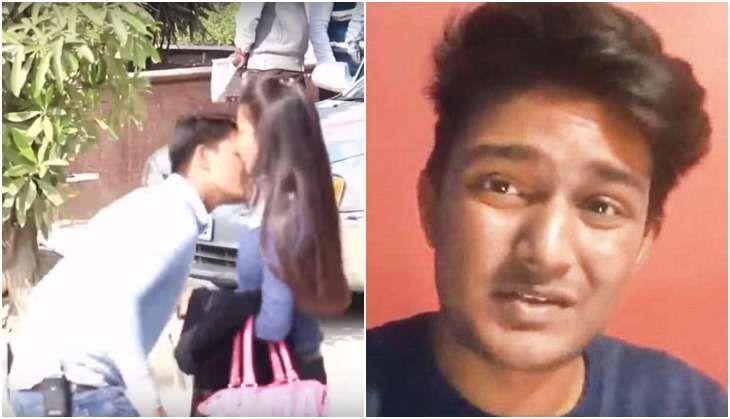 Prank (Oxford English Dictionary)
Noun: A practical joke or mischievous act. Example: The tapestry was stolen as part of a drunken student prank.
YouTube prank (Absolutely no dictionary)
Noun: Harassment/abuse in the name of a practical joke. Example: Thirty people were slapped as part of a YouTube prank.
The latter, evidently, is entirely unfriendly, and potentially illegal. But YouTube pranks, especially the variety we're being served in India, don't stop at slapping and often venture into the prevalent form of violence - sexual assault.
Over the past week, a YouTube video by vlogger 'The Crazy Sumit' has come under a lot of fire for his 'prank'. Sumit is seen grabbing women on the streets of central Delhi, kissing them, and running away, all edited to some cheap videogame music. If the woman is accompanied by a male friend, Sumit distracts them, and quickly kisses the women before making a dash, sometimes making offensive gestures during his escape.
Given the backlash, especially in light of the recent Bengaluru mass molestations, Sumit was forced to take down the video and issue an apology, after which the Delhi Police decided to launch an investigation against him. Interestingly, Sumit's apology has also disappeared from his channel.
Its perversion not humor. FIR shud be filed imm and strict action taken by Police. His apology's of no consequence for its act of violence. https://t.co/8v9mS0fajT

— Swati Maliwal (@SwatiJaiHind) January 7, 2017
Hullo, harassment
Under the garb of being a prankster, 'The Crazy Sumit' has gained 1,54,651 subscribers (at the time of writing this article). The video that caught Delhi Police's eye had over 2 lakh views before it was taken down.
Sumit's reach cannot be questioned, and the fact that the police is on this case sends out the right message to those who think harassment is funny. Because going by the the general standard of pranking on YouTube, harassment and misogyny is rather rampant.
AIB Pranks, a channel in all possibility named after All India Bakchod, routinely sexualises women for clicks. One of their videos, titled 'Touching Unknown Girls - Pranks In India' shows one person on an escalator touching the hands of a stranger on the other side.
While both men and women have been part of this 'prank', touching another human being's body, no matter what part, without their consent is not acceptable. It is easy to argue that such videos are fairly international, but this one has been projected as harassment. "Touching Unknown Girls" screams sexual abuse, and clearly, abuse is marketable.
This practise of suggesting sexual harassment in YouTube video titles is fairly common. 'Touching Girls Legs in Public Prank - Prank in India': a video by THF - Ab Mauj Legi Dilli shows a man calling random women on the street "didi" or "aunty" before touching her feet to "pay respect". It doesn't help that none of the women seem pleased at being touched by a complete stranger.
A recent comment under this video by Rahul Singh reads, "THF thoda sambhal ke bhai.. Crazy sumit ki lagi padi hai [sic]]." (Watch out, THF. They're going after Crazy Sumit.)
Another one by Varoon Gaur reads, "yrrr tum log maar khane wale kaam kr te ho hahahaha... vese maza bohot aaya mujhe toh lg rha tha ki ap padega thappad [sic]." (You guys will get a thrashing for this. But I really enjoyed it.)
A similar video by ThrusT uS shows a guy asking women for directions before proceeding to touch her feet. This video is titled '"Touching Hot Girls Legs" Prank'.
ThrusT uS also thinks it's okay to verbally harass women on the streets, like they don't get it enough already. In this video they walk around telling women "Aap Hot Ho!" with some misplaced sappy music playing in the background.
The problem
Crazy Sumit is a part of this larger culture that thinks men are entitled to do as they please with unsuspecting women. Much like Sumit's all these other videos promote touching women without their consent, regardless of whether it's a sexual part of their body or not.
It isn't difficult to understand what encouraged Sumit to kiss women for he was emboldened by this culture and his followers, the likes of which can be seen on the comment threads under the other videos.
A channel called AVRprank TV posted a video where a man walked up to women and pulled their cheeks. A comment by 'Johnny English' under this video, read, "Feminists will call this sexual harassment XD".
Newsflash. Touching a stranger's body without their consent is harassment. You don't need a feminist to tell you that, the law would do just fine.
And in India, women are constantly watching their back lest a stray hand pinch their bottoms, pull their hair, tug at their bra straps or claw at their breasts. So yes, when a man suddenly puts his hands out to touch our faces, we feel threatened.
These videos normalise that threat, they teach their viewers that it's okay for men to touch, kiss or catcall women on the streets, making harassment seem like a laughing matter.
The fact that they are relatively unmonitored by the authorities means they will continue to escalate to even more obscene heights, as is the case with the kiss and run prank. Hopefully, action against Crazy Sumit will ensure this disturbing trend doesn't get more out of hand.