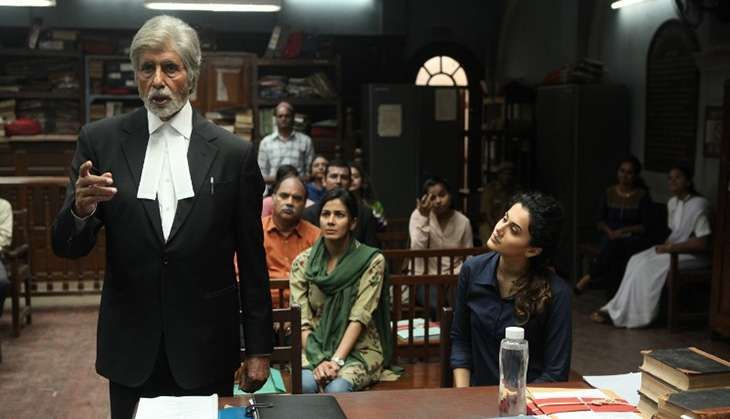 Make no mistake, Aniruddha Roy Chowdhury's Pink, produced by Shoojit Sircar, is an out and out commercial drama with all the associated elements.
While reviews for this film have applauded Amitabh Bachchan's larger than life presence and Taapsee Pannu's measured acting, the real hero of this film are neither. Pink has the Big C replacing Big B. Slowly but intentionally the film leaves you grappling with the sexual politics of that one 'C' word - Consent.
Pink may have Amitabh Bachchan playing himself - a know-it-all mansplainer who is angry without being provoked. It may have a song too early in, before the audience has gathered the enormity of the problem. It may have progressive women intermittently turning into demure creatures - never angry, constantly weeping. And, the worst offence of all, it is named after a colour stereotypically associated with women - a gendered trope completely unrelated to the film's content.
Also read - Pink review: Amitabh Bachchan, Taapsee Pannu deserve a standing ovation for this powerful film
But all of these annoying aspects of Pink are overruled by that single strand that pulls the film out of the Bollywood thriller box - despite its flaws, the film recognises the problem with not understanding consent.
Bollywood isn't new to sexual violence as a subject. But the camera often objectifies the victim - lingering on her body, or sexualising her while showing the moment of violence, as though her appearance somehow 'asked for it'.
Pink projects the three women in the story as people with their own personal conflicts and, in doing so, identifies them as persons, not objects.
Not Bachchan's film
SPOILERS AHEAD. TREAD CAREFULLY.
The story unfolds around Meenal (Taapsee Pannu), a professional dancer who smashes a bottle of alcohol on her assaulter's head. She is bold, troubled, but, despite various attempts made by these men to break her spirit, believes in getting on with her life.
Then there's Andrea (Andrea Tariang) who feels constantly othered and harassed in a city like Delhi for being from the Northeast. She is sheltered by the two women she lives with, but the film doesn't infantalise her.
Finally, there's the underrated Falak (Kirti Kulhari) who believes in compromises and has internalised the patriarchy that surrounds her. She's in a relationship with an older professor [much to the amusement of the audience in my theatre] but that doesn't make her 'available'.
Dil Chahta Hai had, years ago, broken the taboo around a young man's (Akshaye Khanna) love for an older woman (Dimple Kapadia). But it took 15 years and a film like Pink to do that for a woman. To not judge her on the basis of her life choices.
Sure, Amitabh Bachchan in his 'Deepak The Lawyer' avatar makes quite a few valid points about consent, and also manages to bring up marital rape. But his constant lecturing of women that he may be defending makes an entertaining watch because that's pretty much the only way we'll listen to a woman's problems - through a man's baritone shouting at us.
Deepak questions Meenal if she made any move to suggest she wasn't interested in having sex with Rajveer (Angad Bedi). She mumbles that she said no.
Also read - #CatchChitChat: You maybe raving about Pink but Shoojit Sircar does not believe in genres
He shouts at her over and over again in court so that she says the word "No" out loud - a word he eventually uses in his monologue (one of many) to rest his case. While the shouting is unwarranted, and perhaps even re-victimises the woman having to defend herself despite being the victim, Bachchan and his antics will bring in audiences.
But, perhaps, it's the women's story that will make the audience stay.
An underrated character
Falak's character propels the story into a debate that is so terribly simple to understand, but is so often overlooked. She's suffering from a deep internal conflict. On one hand she wishes to be safe, unquestioning of her mousy boss, loving towards her hard-to-please boyfriend, but, on the other, she's fed up. Patriarchy has sucked her in so deep that Falak is appalled at having to challenge it. The men she considers her support system are cowards, a reality Meenal calls out in the film.
There are two poignant moments in the film where Falak changes that narrative. That she isn't the victim herself is immaterial, for, by virtue of being a woman, she constantly battles harassment in life.
The first is when she tries to convince her friends to apologise to the men who attacked them. "They just want to hear a sorry," she reasons, worried for herself as much as the others. But interestingly, after a brief exchange with Rajveer, she quickly finds her self-respect.
Disgusted at his abusive tone, she yells back and slams the phone down. She looks up to find her friends half-smiling at her. This scene establishes the beginning of empowerment for Falak.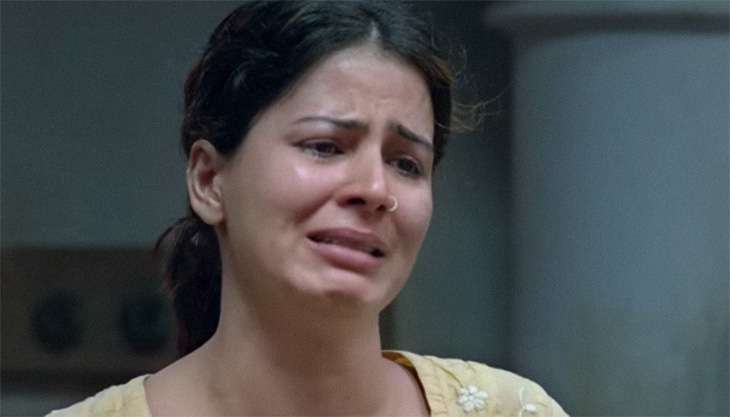 Her all powerful moment though, is when she's completely broken. The women are accused of prostitution, a common claim made to blur the lines of consent by sexual violators.
They are repeatedly told they asked for money, each denying it over multiple sessions, until Falak has an outburst where she screams, "Yes, we took money. Yes, yes, yes! We took money. That's what you want to hear, right? We took money. But then we didn't want to go through with it. Now, by law, do we still have the right to call this assault or no?!"
Also read - Pink Box Office: With good word of mouth publicity, Amitabh Bachchan film to do well in Metros
Consent is for all
Falak's lie in the court and the women's eventual victory makes Pink a film worth its salt. In that one moment, by establishing that a prostitute too has a right to consent, and the court acknowledging this, makes the film a compulsory watch for the Indian audience.
Pink, by finally permitting a woman, and not just the female protagonist, to make that all important point, undoes some damage.
Indian women, or heck, women in general, are constantly battling judgement. Be it the body shaming family, the victim shaming mob, or the slut shaming society, women feel answerable for their existence. So when a film pushes the women out of any scope of protecting her "dignity", in doing so it empowers her.
Suddenly, she's a free agent who has risen above the parochial. She couldn't care less if you tried to put the stigma of prostitution on her. She embraces being the slut, being the fat chick, being a prude, or even being the victim. She empowers herself, as in Falak's case, by letting go of the need to satisfy society because society never did much for her anyway.