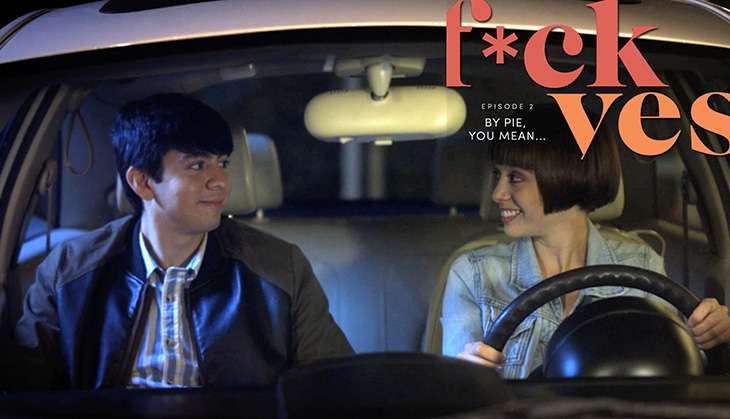 F*ck Yes. If the possibility of sex isn't exciting enough for you to utter those words, perhaps a conversation with your partner is in order. Because, as the women behind the docu-webseries F*ck Yes believe - and we wholeheartedly endorse this - #ConsentIsSexy.
After Bollywood film Pink hit theatres, firmly mainstreaming the consent debate in India, F*ck Yes goes even further - beyond simply establishing 'No' means no, this group of eight women have also managed to assert that 'Yes' can mean wonderful things in bed, granted you're willing to discuss every little thing you'd like to do to your partner. Doesn't sound so bad, does it?
Also read -
Pink values the word 'No': Opening up the consent debate in India
The 4-episodic webseries released through May-June this year, has had a successful run, with the first episode titled Protection getting over 262,477 views on YouTube. But what's more exciting for the makers is that they have managed to crowdfund a whole new season through the indie film crowdfunding company Seed&Spark where some of them work. In fact, the F*ck Yes team has gathered funding enough for 10 episodes.
Creator, writer, director, executive producer Emily Best; creator, writer, director, actor Lauren Schacher; creator, writer, producer Elisabeth Aultman; and creator, writer, actor Erica Anderson spoke to Catch in an email-enabled round table conference of sorts. And things got interesting pretty quickly.
On showing sex without genitals
While watching the first four webisodes, a pattern was clear: They all built up to sex, but unlike all the sex we view in movies, they don't focus on the act and cut off right before it. This works to establish consent, but what if it changes it during the act?
While all the four women agree that consent can change during the act, producer Elisabeth has a practical take on matters. "We gave ourselves the limitation of not showing genitals so we could reach a broader audience," she says, adding, "It'd be awesome to see our stuff in, like, high school classrooms, and we felt that would be more likely to happen if we made it about the lead up."
Elisabeth Aultman
Writer/actor Erica thinks conversation "should absolutely happen during" sex. Insisting that it can be "exciting because it involves both people getting their desires met- which from all the real people we've talked to, is actually the biggest turn on of all."
Also read - #ConsentIsSexy says this new web series. We couldn't agree more
Erica Anderson
On sexual and cultural diversity
F*ck Yes' four episodes show different body types, a same-sex couple and people of different races and ages. When asked if season 2 would be more of the same, director and executive producer Emily said, "Heck yes."
"Inclusiveness is really important here: we want everyone to be able to identify with these scenes! Next season we plan to expand that inclusiveness to include more, different partnerships, and also expand the circle of writers expressing their experiences," she added.
Emily Best
While there was mutual consent on the need for diversity, actor and director Lauren was self-reflective on the lack of diversity in their team, something Elisabeth mildly disagreed with.
"On the creative team, we're all women, but we're all also mostly white and straight, and so even in our camp, we seek out more diversity," said Lauren, to which Elisabeth responds with, "Well, we're about a third queer identified, which I think is important to point out, because lesbian and bisexual erasure are both created and compounded by social scripts that see female bodies' sexuality as somehow not meaningful or important, but yes, otherwise, Lauren is on point."
Lauren Schacher
Erica, interestingly, chose to talk about how the "negotiation of what sex looks like" differs for straight couples and any other type of coupling.
"Straight people can "get away" with not talking about sex or personal desire. Sex can just be penetration and everyone agrees that that is SEX. In any other pairing (or threesome), at the bare minimum there has to be a conversation or negotiation around what exactly sex is going to be," she said.
Straight herself, Erica is now amazed at "how very little was actually on my sexual menu (read: knowing lots of ways to get men off), I was floored."
On getting crowdfunded
Crowfunding isn't new to most women on this team thanks to Seed&Spark. However, talking to the sex ed community has opened up new avenues for them.
"Just through Twitter alone we connected with Crashpadseries.com (Shine Louise) and they offered incentives. Cindy Gallop of MakeLoveNotPorn got so excited about what we're doing she offered to collaborate with us as well, said Emily, adding, "We're building a strong community around the project because a lot of people are working on this problem."
"I think the tone we have crafted makes it very easy for people to relate to the material and also to share their very personal stories with us," explained Erica. "We have been surprised just how open people have been!"
On how it all started
If there's one thing I've learnt from these women, it is that the build-up is important. So asking how their project shaped up was imperative.
Emily narrated how her understanding of "negotiation" through a neighbour who practiced BDSM made her do a rethink.
"Negotiation is where consenting adults who want to engage in a BDSM scene together talk beforehand about what they like and what the boundaries are. As a straight, relatively vanilla woman, I felt that I had been robbed of a lifetime of better sexual experiences for never having been taught that negotiation could be available to me," she said.
"My straight male friend heard this and said, 'Yeah but doesn't talking about it spoil the mood?' So I leaned in to him and said: if you were out at a bar with an attractive woman and she leaned in to you and told you all the sexy things she wanted you to do to her... he immediately said 'Oh yeah that would be super hot.'"
Emily then got the idea to contact her friends - Erica, Lauren and Elisabeth - to "show the world" how talking about sex can be sexy.
On taboo topics
Asked if "serious aspects" to sex like STDs or the taboo around menstruation would be addressed in the upcoming season, Elisabeth was quick to point out, "I'm rather of the opinion that nothing in sex is inherently serious - at least, nothing in sex must come with the kind of emotional weight we ascribe to it culturally."
"The little sex-education that we do have in the States focuses almost solely on the reasons NOT to have sex, like pregnancy and STDs. There's been a lot of data lately showing that young girls aren't even being taught that sex is for their pleasure. Girls are looking at sex as something they do FOR the boy. So while we have and will cover those topics, we're also really interested in discussing the pleasure around it in an accessible way," said Lauren.
Erica went for period sex (as I'd hoped someone would) and said, "Pleasure for all involved is the key. But if we can show a situation where period sex was sexy and it could help couples talk about and try something new then YES we want to make that episode."
The other taboo addressed was the word "Fuck" in itself. Emily's simple response to why it was censored to "F*ck" was that it's done "so we can be published in as many places as possible. Social media sites have rules that we aren't going to change, so we might as well get as close as we can."
On the big 'C'
At this juncture, it made sense to ask why consent wasn't understood enough, and why in continues to need conversation, and they didn't disappoint.
"It's the patriarchy," said Emily.
"Patriarchy, yes. If we lived in an equal society, I'm sure consent would be more a part of the conversation," Lauren chipped in, adding, "There are other cultures, like in the Netherlands, for example, where consent is taught at a very young age. Our culture is definitely to blame. But this is fixable! We have to do it together though. We have to talk to our friends about consent as adults AND tell our children about it, starting from day one."
"Patriarchy," agreed Erica, "which doesn't serve men or women in terms of sex. A large portion of our culture views consent as something that is getting in the way of their right to have sex. That consent is closer to a legal contract than a conversation. I am not sure where the fear of women having their own pleasure or why that is so threatening but that seems to be at the root of why consent is so polarising."
Elisabeth disagreed with "the premise" of my question. "It's not that we don't understand consent, because clearly we do; that's why metaphors like Blue Seat Studios' "Tea Consent" video or Nafisa Ahmed's five dollar tweets are so popular," she said, explaining, "The problem is that we don't understand sex to be a context in which people get to exercise the right to make decisions for themselves, aka be sexual agents who give and withhold consent. We treat sex like the result of a mathematical equation where party A says X and party B says Y(es) with result O (...for party A), and then get confused when A and B are people instead of variables."
"It's not that the situation is complicated, it's that we've oversimplified it. Because kyriarchy loves obedience and is a crappy dom."